12 Face Masks To Try After A Weekend Dancing In The Desert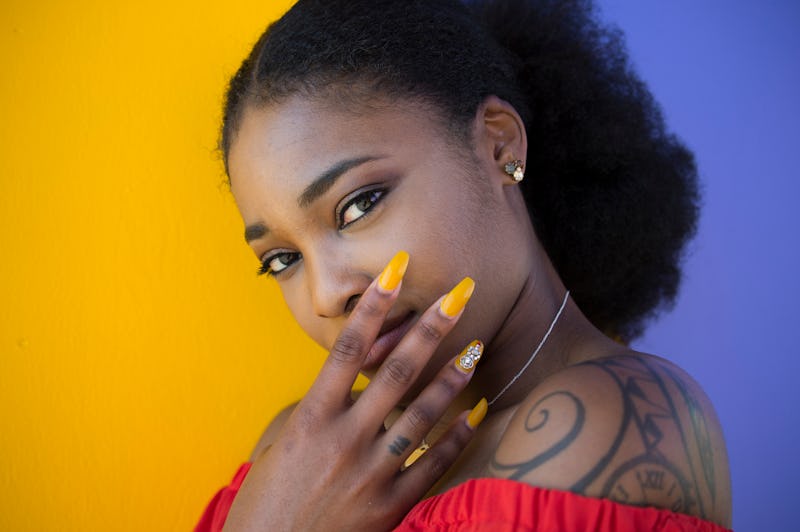 Katie Stratton/Getty Images Entertainment/Getty Images
Music festival season is here. And unlike the weather seasons, this one will run for the next six months. Regardless of which one(s) you choose to attend throughout the year though, one thing's for sure: You'll probably want to rehydrate and detox your face afterwards. Because whether you choose to dance it up in the desert, the plains, the city, or the beach, chances are it's going to be hot and crowded.
And honestly, one of the best ways to help reset and refresh your skin is with a good ol' face mask. Just slap or slather one on, sit back and relax, and feel the effects of a couple long, summer days and nights outside rewind. OK, OK, it may not always be that simple, but having the right treatment really can help. But what's the best mask to try? Well, after being exposed to the elements, something gentle is always a good option. And whether you need some extra moisture, help drawing out the dirt and impurities, or both, there are plenty of options that will help revive your skin from its slightly more sensitive state. So you can enjoy your festival(s) without worrying about the state of your skin, here are 12 face masks to try afterward:
1. Renewing Honey
Try: Farmacy Honey Potion Renewing Antioxidant Hydration Mask, $56, Sephora
Full of antioxidants and hydrating properties, this warming, honey mask will fully nourish and renew your skin.
2. Calming Oatmeal
Try: First Aid Beauty Ultra Repair Instant Oatmeal Mask, $24, First Aid Beauty
Calm and soothe distressed skin with this oatmeal-based mask that only needs 10 minutes to replenish hydration.
3. Hydrating Mud
Try: GLAMGLOW Thirstymud Hydrating Treatment, $69, GLAMGLOW
Leave it on for 10 minutes or all night. Either way, this deeply hydrating mud mask will restore skin to a plump and healthy state.
4. Balancing Clay
Try: FIG+YARROW White Clay Mask, $24, FIG+YARROW
Give your pores a gentle yet deep clean so you can purify your skin without stripping or irritating it.
5. Nourishing Avocado
Try: SEPHORA COLLECTION Avocado Sleeping Mask, $4, Sephora
Spend the night in this nourishing mask that provides intense nutrition while relieving sensitivity.
6. Moisturizing Bamboo
Try: Erborian Bamboo Waterlock Mask, $43, Sephora
This bamboo-enriched mask is so hydrating you only need to wear it for 10 minutes. But if you want to really lock in moisture and reduce signs of fatigue, use a thinner layer for a leave-on treatment.
7. Exfoliating Mud
Try: EVE LOM Rescue Mask, $85, Nordstrom
For gentle exfoliation and decongestion that won't cause irritation, try this clay mask that will cool, calm, and condition the skin.
8. Replenishing Sheet
Try: Dr. Jart+ Water Replenishment Cotton Sheet Mask, $8, Sephora
Like a drink of water for the skin, this hydrating sheet mask cools on contact for some refreshing moisture.
9. Revitalizing Spirulina
Try: White & Elm Nourishing Mask, $22, White & Elm
This organic, super-food mask contains only six ingredients, and they all work to gently heal, tone, and purify the skin.
10. Detoxifying Mud
Try: Josie Maran Whipped Mud Mask Argan Hydrating and Detoxifying Treatment, $48, Sephora
Smooth this mud-and-oil mask over dry and tired skin to nourish, clarify, and brighten in just a matter of minutes.
11. Soothing Rose
Try: Fresh Rose Face Mask, $62, Fresh
Infused with rosewater and real rose petals, this cooling gel mask hydrates and restores radiance for healthy looking and feeling skin.
12. Relieving Mushroom
Try: Dr. Andrew Weil for Origins Mega-Mushroom Skin Relief Face Mask, $38, Origins
Mushrooms, ginger, and turmeric help to relieve stressed skin and rebuild a protective barrier for more comfortable skin.
Because even if you'd never turn back the clock on a festival, it's nice to be able to do it for your skin.