12 Funny Father's Day Gifts Under $20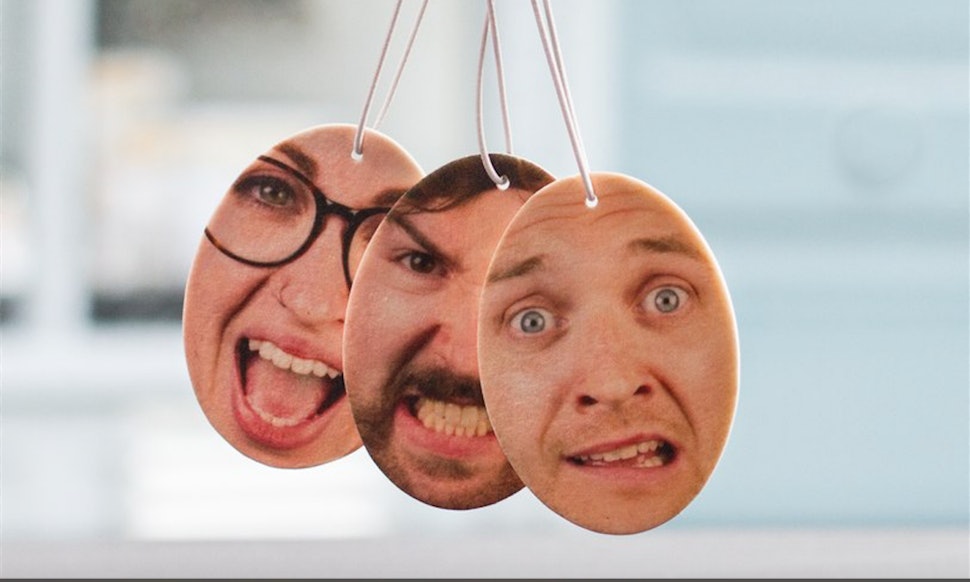 Firebox
Father's Day is fast approaching. This June 17, tell Dad how much you love him by giving him a good laugh, with one of these funny Father's Day gifts under $20. Let's face it: he doesn't need more ties, and his flask collection is getting pretty outrageous. It's time to start thinking outside the proverbial box. Fortunately, there are all sorts of special ways to say "I love you" to that special man in your life — the man who wiped your tears when your crush broke your heart, the man who always knew how to fix stuff around the home (well, sometimes, at least), the man who didn't rat you out when he caught you sneaking in the house past curfew after an obvious night of shenanigans.
To this day, the rest of the fam still doesn't know it was you who backed into the mailbox and snapped it in half.
We've been celebrating dads for decades, but according to History.com, it started in 1910. It wasn't until 1972 that the third Sunday in June became Father's Day, officially recognized as a national holiday — and the rest, as they say, is history. Today, Father's Day is an opportunity to honor all our fathers and father figures. Here are 14 cheeky ways to do it.
1. Personalized Air Fresheners
Firebox
Nothing says "Happy Father's Day" like an air freshener with your face on it! Or you could personalize it with his face, the dog's face, or the mug of his favorite celeb or athlete. Any way you look at it, this might be the ultimate Father's Day gift.
Buy Now
2. An Engraved Hammer
Gifts.com
Does your dad spend a lot of time in the tool shed working with his hands? You can get this hammer from Gifts.com engraved with your own touching (or hilarious) message. Any time he's out there building stuff, he'll think of you.
Buy Now
3. Desktop Edition Games
ThinkGeek
With this tiny game, Dad can enjoy golf, pool, or bowling right from the comfort of his own desk. This will definitely be more fun than working.
Buy Now
4. Shakespeare Reverb Spinning Reel and Fishing Rod Combo
Walmart
There's nothing your pops loves more than a weekend fishing trip. Help him up his game with this dope fishing rod. Plus, it's red. The color is all that really matters anyway, right?...
Buy Now
5. His Own Ice Cream Bowl
Gifts.com
Dad gets weird when it comes to dish ware, particularly when he wants to enjoy a frozen treat. Give him his own designated ice cream bowl. He'll cry tears of joy.
Buy Now
6. Hole In One Golf Mug
Uncommon Goods
"I wish I was playing golf right now." How many times have we heard that one?! Your dad's coffee break just got so much better. FORE!
Buy Now
7. Beard Balm
Walmart
Your dad's beard is already the envy of every person in the neighborhood, but his facial hair game will really be on point with this heavy duty beard balm that doesn't take itself too seriously.
Buy Now
8. Meat Handler And Shredder
Meat Handler And Shredder
$12.95
The Grommet
Carving turkey and preparing roast is such a pain, but Dad will love to get down and dirty with these scary looking meat shredders. More importantly, though: this is Wolverine cosplay at its finest, and now your dad can pretend he's got an important reason to do it.
Buy Now
9. Craft Beer Shampoo
Walmart
Instead of knockin' back a brewski, how about showering with it instead? This shampoo is formulated with craft beer, shea butter, and caffeine. Oh, and FYI? They have moisturizing conditioner and thickening conditioner too. Bonus!
Buy Now
10. Anti-Odor Socks
The Grommet
Does your dad have majorly stinky feet? These anti-odor socks are made with antibacterial material infused with zinc oxide. Stinky feet, be gone!
Buy Now
11. Motion Activated Toilet Light
The Grommet
Sometimes, Mother Nature calls at the worst time, and when Dad has to go in the middle of the night, he almost always stubs his toe. Now, he can have a little light when he needs it most: tinkle time!
Buy Now
12. Prank Pack Nap Sack
Amazon
This is only the box — it doesn't actually come with the gift inside. But Dad will get a good laugh out of this one! (Side note: why isn't this a real gift?)
Buy Now