How To Dress Up As Your Zodiac Sign This Halloween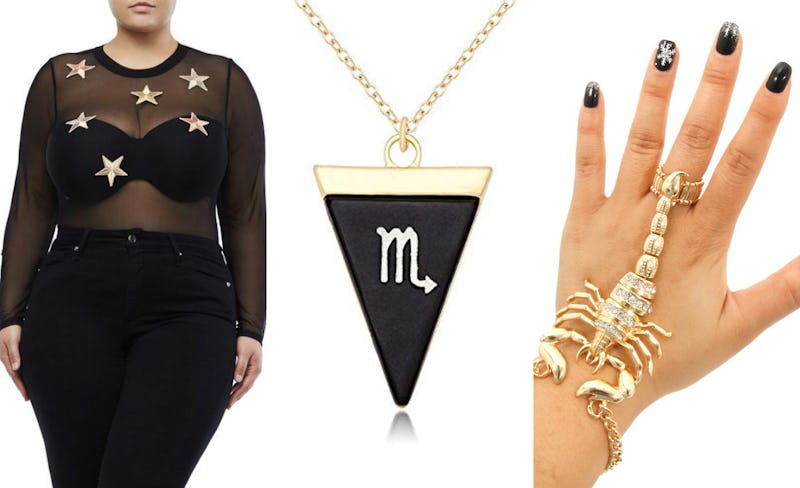 Good American; Amazon; Bad Chick Jewelry
Scorpion Head ChainIf you can round up your BFF squad and get them to agree to forego couple's costumes with their S.O.'s or ditch a long-planned solo costume idea in favor of a group costume, well, do it. Because nothing is more epic than rolling deep with a whole crew on Halloween, all sporting a dope shared costume theme. And while I agree that the Spice Girls will never go out of style, go for something a little more unique and personalized this year — like having your whole squad dress up as literal versions of their zodiac signs! Funny zodiac sign Halloween costumes for a group can be quirky, super fun, and totally relevant — everyone has a sun sign, after all. Plus, you can get really creative in interpreting each of the sign's symbols into a stellar, chic, one-of-a-kind look.
Astrology rules my world, and I'm guessing it rules yours, too, so I don't see any reason to hold back on going full astro-queen for Halloween and spending the day embodying your sign alongside your friends. Bonus points if you if you somehow have an astrologically-diverse enough friend group to cover all 12 signs on the zodiac wheel. Send pics if so.
Each sign of the zodiac is represented by a different symbol — most of them animals or archetypes — so here's a ton of costume inspiration for each and every one. Grab your gang, consult the stars, and get to putting together your own cosmically-epic zodiac sign Halloween 2018 costumes.
Aries the Ram (March 21 - April 19)
Fuzzy Metallic Fringe Sweater, $45, Forever 21; Gold Ram Horns, $24.99, Spirit; Kuiyai Zodiac Pendant Necklace Rose Gold, $12.99, Amazon; Faux Shearling Backpack, $29.90, Forever 21
Energetic Aries, represented by the ram, has absolutely no shortage of self-confidence — so channel those good vibes on Halloween as you rock the cutest ram costume around. I know you have a competitive spirit, Aries, so make sure your ram look is on-point so you can win all the costume contests you're bound to enter.
Taurus the Bull (April 20 - May 20)
Steer Horns Headband, $6.99, Candy Apple Costumes; Taurus AF Zodiac Adult Crewneck Sweatshirt, $16.99, Expression Tees; Pierced Own Septum Hanger Clip On, $9.99, Amazon; WUSUANED Rose Gold Zodiac Sign Cuff, $13.66, Amazon
Taurus, the powerful, Venus-ruled bull of the zodiac, loves nothing more than comfort — so naturally, you'll feel best in a super-cozy sweatshirt that proudly sports your astro influence and displays your costume theme loud and clear. Paired with some cute bull horns and an ornate clip-on septum ring, you'll be the bull of the Halloween ball.
Gemini the Twins (May 21 - June 20)
Best Friends Mood Celestial Split Heart Pendant Choker Necklaces, $6.59, Claire's; Fuchsia Color Block Sleeveless Bodycon Party Dress, $15.99, MayKool; Long Straight Split Half Pink Half Purple Cosplay Wig, $27.99, eBay
A little sweet, a little sour — Geminis always seem to embody the extreme ends of every spectrum. That's the magic of the sign of the twins! If you and a Gemini pal want to tackle this costume together, that makes things easy — but if you're the group's only Gemini, fear not. Embrace the twin vibe solo with a single split-down-the-middle style costume, no actual twin necessary. Don't forget your mood-changing BFF necklaces (yes, you'll be wearing them both — you're dressing for two, remember?!). Elevate your look with a matching half-and-half makeup, too.
Cancer the Crab (June 21 - July 22)
Shellfish Headband & Mask Set, $7.19, Party Cheap; QZUnique Crab Clasp Closure Shoulder Bag, $19.99, Amazon; Alaroo Halloween Shiny Mermaid Leggings, $14.90, Amazon; Seashells Printed Halter Crop Tank Top, $11.85, Dresslily
Nothing to be crabby about here — just an ultra-cute and quirky Cancer embodying their sign's symbolic and sensitive sea creature. Everyone will want to take the extra time to get beyond this water baby's protective outer shell when they see your creative and one-of-a-kind crab look.
Leo the Lion (July 23 - Aug. 22)
TISDA Black Velvet Choker With Zodiac Pendant, $7.99, Amazon; Funny Party Hats Tail & Ears Set, $9.89, Amazon; Cocoa Fluffy Hearts Twin Set, $58, Dollskill
As the king/queen supreme of both the jungle and the zodiac, Leo and its corresponding symbol, the lion, can't get enough of the spotlight. And no worries, cause it'll be allll yours with this Leo-tastic (and very cute) lioness costume. Here comes the mane event!
Virgo The Maiden (Aug. 23 - Sept. 22)
Forest Fantasy Crown, $15, Dollskill; Mesh Panel Double Slit Halter Dress, $32.74, Rosewe, ENSIANTH Virgo Zodiac Sign Heart Necklace, $13.99, Amazon; Metallic Gladiator Sandals, $7.99, Charlotte Russe
Virgo is always serving nature goddess vibes to the max. Represented by the maiden, who rules over the harvest and those last days of summer sunshine, Virgos happen to have the keenest eye for detail around — so live up to your astrological potential and be sure not to skimp on the finishing touches in this very woodland-inspired costume! Throw some flowers in your hair or carry a wildflower bouquet to really get into the forest feels.
Libra The Scales (Sept. 23 - Oct. 22)
Handheld Gold Miner's Balance Scale, $10.95, Amazon; Side Cut Out Maxi Dress With Cami Straps, $60, ASOS; CHUYUN Constellation Dangling Earrings, $9.99, Amazon; Boltz Zodiac Necklace, $11.95, Amazon
Known for being able to balance even the most crooked of situations, Libra is the only sign of the zodiac that's represented by an object rather than a living being. Deck yourself out with accessories, Libra-style, and let yourself be inspired by Lady Justice (cause she must be a Libra, right?) by carrying around the iconic handheld scales. I know, props can be annoying, but least snap some Instagram shots with it, K?
Scorpio The Scorpion (Oct. 23 - Nov. 21)
Scorpion Head Chain, $17.99, Bad Chick Jewelry; The Starstruck Body Bodysuit, $62.90, Good American; Scorpion Hand Chain, $19.99, Bad Chick Jewelry, BEICHUANG Simple Black Triangle Constellation Pendant, $12.50, Amazon
Careful with a scorpion or you'll get stung — you've been warned! Halloween always falls right in the middle of Scorpio season, so we'll all be in this water sign's territory. Sometimes known as the dark horse of the zodiac, Scorpios are intense and passionate, so don't be afraid to embrace your dark side in an all-black look plus some decadent scorpion accessories.
Sagittarius The Archer (Nov. 22 - Dec. 21)
Bow & Arrows, $16.99, Party City; Metal Scale Panel Wide Belt, $11.90, YesStyle; Metallic Over-The-Knee Boots, $28.99, Forever 21; Gold Lamé Cape, $10.99, Block Buster Costumes
If your target this Halloween is the perfect Sagittarius costume, then this one is guaranteed to hit it with perfect aim. Represented by the archer, our Sag friends have a lust for fun, knowledge, travel, and excitement — in other words, they're the life of the party! Embrace your free spirit with this cute, DIY twist on an archer costume, which you can easily accessorize over a simple white tank dress.
Capricorn The Goat (Dec. 22 - Jan. 19)
Fuzzy Knit Mini Dress, $20, Forever 21; Glitter Horns Headband In Black, $7.99, Claire's; Velvet Capricorn Choker, $9.44, Etsy; Fringe Pointed Toe Bootie, $20, Zooshoo
All work and no play for a Capricorn? Pshhh, not on Halloween! Since the sign is represented by a goat, dressing as a Capricorn can be cute and simple. A white, fuzzy dress acts as your "fur," some cute fringe-y booties are your "hooves," and the horns—well, those are self-explanatory. Slap on a Cap-themed choker (which kind of looks like a cute little goat collar when paired with the rest of the look) and you're set.
Aquarius The Water Bearer (Jan. 20 - Feb. 18)
Metallic Halter Catsuit, $48, American Apparel; Aquarius Traits Water Bottle, $24.95, Zazzle; Moon Pendant Zodiac Sign Necklace, $10.99, Amazon; Water Sprite Inspired Headpiece, $16.99, Etsy
Aquarius: The quirky and forward-thinking bringer of water, knowledge, and a whole lot of personality! Aquarius is represented by the "water bearer" — meaning that yes, you're going to need to carry around some H2O. Thankfully, a cute Aquarius-themed water bottle will do the trick, given that lugging around a full-blown jug might be slightly obnoxious (and not exactly spill-proof). Hey, at least you'll be hydrated. A mystical catsuit and water-sprite headdress will top things off. Now welcome to the age of Aquarius!
Pisces The Fish (Feb. 19 - March 20)
AISKLY Women's Mermaid Dress, $13.49, Amazon; Remeehi Hologram Shell Purse, $20.99, Amazon; Light Up Mermaid Seashell Crown Headwrap, $14.99, Claire's; KUIYAI Stainless Steel Zodiac Sign Necklace, $11.99, Amazon
And finally we plunge under the sea's surface to visit the zodiac's intuitive little swimmer. Pisces is represented by the fish, and putting together a cute and quirky fish costume is easy — especially if you call upon your endless Piscean creativity to help make the magic happen! Order up an iridescent scales dress and seashell purse, plus other cute, under-the-sea Piscean accessories and I promise you'll be swimming in compliments.