12 Instagram Caption Ideas That Perfectly Show Off Your Love For Meghan Markle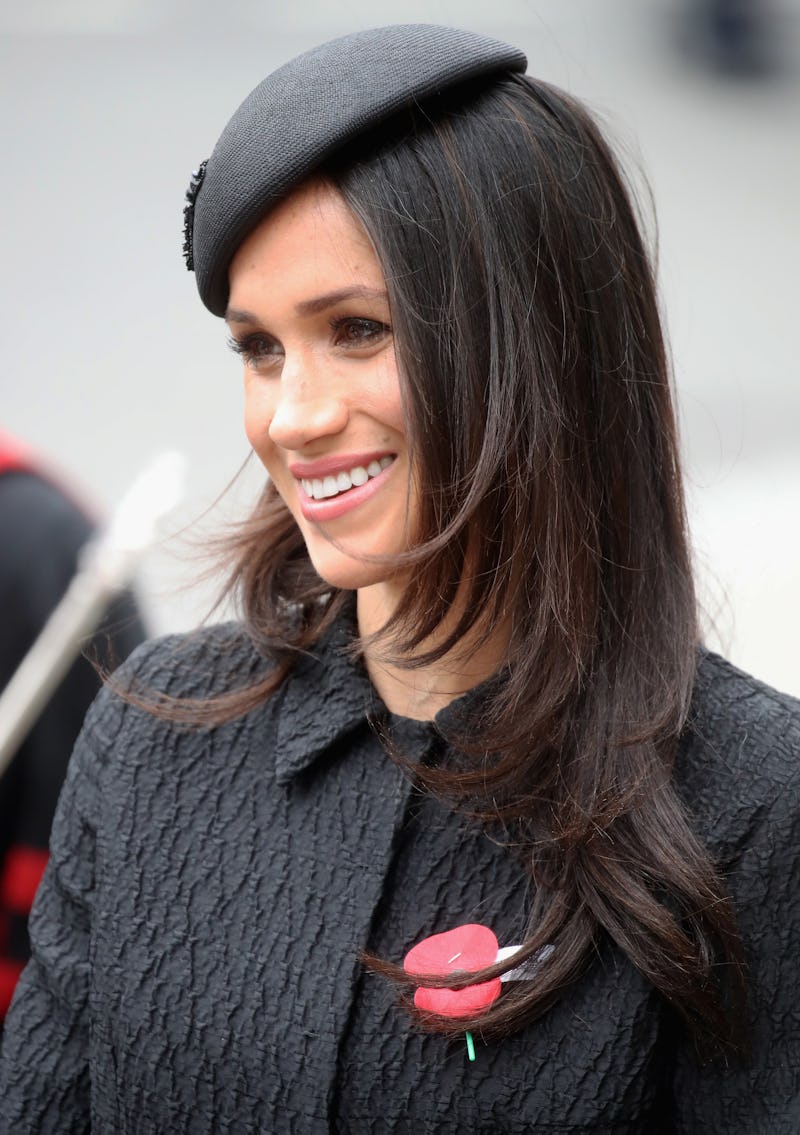 Chris Jackson/Getty Images Entertainment/Getty Images
Meghan Markle is about to become an inspiring addition to the royal family. Why not let her wise words lend inspiration to your Instagram caption? Obviously you're just as excited about the May 19 nuptials between Meghan Markle and Prince Harry as the rest of the world. At least you're stoked enough to congratulate the newlyweds on Instagram. If you're looking for the right thing to say, look no further than words from the future royal herself for Meghan Markle Instagram captions. You'll find quotes from her and about her that will round out your appreciation post.
Markle is no stranger to sparkling on the podium. In 2015 she gave a speech at the UN on behalf of empowering women. Her eloquent remarks hit hearts hard and were wise enough to type up, print out, and frame for your desk. The soon-to-be royal and long-time humanitarian will have more golden quotes in the future, but as we await those verbal gems, there are many blurbs of hers to live by.
If you're looking for the perfect phrase to sum up how Meghan Markle inspires you around her wedding day at Windsor Castle, look no further. Take Markle's words as both advice and to perfectly complete your Instagram post just in time for the royal wedding.
1. "It's really important that young women be reminded that their involvement matters and that their voice is heard. Even if it feels like it's small, it really can make an impact." - Meghan Markle
2. "I think the biggest part of being a girl boss in the office, at home, or anywhere you go is just knowing your value." - Meghan Markle
3. "Be kind to yourself." - Meghan Markle
4. "With fame comes opportunity, but it also includes responsibility – to advocate and share, to focus less on glass slippers and more on pushing through glass ceilings. And, if I'm lucky enough, to inspire." - Meghan Markle
5. "You don't have to play dress up to be a feminist. You are a feminist exactly the way you are. You can be a woman who wants to look good and still stand up for the equality of women. There's no uniform for feminism; You are a feminist exactly the way you are." - Meghan Markle
6. "The corgis took to [her] straight away . . . I spent the last 33 years being barked at; this one walks in, absolutely nothing!" - Prince Harry
7. "She's such a girl's girl … I'm so happy for everything that's happened to her because I really feel like she's one of those female icons that I feel could be a strong idol for girls around the world. She really cares about the world, like for real cares." - Priyanka Chopra
8. "You need to know that you're enough. A mantra that has now engrained itself so deeply within me that not a day goes by without hearing it chime in my head. That five pounds lost won't make you happier, that more makeup won't make you prettier, that the now iconic saying from Jerry Maguire – 'You complete me' – frankly, isn't true. You are complete with or without a partner. You are enough just as you are." - Meghan Markle, The Tig
9. "I've never wanted to be a lady who lunches — I've always wanted to be a woman who works. And this type of work is what feeds my soul and fuels my purpose." - Meghan Markle, The Tig
10. "You can be a woman who wants to look good and still stand up for the equality of women." - Meghan Markle
11. "I always want off-the-beaten-path, Anthony Bourdain-inspired travel." - Meghan Markle
12. "Reflecting on where I came from helps me to appreciate and balance what I have now." - Meghan Markle