12 Organic Cotton & Hemp Tees That Are Both Comfy & Sustainable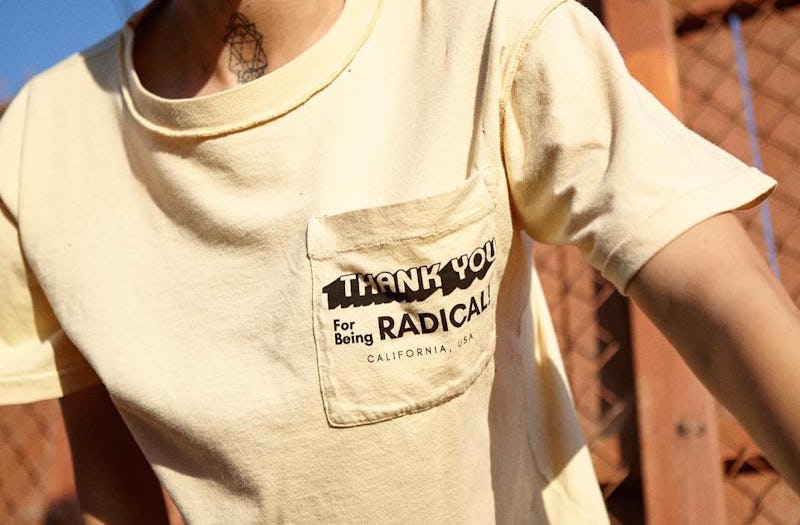 BackBeatRags/Instagram
In an effort to live a more sustainable lifestyle, it's not just organic food you should be looking out for. Searching for sustainable clothing and fashion companies are equally as important. Organic hemp and cotton tees are a good place to start — while it's one tiny step forward, looking for these types of clothing opens up a new world of responsible shopping.
Fast fashion, though extremely common, is actually a real problem. As NPR points out, more styles means more purchases. Which means more waste. Choosing to shop locally or to buy items that are made with sustainable materials leads to less shopping at fast fashion brands.
But what is organic cotton, actually?
Organic Cotton Plus points out that cotton is one of the most widely grown crops in the world, and growing it is actually one of the most chemical-intensive process. And what do chemicals do? Well, they impact our air, water, and soil, and not in a cute way, either. Plus, these toxic chemicals put the health of the cotton growers in danger. And that's exactly why you should care and why organic cotton and hemp matters.
Organic cotton is actually grown "using methods and materials that have a low impact on the environment," according to Organic Cotton Plus.
What about hemp? According to Collective Evolution, growing hemp requires about half the amount of water than growing cotton. And, it requires no pesticides to grow it. For those of you looking for comfort — wearing hemp actually makes it more comfortable over time. This is not to say that organic cotton should be kicked to the curb — but that both of these materials have an appeal that could really make a difference on our planet.
So the next time you shop, consider some of these organic cotton and hemp tees that'll make you feel a little bit better about shopping.
1. The Cheeky Message
Thank You For Being Radical Hemp Tee, $45, backbeatrags.com
Cute, comfy, with a vintage twist? What more could you ask for in a tee? Peep Back Beat Rags' website for more amazing hemp tees.
2. The Peachy Tee
The Jameson Tee, Peach, $120, welikebad.com
No doubt, this line of tees will become your next favorite. The Bachelorette's Rachel Lindsay is a huge fan.
3. A Little See-Through Action
Calypso Tee, $55, nomadshempwear.com
Plus a little fringe fun on the bottom.
4. The Jersey Top
Eileen Fisher 3/4-Sleeve Cotton Tee, $58, niemanmarcus.com
Simple, clean, and goes with everything.
5. Plain Black
Good Studios Hemp Jersey V Tee, $60, garmentory.com
You can never go wrong with a basic black tee.
6. A Little Backless Action
Recycled Poly Crescent Moon Top, $33, synergyclothing.com
I mean, how cute is this?
7. Blue Beauty
Slub Organic Cotton Jersey Tee, $88, saksfifthavenue.com
A classic crewneck for the win.
8. The Fun Stripe
Holly Stripe Tee, $39, bloomingdales.com
Nautical vibes are perfect for summer.
9. The Work Of Art
Natural Dyed Baja Short Sleeve Pocket Tee, $160, jungmaven.com
This tee is literally a work of art.
10. For Recycling Lovers
ReCycle on Festival Tee, $36, earthcreations.net
Made with a mix of hemp and organic cotton, this tee is the perfect sustainability model.
11. The Relaxed Tee
Women's Relaxed Fit Tee, $15.99, wearpact.com
Nothing sounds better than a relaxed fit, right?
12. The Tie Up
Lynette Top, $59, prana.com
This one's a definite favorite.
It may seem like such a small step, but it's several mini steps that gets real progress going. Having an awareness of the materials that make up your clothing and where they come from will make you a smarter, more aware shopper. The earth will thank you!