12 Recipes You Can Use Your Thanksgiving Leftovers In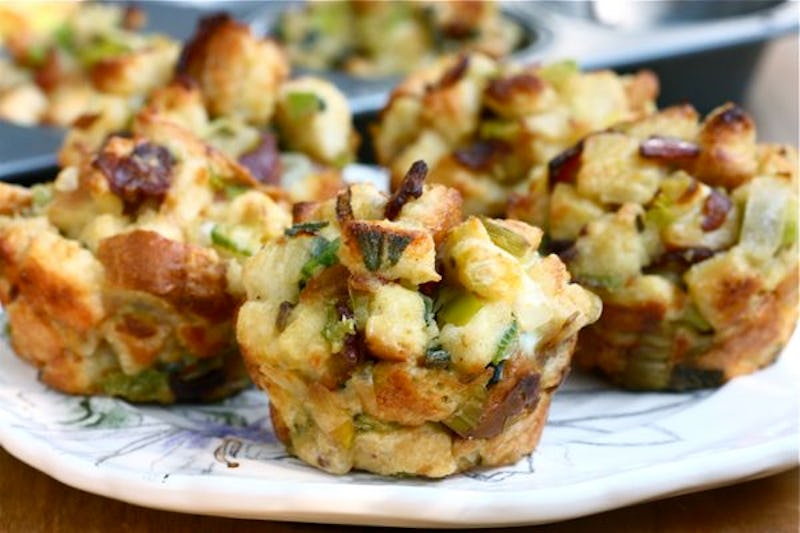 A Cozy Kitchen
While most people are excited about the fresh, hot food that is spread out so beautifully on every Thanksgiving dinner table, I'm looking forward to the leftovers. I know, I know — it's not that common a thing to get excited over. But trust me, there are tons of recipes that use Thanksgiving leftovers to create even tastier dishes after the holiday is over. Yes, I realize that's a little backwards, but I'm definitely team day-after Thanksgiving when it comes to food.
Think about it: there's a lot of pressure on Thanksgiving for the good to be good, for you to enjoy it and for your to have a good time while you're eating it. That's a lot to think about. You're catching up with your family while attempting to have some semblance of table manners while also being sure to compliment everyone on their cooking — and on top of that, you're already completely stuffed because you spent three hours eating cheese and crackers before dinner. Thanksgiving is not actually the best time to enjoy food — rather it's the best time to enjoy family.
The day after Thanksgiving is so low-key. Only the people close to you are still around, the fuss over keeping the house neat and tidy has ended, and the fridge is totally stocked with food that you've already had the privilege of taste testing. So you already know about the turkey that was too dry, the stuffing that was too soggy, and the cranberry sauce that was missing something. You know exactly how to navigate the fridge, and you can let go of your table manners and make something epic just for you. It's like playing Chopped, without a judge. Even better, instead of talking to your relatives while you try to enjoy your meal, you can park it in front of the TV and Netflix your brains out while you devour your Thanksgiving 2.0 creation. Talk about bliss.
These are a few of my favorite day after recipe ideas:
Stuffing Muffins
Your fridge is probably stuffed with stuffing and you have no idea how you're going to use it all. Add some pancetta and sage to create these stuffing muffins and you've got yourself one savory little leftover snack. Check out the recipe on A Cozy Kitchen.
Sweet & Savory Thanksgiving Sandwich
There are lots of ways you can make day old turkey taste more exciting. This unique recipe from Ari's Menu will definitely allow you to use up a few leftovers while treating your mouth to a totally new take on turkey.
Truffle Turkey Club
If you're in the mood for a day-after breakfast sandwich that's seriously extra, you're going to love this truffle turkey club recipe on Ari's Menu. It will probably fill you up just as much as last night's dinner did.
Sweet Potato Salad
If you have one too many yams in your fridge, you can get rid of them by adding them to your salads. They're hearty, filling, and when you serve them warm, they take your salad to the next level. Check out this roasted sweet potato and fresh fig salad on A Cozy Kitchen.
Turkey Sloppy Joes
If you just can't get through your turkey leftovers, it's time to seriously repurpose the meat. Heat it up, add some sauce and turn it into turkey sloppy Joe's with the help of this recipe from Ari's Menu.
Turkey Noodle Soup
If you're looking for a lighter day-after option that still uses a bunch of leftover ingredients, this turkey noodle soup recipe from Averie Cooks is going to totally hit the spot.
Turkey Reuben
If you're looking for a heartier, more filling sandwich that's warm and perfect for dinner, the reuben is going to be your best option. It's a great way to repurpose the turkey and keep it from getting too dry. Check out the recipe on Big Girls, Small Kitchen.
Turkey Biscuits
Talk about a Thanksgiving remix! This is a super creative leftover recipe by A Farm Girl's Dabbles. It's perfect for breakfast, lunch, or dinner, making it an all around win.
Turkey Chili
Nothing like a warm, filling bowl of chili in November. You can follow this recipe on A Spicy Perspective, and feel free to add as many left overs as you please. This is totally customizable.
Turkey Chowder
Yes, this is a thing, and you can make it with your leftover turkey. This recipe by A Farm Girl's Dabbles will probably make more than you can eat, but no worries, you can freeze it and enjoy it later!
Cranberry Goat Cheesecake
So you've got a lot of extra cranberries from the sauce and goat cheese from the apps. This is the most brilliant and delicious thing you can do to repurpose them. Check out the decadent recipe on A Cozy Kitchen.
Cranberry Cake
Have even more cranberries than you know what to do with? This super easy to make cake recipe, by A Farm Girl's Dabbles is buttery, sweet, and just perfectly tart.