12 Revolutionary Novels By Women That Will Remind You Of The Power Of Resistance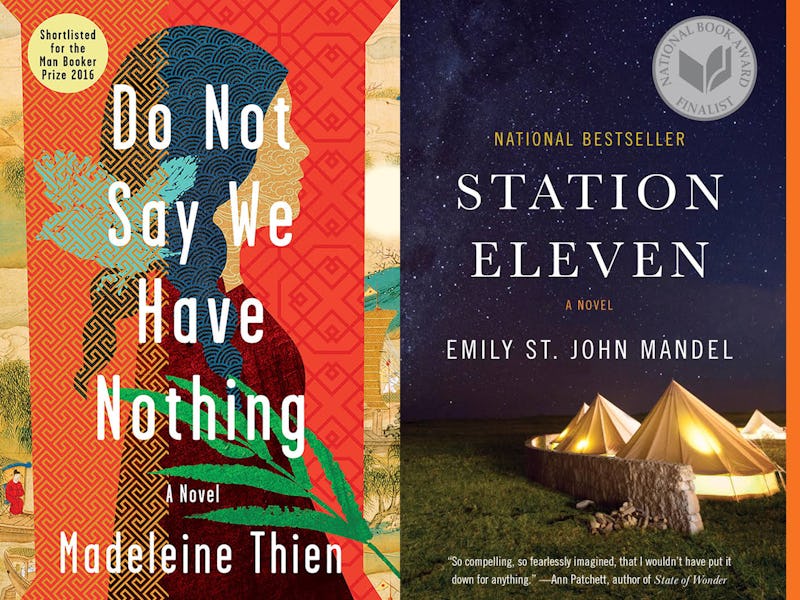 In the months since Donald Trump has become president, more and more people have become inspired to join the Resistance — whether that means volunteering, campaigning, donating, making calls, educating themselves and others on the issues, or otherwise. Bustle's 31 Days of Reading Resistance takes a look at the role of literature and writing in the Resistance, both as a source of inspiration and as a tool for action.
With new scandals, revelations, and potential 'smoking guns' breaking in Washington every day (and sometimes by the hour) it's easy to get burnt out and overwhelmed by it all. Sure, back in January, after the Women's March on Washington, your energy was fierce and your spirits were hopeful — you and your feminist sisters were strong in number and ready to spend the next four years resisting a Trump White House. But now, it's August. Six months later and little has changed other than the tally of potential crises and the number of rage Tweets stacking up on DJT's Twitter feed. Maybe you're starting to feel like Janine Skorsky in House of Cards, when Lucas Goodwin asks her if Vice President Underwood is going to get away with [spoiler alter] murder, and she says, unequivocally, that yes, yes he is. Or maybe, you just need to read a few books that will inspire your resistance.
As someone who hopes for the good health of Justice Ginsburg daily, makes my regular donation to Planned Parenthood on the first of every month, and has spent a fair amount of time marching in the streets myself, I know how easy it is to get burnt out — you assemble and you protest, you volunteer for the organizations, you donate to the causes, you read the Washington Post even though the stories make you want to poke your eyeballs out and move to one of those remote islands populated only by women (these exist outside of Wonder Woman, yes?). And still, every day you wake up and the world appears to be exactly the same, barring the latest breaking news. I know. I know.
But resistance is cumulative. Revolution is incremental. Sustainable change in society rarely arrives in one single blaze of protest. The arc of the moral universe is long, a great man once said, and the lingering fumes of the patriarchy are sitting in White House dining room alone at night, in a bathrobe, screaming at the television. (OK, I added that last part.) But don't give up! Instead, reinvigorate your resistance with these books by women that will keep you motivated to fight the good, feminist fight.
I know you've obsessed over the Hulu adaptation of Margaret Atwood's The Handmaid's Tale, but have you read the original novel recently? (Or, at all?) This dystopian novel about women's repression and resistance will take you into a totalitarian theocracy where women are valued only for their reproductive capabilities — and has landed at the top of readers' TBR piles in the months since Trump's inauguration. Be sure to add it to your own.
In Octavia E. Butler's Parable of the Sower, it's over two decades into the new millennium and global society has collapsed due to climate change, staggering wealth inequality, corporate greed, and political corruption. One young woman, Lauren Olamina — a hyperempathetic minister's daughter and refugee — begins a new religion called Earthseed; one that prophesizes the destiny of humanity is to ultimately leave Earth and seek life elsewhere. In Lauren's world literacy is so rare it's become a marketable skill, so get to reading. Just in case.
When a devastating flu pandemic halts the course of modern civilization, a traveling band of artists and actors take it upon themselves to perform works of Shakespeare throughout the remote communities of survivors. Traveling back and forth between the pre- and post-pandemic world, Emily St. John Mandel's Station Eleven turns to timeless works of art and literature in order to save a world that's fighting its way back from the brink of irreversible collapse. See, reading is critical to the resistance.
One of the latest titles in the genre of dystopian, resistance fiction, The Book of Joan, by Lidia Yuknavitch, will transport you to a post-apocalyptic world where the last lingering vestiges of humanity live miles above earth in a police-state space station known as CIEL, and are presided over by tyrannical dictator named Jean de Men. Inspired by a rebel named Joan of Dirt — a reimagining of the original Joan of Arc — a small group of resisters unite to dismantle de Men's regime. This novel will remind you of the profound power even a single voice can have in inspiring a revolution.
Multilayered and complex, Toni Morrison's Paradise explores what happens when a civilization steps away from its ethical and moral convictions, falling prey to external pressures and injustices. Seventeen miles away from Ruby, Oklahoma — an angry, patriarchal town founded by the descendants of freed slaves — is a convent of five women who have all escaped their lives in a hostile world. Living nearly side-by-side in self-imposed isolation, the town of Ruby and the convent each find the scapegoats they desperately need in the other, culminating in an assault that will force you to contemplate what happens when humanity turns into the worst version of itself in the face of adversity.
Nadia Hashimi's A House Without Windows offers a glimpse into the life of women living in modern Afghanistan, telling a haunting story of friendship, sisterhood, repression, incarceration, and ultimately human rights. When Zeba's husband is found murdered outside their home, Zeba is arrested and jailed for the crime, though her guilt isn't proven. In jail, she meets a group of women: some incarcerated for premarital sex and pregnancy, others living in the prison willfully in order to escape honor killings or the violence of their home life. Their stories — both unique and similar — invite you to think deeply about the desperate ways some women are forced to exist in the world.
Elizabeth E. Wein's Code Name Verity is a young adult, historical fiction novel that tells the story of two women during World War II — a female pilot who crash-landed in occupied France, and a female spy who was captured by the Gestapo. Queenie, the spy, is forced to write a confession under penalty of death, and so she composes a novel-like manuscript based on her life, writing on any and every paper she can get her hands on — as long as she continues writing, she will be allowed to live. Showcasing the power of female friendship and the power of storytelling, this novel will keep you in suspense from beginning to end.
This hefty tome is considered one of the bibles of the feminist movement. Published in 1962 and tracing the life of one fictional writer, Anna Wulf, The Golden Notebook by Doris Lessing tells four stories: one of Anna's experience in Southern Rhodesia before and during World War II, one of her political life and disillusionment with the Communist Party, one an autobiographical novel based on the ending of Anna's love affair, and one she uses as a daily diary. The merging of these four threads tells a complex and layered story of life for one woman, as well as a larger story about the ways all women are asked to compartmentalize, sacrifice, and silence various parts of their own lives.
With faint echoes of The Handmaid's Tale — women in red, traveling in pairs — and much stronger echoes of The Scarlet Letter, Hillary Jordan's When She Woke is a haunting novel about sex, a woman's right to choose, and the violence inflicted upon women's bodies by repressive governments. In a near-future United States the separation of church and State is a thing of the past, and a young woman named Hannah Payne is convicted of murdering her unborn child. She wakes up alone in a hospital bed, her skin having been genetically altered to red, to broadcast her 'crime' to the world — a new form of punishment that brands criminals, and then releases them back into a violent and unforgiving society to fend for themselves.
Madeleine Thien's Man Booker Prize-nominated novel, Do Not Say We Have Nothing, is set in China in the years before, during, and after the Tiananmen Square uprising of 1989, and tells the story of two generations of one family: those who lived through Mao's Cultural Revolution in the mid-twentieth century, and their children, who later became student protesters. Woven into their stories of political struggle and dissent is a story about the redeeming power of art, and music's capacity to offer a space for marginalized citizens to share their voices.
Readers love Harry Potter for countless reasons — and as a later-in-life reader of J.K. Rowling's bestselling novels (late-20s, that is) what I love about the Harry Potter series is all its messages about resistance, protest, and fighting for justice in a dangerous, corrupt world. In Harry Potter and the Deathly Hallows the violence of the Wizarding World reaches a fever pitch, and the daring, sacrifices, wisdom, and hope of Harry and his magical mates will totally inspire you.
In case you haven't noticed, I think that art, literature, and protest often work hand-in-hand, and the story told in Rachel Kushner's The Flamethrowers is a prime example of exactly that. Taking readers to New York City and Italy, circa 1975, this often-controversial (and equally beloved) novel tells a complex story of art and politics, protest and terror, sincerity and inauthenticity — demonstrating that the path to justice isn't always as obvious as we'd like it to be.
Follow along all month long for more Reading Resistance book recommendations.