The 12 Most Heartwarming Richard & Meredith Moments On 'Grey's Anatomy'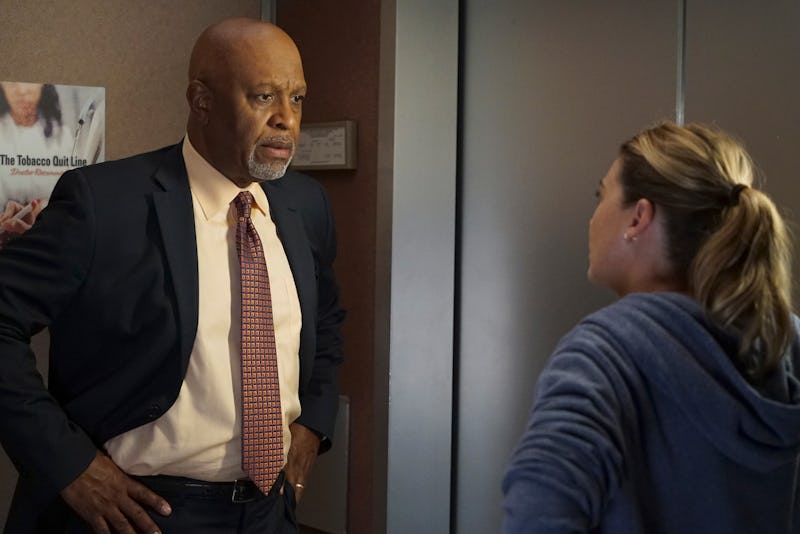 ABC
Alex may be Meredith's person on Grey's Anatomy, but it seems like she may be Richard's. In the Nov. 8 episode, after he got arrested for trashing a bar, Richard reached out to his pseudo-daughter for help — and Meredith was right there for him. But this is far from the first time the two have had each other's backs. The below heartwarming Meredith and Richard moments from Grey's Anatomy show how long they've been there for each other through thick and thin.
There's no denying that Meredith is one of the most loyal characters on the show. When Richard called and asked her to promise not to tell his wife what was going on, Meredith agreed without skipping a beat. Unlike Richard's daughter Maggie, who struggles with every secret she's ever been asked to keep, Meredith is a trust vault. If someone asks her for something, she'll do it, no questions asked.
But Meredith and Richard weren't always so close, especially when Meredith found out that he'd been having an affair with her mother. Still, over the years the two became as close as family. Richard's always been the dad Meredith didn't have, and he wasn't afraid to be stern with her once in a while (which she dished right back). Here are some of their sweetest moments together in the 15 seasons of the show.
1. When He Apologized For Not Being There For Meredith
It takes a big person to own their mistakes, and Richard did so in an epic speech.
"I saw what your mother was doing. I saw how neglected you were, I saw her drive your father off and I spent a lot of time beating myself up about that. But what does that do for you? Nothing. I wasn't your advocate. I didn't fight for you. I never stood up for you ... I should have fought for you, Meredith ... You were helpless. You were a baby. A beautiful, smart, funny little girl, and no one stood up for you. I'm so sorry. I'm so sorry."
2. When He Helped Meredith With Her Mother's Ashes
The two poured Ellis' ashes down the drain of an operating room sink, which is where they both knew she'd want to be.
3. When Richard Almost Called Meredith His Daughter
When trying to save Meredith after she drowned, Richard tearfully fought for her, saying, "This is Ellis Grey's little girl. This is my..."
4. When He Told Meredith She Had A Gift
The praise she never got from her mother.
5. When He Made Meredith His Power Of Attorney
He said he did it because she would make un-emotional decisions, but we all know it's really because Meredith is his family.
6. When Richard Saw Meredith In Her Wedding Dress
He's so happy for her. I'm crying.
7. When Meredith Refused To Return To Work Unless Richard Could
In Season 13, Bailey and Meredith clashed over Bailey's decision to replace Richard as head of teaching at the hospital. Bailey eventually offered her the job back, but Meredith took a stand for Richard. She would come back only if Richard could.
8. But Richard Refused To Let Her Waste Her Own Potential
Touched by the gesture though he was, Richard wouldn't let Meredith sit on the sidelines just for him. He told her to get back in there, and that he would be OK.
9. When Richard Sang To Meredith When She Was Injured
Remember when Meredith got attacked and couldn't hear for a while and also couldn't speak? She was understandably grouchy, but Richard was there to send a little sunshine her way.
10. When He Also Helped Her Forgive
Meredith was so angry after this attack, and Richard helped her forgive herself and the people around her with another profound speech.
"Forgiveness is a powerful thing, Meredith. Not only to make the other person feel good, but to heal you. You need to forgive [Amelia], Mer. Forgive her for not being Derek ... Forgive Blake for being in that room when a wrong decision cost you your husband. Forgive Derek for dying too soon. Forgive yourself for hating him for dying too soon. Let it go, Meredith, and forgive."
11. Meredith Has Also Given Richard A Lecture Or Two
In Season 11, when Richard and Catherine were fighting, Meredith helped remind them what really mattered.
"What is the matter with you two? My husband is dead ... But the both of you are very, very much alive and breathing and driving each other crazy. And you yell and argue and fight, and you both should be thrilled to be able to do those things ... And none of those things are reason enough to not be with the person that you love."
12. Richard's Always Been A Shoulder For Meredith To Lean On
And vice versa, because she'll always be there for Richard too. No matter what.