Here's When 'Grey's Anatomy' Will Return In 2019 After The Stormy Mid-Season Finale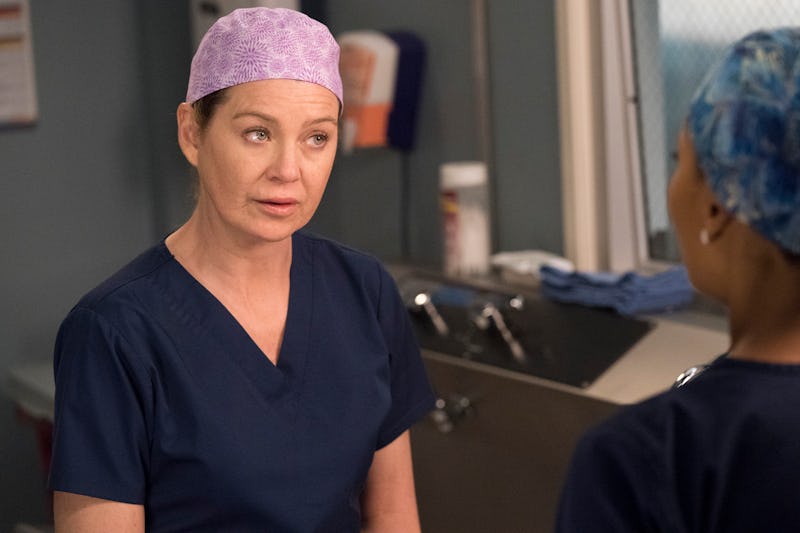 Mitch Haaseth/ABC
The holiday season may be referred to as the most wonderful time of the year, but there's one reason many TV lovers out there may dread the December holiday season: It means many beloved shows go on hiatus and don't come back until long after the New Year. One of the first shows to do so is none other than everyone's favorite medical drama, Grey's Anatomy, which of course is going to end with quite a stormy cliffhanger. So when does Grey's Anatomy Season 15 come back in 2019? After this week, the beloved series and all of its characters won't be scrubbing back in for quite some time.
As it stands right now, ABC has yet to release its midseason schedule, so it's difficult to say with absolute certainty when Meredith Grey and Co. will be returning. However, given that the series usually takes a break around this time of year, it can be helpful to look back at previous seasons to get a general since of the show typically comes back on the air once the holiday season has come to a close.
For example, last year Season 14 of Grey's Anatomy went on a break starting on Nov. 16 and didn't return until Jan. 18 the following year. That meant fans were forced to nearly go two months without their weekly dose of Grey Sloan Memorial drama. Meanwhile, Season 13 followed a similar pattern, leaving the airways on Nov. 17 and coming back Jan. 26 after the start of the new year. Should Grey's continue on with this tradition, which it already is by airing the mid-season finale on Nov. 15, then odds are viewers can expect its return sometime mid-to-late January 2019.
Sure, it'll stink to not have our usual Thursday night lineup to look forward to for the next several weeks, but knowing Grey's Anatomy, the fall finale is sure to leave viewers with plenty to think about while its away. As for what kind of cliffhanger the show's writers have in store, you'll just have to wait and find out — though given this show's history, it's sure to include some very heartbreaking — and ever jaw-dropping — moments.
According to promos, a huge windstorm is about to descend upon Seattle, which could leave many doctors and patients at risk of bodily harm. And when mother nature gets involved, there's no telling what kind of havoc she'll wreak. The promo also seems to tease a potential hookup between Meredith and DeLuca (though, of course, we've been tricked about this before, so who knows). And this could finally be the time Teddy reveals her pregnancy to Owen at long last. Last week, Richard got arrested and Catherine got some terrible news about her health, so who even knows where they will be during the whole storm.
Clearly, there's no shortage of plot developments that could come from this episode. Up until this point, Season 15 has gone a little easy on fans in regards to the number emotionally charged moments. (That's not to say there hasn't been any, but it's been a much happier season than those from the past.) However, that could all change depending upon how the fall finale plays out. Let's just hope these beloved docs are all able to make it out of this whole thing alive. Otherwise, how will we ever be able to make it through the holidays in one piece?