Proof Chris Harrison Just Keeps Getting Sassier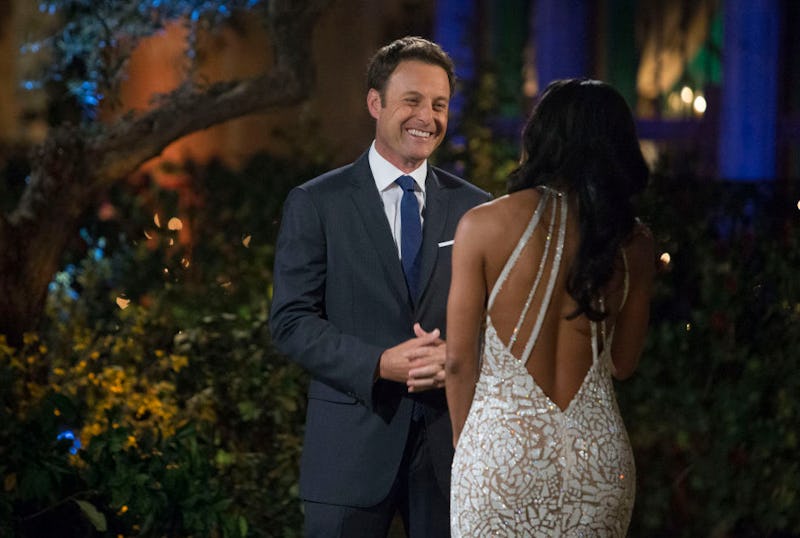 Paul Hebert/ABC
There are so many reasons to watch The Bachelor and its spinoffs: The shows are funny, they're a great way to escape from the stress of real life, and you can't forget the love story that ties it all together. But really, only one reason people watch the show actually counts, and that reason is Chris Harrison. Year after year, this man has flawlessly commanded rose ceremonies, played relationship counselor, and tried to make sense of some of the insane drama that goes down on Bachelor in Paradise. But lately, it seems like the pressures of this very important job have been getting to him, because Harrison is very clearly getting sassier with each season of The Bachelor... and fans are here for it.
In the early days, he was very earnest. He wanted to help these people fall in love, and when he told viewers that they were about to see something that was "nothing like anything you've seen on The Bachelor before," it seemed like he actually believed it. Now, it's almost like nothing even fazes him anymore, and he's just laughing along with the rest of us when bizarre stuff goes down.
Harrison is definitely losing it the longer these shows continue, but in the best way possible. What would The Bachelor be without him?
1. He Barely Even Shows Up For Work Anymore
Like, ever. Of course, this is probably due to the fact that Harrison is a pretty busy guy — hosting not only Bachelor shows but also Who Wants To Be A Millionaire, among his other gigs — and that the show's format is constantly evolving, but I like to imagine that it's because he's gotten just so done that sometimes, he doesn't feel like watching roses being handed out.
2. The Way He Handled Lauren & JoJo
As the All Knowing Host Of The Bachelor, it seemed Harrison knew good and well that Ben Higgins had told Lauren Bushnell and JoJo Fletcher that he loved them... and that it was going to lead to issues for everyone involved. Rather than impart wisdom or any kind of warning, Harrison just did this amused little nod at Lauren. And it was amazing.
3. The Chad Situation On Bachelor in Paradise
Despite the fact that Chad Johnson did his damnedest to insult Harrison after he was sent home early from BIP for bad behavior, Harrison didn't waver in the slightest. Maybe these are his dad skills coming into play?
He also didn't deny the fact that he spends most of his time in a bath robe drinking mimosas. It's OK, Harrison. You can tell me.
4. And When He Brought Up How Chad Told Everyone To "Suck A D*ck"
At this point, it was so, so clear that Harrison was beyond done with him, and he didn't hold back.
5. When He Bonded With A Horse On Bachelor Arrival Night
Maybe he's losing it. Or maybe he realizes that these contestants leave so quickly that it's better to make friends with a horse instead to avoid heartbreak.
6. He Promoted His Own Book In His BIP Intro
Look at this chill, carefree man. He doesn't even care anymore.
7. He Suggested Juan Pablo Galavis Date His Ex
And being that Harrison really, really didn't like Galavis, this is the ultimate show of sass.
8. When He Called Out Ryan Bowers From Emily Maynard's Season
This is going back several seasons, and I think this might even be the point at which Harrison started officially bringing out the sass. If you didn't catch Maynard's season, Bowers made the mistake of calling Maynard a "trophy wife," which didn't fly with her, and during his limo exit, he said he was worried he'd get the "arrogant ass" edit. Harrison used that against him during Men Tell All, and it was a beautiful moment.
9. When He & Kaitlyn Bristowe Drank At Her Funeral
Let's be real — Harrison knew this group date was the weirdest one the show had ever done, so he joined the Bachelorette in drinking on the job. Who could blame him?
10. His Reaction To Adam Jr. On The Bachelorette
This photo proves that after all these years, he's developed an attitude of "if you can't beat 'em, join 'em" when it comes to limo arrival stunts. This is the face of a man who has run out of cares to give.
11. His Jokes About The Wet Driveway
He's turned the wet Bachelor mansion driveway into his own personal joke, first showing off Nick Viall doing the honors, and then, before Bachelorette Rachel Lindsay's season premiered, the joke returned. Oh, Harrison. As long as he's making himself laugh, that's all that matters, right?
12. He's Even Started Tweeting About Bachelorette Makeup
This was completely unprompted, by the way. Why, Harrison? And then, when someone thanked him for his service, this was his reply:
Harrison, it's safe to say that the children appreciate you, bad jokes and all. Please never change — and if watering that driveway makes your job worth doing, then by all means, keep doing it.