Where In The World Is Chris Harrison?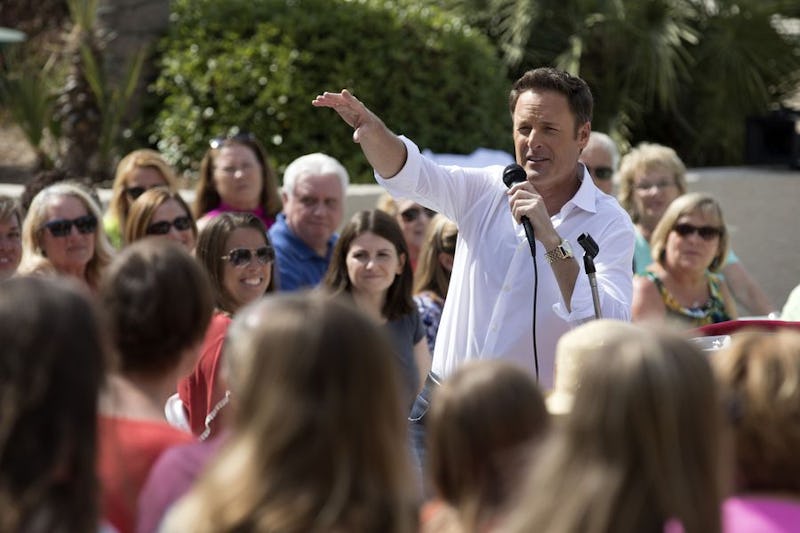 Bob Leverone/ABC
Rachel Lindsay is already preparing to go on her round of hometown dates, the word "love" has been exchanged, but even as the season heads towards its conclusion, one burning question remains: where is Chris Harrison during Rachel's Bachelorette season? The host is seemingly totally missing in action this season (Bustle reached out for comment to ABC about the host's air time, but has not yet received a reply.) This season, moments when Chris Harrison would usually be there, helping the Bachelorette by talking things through, Rachel has instead addressed the camera. Harrison has barely stepped in to negotiate any of the season's conflicts (although he was around for DeMario's attempted return), nor has he offered as many pep talks as it feels like Bachelorettes have received in the past.
Part of this is probably because Rachel has eschewed the usual rose ceremony several times this season, and that's usually Harrison's moment to shine. And there's rarely been a moment during a rose ceremony where tears, drama, or a surprise guest has brought the proceedings to a halt requiring an interruption from the famed host. Honestly, Harrison should have at least three of those per season written into his contract, because without scandalous rose ceremonies, it turns out there isn't much for him to do.
Fans have even pointed out that even Harrison's most basic tasks, like, say, delivering a message from Rachel or handing out the date cards have been missing this season. And without him to step in and talk things through, some of the less memorable contestants (Adam? Matt?) have become totally forgettable. And, come on, without a sit down with Chris Harrison, can any of these guys even know if they're here for the right reasons?
And lest you think that perhaps The Bachelor and Bachelorette host simply couldn't make time for the international travel in this leg of the season, Harrison posted this photo of him hanging out in Denmark while the cast was there! In his caption he wrote, "Hey [Rachel,] while you find love on [The Bachelorette] we're going to eat our way through Copenhagen oh and maybe see a museum."
Whatever the reason that's keeping Chris Harrison offscreen this season on The Bachelorette, fans aren't ready to let him go, no matter how well Rachel, the guys, and even the hotel end tables have stepped up and filled in as host this season. Bring Chris back!