12 Times 'Fresh Prince's Ashley Banks Was The Quintessential "Carefree Black Girl"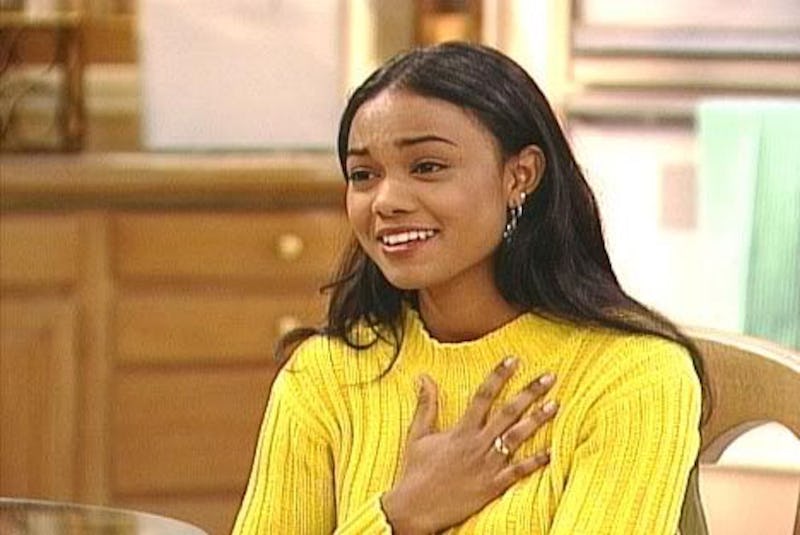 NBC
Before being a "carefree black girl" was represented by its own hashtag, Ashley Banks on The Fresh Prince Of Bel-Air embodied the laid-back lifestyle perfectly. The youngest daughter of the wealthy Bel-Air family, Ashley — played by Tatyana Ali — never failed to be fearless, to show a little attitude, or to speak her mind. She was always the life of the party, with her free-spirited personality perfectly complementing that of her more serious family members.
For her, there was simply no other way to be than carefree. The commitment Ashley had to doing, saying, and being exactly what she felt like occasionally landed her in hot water with her parents, brother, and cousin. But on the flip side it made fans like me love her and feel inspired by her easy-going, unapologetic way of life.
Black women were — and still are — often stereotyped to be nothing more than strong, aggressive balls of stress, and Ashley flipped that nonsense on its head in the most effortless way possible. From the moment when she had an impromptu dance-off, to all the times she proudly let her feminist flag fly, here are 12 times on The Fresh Prince of Bel-Air when Ashley was the quintessential, carefree black girl.
1. When She Boldly Let Everyone Know Her Stance On Stress
Being 100 percent direct is exactly what carefree black girls do best. Never one to hide her nonchalant side, no one can forget the time when Ashley makes it crystal clear where she stands in the whole caring department.
2. When She Rapped The Dinner Blessing
Hey, even prayers need a little sprucing up now and again. So early in Season 1, Ashley gets creative and shocked the rest of the Banks family at a fancy dinner party when she drops a few bars in place of a traditional blessing.
3. The Time She Saluted A Female God
J.K. Rowling isn't the only person who thinks that God is a black woman. In fact, Ashley knew this way back in the '90s when she decided to make it clear to everyone at the table who exactly it was she was praying to.
4. The Time She Was Only Concerned About Her Tevin Campbell Posters
After the Banks family finds out they'd been robbed, everyone — particularly Will — is anxious for answers and to know what's been stolen. While the rest of the family is most concerned about the living room furniture, Ashley is most worried about posters featuring her beloved celeb crush. Priorities.
5. When She Had The Ultimate Dance Party
Ashley frequently let her hair down and shamelessly danced around her room, the kitchen, and the living room like no one was watching. And who could blame her? Jamming out to Whitney Houston, Beyoncé, and Cardi B is one of the best forms of self-care, TBH.
6. When She Called Out Will For His Double Standards
Sometimes the truth hurts, but Ashley was never afraid to tell it. In Season 4 of the series, she asks Will to chaperone her date, thinking he'll be a more chill tag-a-long then her father. But soon Will becomes just as smothering and overbearing as Uncle Phil would have been, leading Ashley to call him out on his double standards surrounding dating and women.
7. When She Stood Up To Uncle Phil
After years of attending a private prep school, Ashley decides that she wants to attend public school, much to Uncle Phil's horror. Luckily, Ashley stands her ground, adequately pleaded her case, and is allowed to stay in her new school. And this was only one of many times Ashley would stand up to her overbearing, yet well-intentioned father and fight for what she wanted.
8. When She & Will Decided To Vogue
Somedays you just feel like a supermodel. And whenever Ashley does, she'll just vogue it out to Madonna without a worry in the world. Best of all: no heels or slippery runways are required.
9. When She Sang About Not Needing A Man
When Ashley decides to pursue a singing career in Season 5, her first gig involves performing at a local college cafe. Her song of choice? An original number urging a man to "make up his mind," and gently reminding him that she'd be just fine with or without him.
10. When She Told Donald Trump Off
Oh, the irony of this moment! When the Banks are trying to sell their mansion in the final season, Uncle Phil greets two potential buyers who turn out to be none other than Donald Trump and his then-wife Marla Maples. Ashley isn't having it and quickly tells off Trump with a blunt "thank you for ruining my life." Wonder if Trump knew thousands of other Americans would utter that same thing so many years later.
11. When She Played A Little Bit Hard To Get
When Ashley comes face-to-face with her celeb crush, R&B sensation Little T (Tevin Campbell) on her birthday during Season 1, she completely loses it and faints. But after she comes back into it, she quickly dusts off mellow persona and regains the upper hand when Lil T invites her out for pizza by saying she'd have to check her schedule first.
12. When She Sang Aretha Franklin's "R-E-S-P-E-C-T"
If there was one thing Ashley made known on the Fresh Prince it was that no man or woman was going to disrespect her in any way shape or form. But just in case anyone missed the disclaimer, Ashley takes to her backyard party stage in Season 4 to belt out the ultimate girl-power anthem, reiterating her zero-tolerance policy for nonsense.
It's safe to say that Ashley Banks is one of the most underrated characters on The Fresh Prince of Bel-Air. Regardless, she'll always be a considered a pioneer in the carefree black girl movement.