12 Trump Quotes About Kim Jong Un Show A Rocky Relationship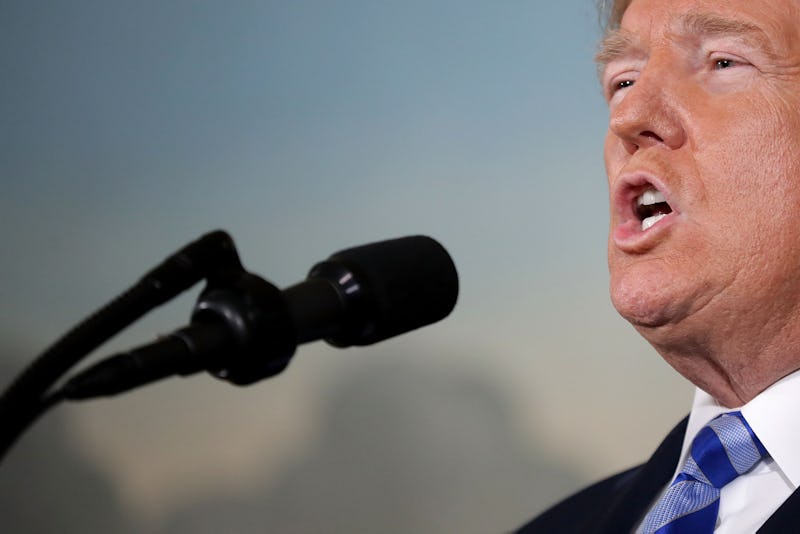 Chip Somodevilla/Getty Images News/Getty Images
"Maniac," "madman," "a sick puppy" — these are just some of the ways President Donald Trump has previously described North Korea's Kim Jong Un. Still, President Trump and Kim have decided to put their differences aside and come face-to-face in what will be a hugely historic meeting. But will Trump's quotes about Kim affect negotiations? The president hasn't always had nice things to say about the North Korean leader.
President Trump announced Wednesday that a meeting between him and Kim had officially been set. "Good meeting with Kim Jong Un," Trump tweeted. "Date & Place set." If the meeting does take place, it would be the first time a sitting U.S. president has met with a North Korean leader. While Trump seems fairly pleased about the meeting, he also has warned against viewing the summit in an overly optimistic light, stressing that "everything could be scuttled."
"A lot of good things could happen, a lot of bad things can happen," Trump said Wednesday, according to CNN. "I believe that both sides want to negotiate a deal. I believe we have a really good shot at it being successful."
For Trump's sake, we hope Kim isn't one to hold a grudge. There are quite a few not-so-nice things Trump has said about the North Korean leader that he could potentially have to answer for in their meeting.