12 Movies Out Later This Year That You Need To See With Your Bestie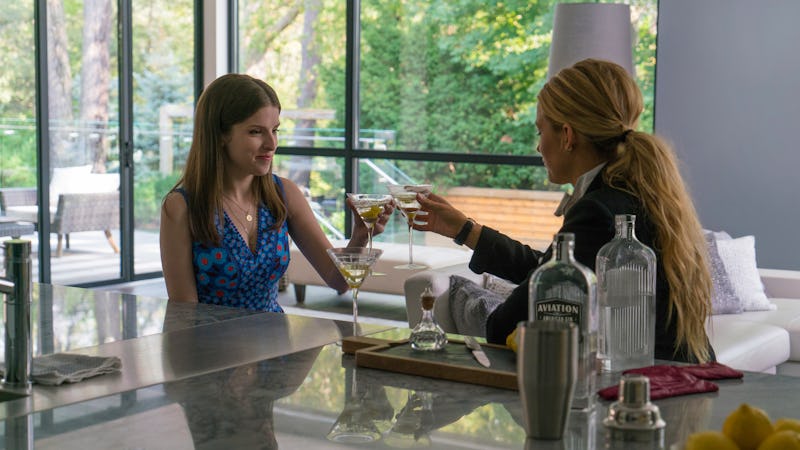 Lionsgate
Female friendships can be some of the most defining relationships of our lives. From our own siblings, to our childhood best friends, to our college roommates, to the friends we may make as adults, the women in our lives often end up as the most supportive people we bond with. So it's no wonder why we're drawn to movies that highlight female friendships, be they in movies, books, or on TV. Movies in particular have a great legacy of girlfriends, like Thelma & Louise, Beaches, Bridesmaids, or Romy and Michelle. And there are actually a large number of fall and winter 2018 movies featuring female friendships, too.
The rest of this year has a number of female friendship-related stories in store for us at the movies. And for every film portraying loving, supportive, and trustworthy best friends, there's another that revolves around lying, scheming, and deceit. But that's OK! Rather than simply succumbing to the stereotypes that female friendships are toxic, these films show just how complicated the bonds can be, for better or for worse. Here are some of the upcoming movies featuring all kinds of intricate female friendships heading our way for the rest of the year.
1. Crazy Rich Asians (Aug. 17)
Constance Wu stars as Rachel Chu, whose boyfriend turns out to be the "Prince Harry of Singapore." Rachel has to make her way through an unfamiliar landscape of wealth and the wrath of her paramour's mom (Michelle Yeoh), but thankfully she has the help of her bestie, Peik Lin, played by Awkwafina.
2. Support The Girls (Aug. 24)
Regina Hall stars in this comedy as a general manager at at restaurant where the waitresses wear little but the sisterhood goes far. Hall's Lisa acts as a maternal figure and best friend to characters played by Split's Haley Lu Richardson and Unbreakable Kimmy Schmidt's Dylan Gelula.
3. The Bookshop (Aug. 24)
This charming-looking film features another case of May-December female friendships. The Newsroom's Emily Mortimer stars as Florence, a 1950s English woman who opens a bookshop with the help of a pint-sized assistant named Christine (Honor Kneafsey). Learning to Drive's Isabel Coixet directs.
4. A Simple Favor (Sept. 14)
Sometimes friendships aren't exactly what they seem, and mystery and secrecy get in the way of a true bond. That seems to be the case with Stephanie (Anna Kendrick) when her new best friend Emily (Blake Lively) suddenly goes missing. Bridesmaids and Ghostbusters helmer Paul Feig dips into more sinister territory with this new film.
5. Lizzie (Sept. 14)
The friendship between Lizzie Borden and the Irish maid Bridget Sullivan blossoms into something more in this reimagining of the historical murder. Chloë Sevigny stars as the titular Lizzie with Kristen Stewart as her accomplice.
6. Little Women (Sept. 28)
The bond between sisters can rival that of any friendship. This 2018 version of Louisa May Alcott's classic novel is updated for the new millennium, with Lea Thompson starring as Marmee, the March matriarch.
7. MDMA (Sept. 14)
The Leftovers' Annie Q heads back to 1984 in Angie Wang's semi-autobiographical tale of friendship and ecstasy in MDMA. Back in 2017 when the film played at the LA Asian Pacific Film Festival, The Hollywood Reporter wrote, "In the performances of Annie Q. and Francesca Eastwood, a friendship between two damaged souls quietly resounds."
8. Nobody's Fool (Nov. 2)
Tiffany Haddish is a free woman in this Tyler Perry comedy about a woman released from prison only to find out that her sister is being catfished. Tika Sumpter, Whoopi Goldberg, and Glee's Amber Riley co-star.
9. Suspiria (Nov. 2)
Dakota Johnson stars in this remake of the Dario Argento horror classic about a young dancer who discovers that her ballet company isn't exactly what it seems. It's not clear how much of the movie will be retold in this updated version, but if it's anything like the original, befriending witches is a dangerous game.
10. Widows (Nov. 16)
Academy Award-winning director Steve McQueen and Gone Girl writer Gillian Flynn offer up a story about four women who team up after their husbands die to deal with the debt the criminal men left behind. The crime thriller stars Viola Davis, Michelle Rodriguez, Elizabeth Debicki, and Cynthia Erivo.
11. Second Act (Nov. 23)
Jennifer Lopez fakes it til she makes it with the help of her BFF played by Leah Rimini in this comedy about a woman trying to climb the corporate ladder.
12. The Favourite (Nov. 23)
Being the best friend of a queen must have its perks, so it's no surprise that Emma Stone and Rachel Weisz would battle it out for the title of favorite to Queen Anne (Olivia Coleman) in this period piece.
If you're looking for a date to any of these movies this fall and winter, might I recommend giving your best friend a call?