12 Women To Thank For Ending Trumpcare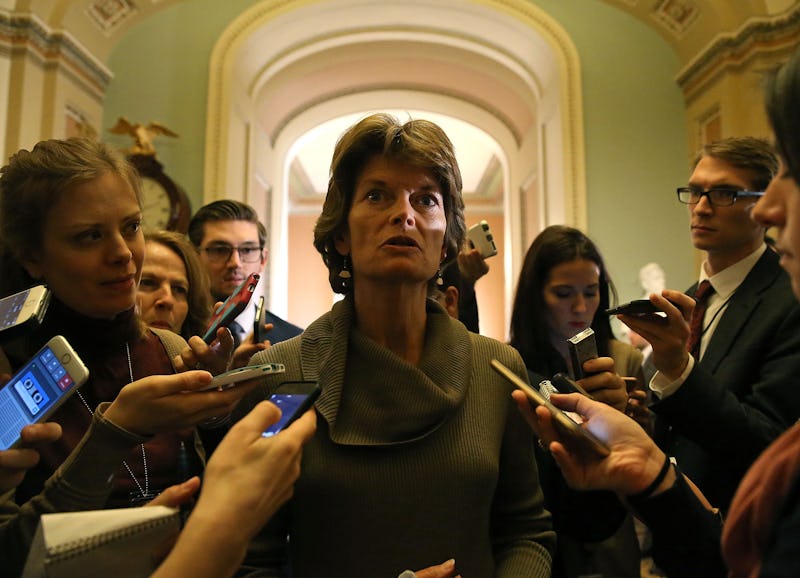 Mark Wilson/Getty Images News/Getty Images
Millions sighed with relief across the country on Friday after Republicans pulled their Obamacare replacement bill from the House floor. The American Health Care Act, introduced on Mar. 20, deeply divided not just Republicans from Democrats, but also Republicans from other Republicans, with the most right-leaning members of the party insisting the bill didn't do enough to dismantle Obamacare, while more moderate members opposed the plan's cuts to Medicaid. Opposition intensified even more after the Congressional Budget Office published a report estimating that 24 million Americans would be uninsured by 2026.
The AHCA's defeat is a significant one, and it took the work of countless people. Given how catastrophic the bill's passing would've been for women's healthcare — among other things, the AHCA promised to defund Planned Parenthood, allow states to take Medicaid away from unemployed mothers, and roll back essential health benefits like maternity care and birth control — it isn't surprising that women played a big role in stopping the plan in its tracks. Female activists and lawmakers in Washington, both Democrats and Republicans, pushed against allowing the AHCA to become law. Though the actual number of women who contributed to this victory is much larger, here are 12 women we should all thank for killing this bill.
1. Leah Greenberg
Leah Greenberg is one of the co-authors of Indivisible Guide, a 26-page guide outlining practical methods for resisting the Trump agenda. The guide has flourished in a full-blown national movement that reportedly has Republicans rattled. Over 6,200 local chapters have been founded across the country, and it was largely pressure — which manifested with endless phone calls to lawmakers' offices, protests, and tough town halls — from these very groups that led to the AHCA's downfall.
2. Sarah Dohl
Sarah Dohl is also one of the five former congressional staffers who put the Indivisible Guide together.
3. Elizabeth Juviler
NJ 11th for Change, a grassroots organization that's adopted Indivisible as its playbook, was co-founded by Elizabeth Juviler, a resident of Montclair, New Jersey. The group has carried out protests outside Rep. Rodney Frelinghuysen's office every Friday for two months demanding that he hold town hall meetings and expressing their opposition to the GOP-proposed healthcare bill. Thanks to the pressure the group applied on the legislator, Frelinghuysen broke with President Trump by announcing he'd vote against the AHCA because "it would place significant new costs and barriers to care on my constituents in New Jersey."
4. Sister Carol Keehan
Sister Carol Keehan, CEO of the Catholic Health Association, joined the leaders of six other influential national hospital groups in denouncing the AHCA. In 2015, President Obama credited Keehan with the Affordable Care Act's success in becoming law. "We would not have gotten the Affordable Care Act done had it not been for her," he said. Once again, her influence made a big impact on the ACA.
5. Cecile Richards
Planned Parenthood President Cecile Richards worked relentlessly to stop the GOP's health bill, speaking out whenever she could and mobilizing supporters of Planned Parenthood to take action. On Thursday, she insisted any female legislator who voted in favor of the bill would be "betraying every woman in America."
6. Rep. Ileana Ros-Lehtinen
Speaking of female legislators, Republican Rep. Ileana Ros-Lehtinen vowed to vote against the AHCA.
7. Rep. Barbara Comstock
Though she's not a supporter of Obamacare, Virginia Rep. Barbara Comstock was another Republican opponent of the replacement bill.
8. Rep. Jaime Herrera Beutler
Yet another crucial Republican vote AHCA proponents failed to clinch.
9. Sen. Susan Collins
Though the Senate wasn't set to vote on the bill on Friday, Sen. Susan Collins had openly shared her opposition to the proposed healthcare bill which was partially fueled by the plan's vow to defund Planned Parenthood. Her stance served to make the bill's passage more difficult if a Senate vote ever took place.
10. Sen. Shelley Moore Capito
The West Virginia senator joined three of her Republican colleagues in sending a letter to Majority Leader Mitch McConnell expressing their dissatisfaction with the bill.
11. Sen. Lisa Murkowski
Like Sen. Susan Collins, Alaska Sen. Lisa Murkowski took issue with the AHCA's aim to defund Planned Parenthood.
12. Katie Needle
Katie Needle's AHCA question for Tom Price during a town hall went viral. Needle, and the thousands of women doing the same in town halls across the country, is the main reason Republicans were too afraid to approve a bill that would anger their constituents.
Clearly, Trumpcare was no match for these women.