13 Products On Amazon That Will Help You Prepare For Colder Fall Weather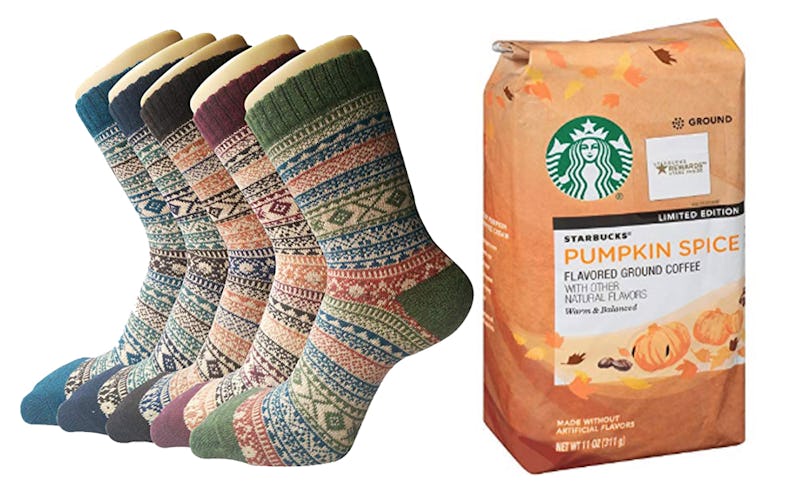 Amazon
Don't fret the upcoming weather reports. After a blistering summer full of heat waves, humidity, and misery, many of us are totally welcoming crisp breezes and flannel blankets. However, if you're amongst the few that have yet to hang an autumnal wreath on the front door because of your disdain for colder temperatures, don't worry: there are some Amazon products that will help you adapt to the coming fall temps. From pumpkin spice everything to wool socks, there's something for everyone to get a little giddy about the ~falling~ temperatures.
Cold weather is something to embrace — especially if you're well-equipped with the right products. When you've armed yourself with mittens and shielded yourself with a fuzzy throw blanket, you can experience total appreciation for the cold. Or, at least, slowly warm to the idea of chillier nights. You don't have to be one of those people who looks at falling dead leaves as a seasonal confetti celebrating all things autumn, but, the temperatures are still going to drop and, well, you might as well embrace it!
I promise it won't be terribly hard to adapt to. Not when you see how many pieces there are to add to your wardrobe. Curl up on the couch and cozy up to your Amazon account. It's time to get ready for the season ahead!
4-5 Pack Womens Thick Knit Warm Casual Wool Crew Winter Socks
Open toed shoes are now on reserve for special occasions. Now that the temperature has dropped below 70 degrees Fahrenheit, you can snuggle your feet into warm wool socks. Dare I suggest the maximum comfort might even get you excited for winter.
Bess Bridal Women's Plaid Blanket Winter Scarf Warm Cozy Tartan Wrap Oversized Shawl Cape
There's nothing quite like a versatile blarf (aka blanket scarf). It can be reworked into a trendy shawl. Used as a blanket. It is an essential wardrobe addition, especially if you have plans to visit an apple orchard.
Homesick Candle Scented
Sure, candles can be a warm accent to your home around the calendar. But once the green leaves begin to turn yellow, the aroma of a scented candle and the glow of its flame will have you pumped for falling temperatures.
Refresh CLUB-01 Women's Slip on Chunky Heel Ankle
Have you met my seasonal BFF, the chunky black heeled bootie? Tuck your flip flops in the rear corner of your closet and make room for bigger boots. Your feet have to stay warm as the season progresses towards the first freeze but you never have to sacrifice style. However, fashion aside, crunching leaves has a real ring to it when done under a chunky heel. And that alone will warm your heart.
Aphratti Women's Long Sleeve Casual Peter Pan Collar Fit and Flare Skater Dress
Channeling Wednesday Addams will lift your spirits as the temperatures dwindle.
Chanasya Super Soft Fuzzy Faux Fur Elegant Rectangular Embossed Throw Blanket
As you get prepared with all the gloves and scarves for the upcoming weather, get your furniture prepped too. Drape all surface areas with fuzzy blankets you'll later cocoon yourself in for the rest of the season. It doesn't hurt if the blankets are Autumn appropriate hues like a rusty orange.
Alinfu Women's Casual Unbalanced Crew Neck Knit Sweater Loose Pullover Cardigan
It goes without saying that once summer gives way to fall, your closet should be stocked with sweaters made of a lot of yarn.
Starbucks Pumpkin Spice Flavored Ground Coffee
You have to warm your soul and stomach too as the temperatures change. And what better way to fulfill that than a bag of Pumpkin Spice ground coffee? Bring the pumpkin patch to your pantry.
Honeywell HCE200W UberHeat Ceramic Heater
Adapting to the fall temps not going as great as plan? If you're shivering under a wool sweater and scarf, it might be a good idea to keep a space heater by your side.
PureBliss Energy Lamp
Forget the drop in temperature, how about adapting to the shorter days? If you're affected by the lack of light, an energy lamp could help boost your mood.
Pinzon 160 Gram Plaid Flannel Sheet Set
Breezy sheets are so last season. Strip the bed of summer's sheets and forget about the cold side of the pillow. Warm up your bedroom with a set of flannel bed sheets that will surely keep you warm as the draft makes its way through your room.
OTSLEY Women's Fall Off Shoulder Knitted Sexy Loose Batwing Sweater
Not ready to cover up your collarbone? Don't ditch your summer vibes completely just yet. Stay warm and cozy in a knitted sweater without sacrificing style. Oh, and don't call it a cold shoulder.
Herou Women Modal Lightweight Long Sleeve Turtleneck Top
On the contrary, if you'd rather just commit to the forecast and go full throttle fall, you'll want to embrace the black turtleneck.