13 Books For Best Friends That Will Make The Perfect Galentine's Day Gift For Your BFF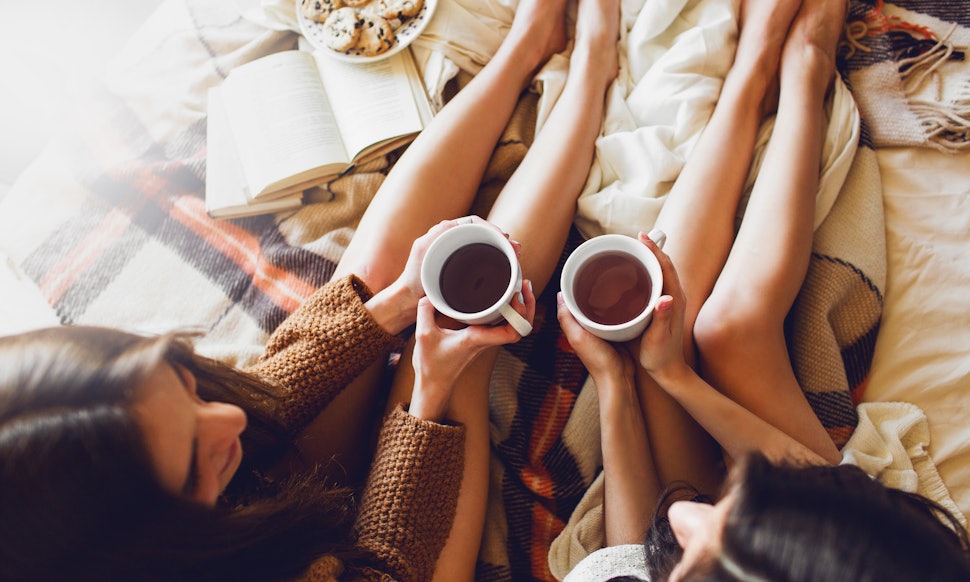 Svitlana Sokolova, Shutterstock
Valentine's Day is all well and good, but the day I really look forward to come February is Galentine's Day on the 13th. The holiday, first popularized by Parks and Recreation's Leslie Knope, is all about celebrating the love and devotion we have to the women in our lives. Because it's no secret that the friendships we make can have as much, if not more, impact on our lives that our romantic relationships, and it only makes sense to set aside a special day to honor the incredible platonic partners in our world. But you're definitely not going to go with the average, and frankly, boring V-Day flowers and chocolates combo for your all-important besties, right? So why not get them a book instead?
All 13 of the books below would be the perfect present to gift to any one of your girlfriends. Add them to a gift basket filled with some snacks, beauty products, or other inexpensive but meaningful trinkets, or just wrap it up all on its own. Each of these reads celebrates heroines, feminism, female friendships, and the many ways that the women in our lives make them better every single day. Oh, and you might want to pick up an extra copy of whichever one you choose for yourself, because there is no one better to buddy read with than your Galentine.
'Text Me When You Get Home: The Evolution and Triumph of Modern Female Friendship' by Kayleen Schaefer
From Parks and Recreation to Bridesmaids, the female friendship has taken an undeniable front seat in pop culture. Schaefer's Text Me When You Get Home utilizes real-life anecdotes along with historical research and pop culture references to lay out a personal and sociological perspective — and ultimately a celebration — of the evolution of the modern female friendship.
'How To Be A Heroine' by Samantha Ellis
In How To Be A Heroine, Samantha Ellis embarks on a retrospective look at the literary ladies — the characters and the writers — whom she has loved since childhood. From early obsessions with the March sisters to her later idolization of Sylvia Plath, Ellis evaluates how her heroines stack up today. And, just as she excavates the stories of her favorite characters, Ellis also shares a frank, often humorous account of her own life growing up in a tight-knit Iraqi Jewish community in London.
'Another Brooklyn' by Jacqueline Woodson
Jacqueline Woodson's coming-of-age story follows four best friends in Brooklyn, New York in a beautiful tale about black girlhood and memory. When August runs into a long-lost-friend, she's transported to a time and a place where friendship was everything — until it wasn't.
'Ten Girls To Watch' by Charity Shumway
Charity Shumway's novel follows Dawn West, who has just landed a job tracking down the past winners of Charm magazine's "Ten Girls to Watch" contest. Through hundreds of interviews with fascinating women who have gone on to become mayors, opera singers, and air force pilots, Dawn discovers that success, love, and friendship can be found in the most unexpected of places and that, while those who came before us can be role models, ultimately, everyone has to create their own happy ending.
'Tiny Beautiful Things: Advice On Life And Love From Dear Sugar' by Cheryl Strayed
Cheryl Strayed's powerful collection of "Dear Sugar" advice columns explores everything from romance and friendship to faith and loss. Rich with humor, insight, compassion, and unfiltered honesty, this book is a balm for everything life might throw your way. Whatever your bestie is grappling with right now, this book is sure to fill her heart with hope.
'The Girl In The Show: Three Generations Of Comedy, Culture And Feminism' by Anna Fields
Comediennes like Amy Poehler, Tina Fey, and others have become icons for women everywhere who are outspoken, unruly, and unapologetically hilarious. Girl in the Show provides an in-depth exploration of how comedy and feminism have grown hand in hand to give women a stronger voice in the ongoing fight for equality.
'Swing Time' by Zadie Smith
Two brown girls dream of being dancers — but only one, Tracey, has talent. It's a close but complicated childhood friendship that ends abruptly in their early 20s, never to be revisited, but never quite forgotten, either. Swing Time is a story about friendship and music and stubborn roots, about how we are shaped by these things and how we can survive them.
'Moxie' by Jennifer Mathieu
Jennifer Mathieu's Moxie follows Vivian Carter, who takes a page from her mother's past and creates a feminist zine that she distributes anonymously to her classmates. She's just blowing off steam, but other girls respond. Pretty soon Viv is forging friendships with other young women across the divides of cliques and popularity rankings, and she realizes that what she has started is nothing short of a girl revolution.
'I'll Have What She's Having: How Nora Ephron's Three Iconic Films Saved the Romantic Comedy' by Erin Carlson
Nora Ephron's three iconic films — When Harry Met Sally, Sleepless in Seattle, You've Got Mail — changed the landscape of romantic comedies forever. Erin Carlson's book goes behind-the-scenes of the creation of each, and examines their continuing cultural impact. This gift pairs well with a BFF rom-com night.
'Erotic Stories For Punjabi Widows' by Balli Kaur Jaswal
In Balli Kaur Jaswal's novel, Erotic Stories for Punjabi Widows, a creative writing teacher gets more than she bargained for when her class of Sikh widows brings erotic stories to class. When Nikki realizes that her students have plenty of their own fantasies, and desires to share, the classroom becomes a safe space for the women to bond.
'Juliet Takes A Breath' by Gabby Rivera
Rivera's powerful exploration of race and feminism follows Juliet Milagros Palante as she leaves the Bronx for Portland, Oregon to spend the summer interning with the author of her favorite book: Harlowe Brisbane, the ultimate authority on feminism, women's bodies, and other gay-sounding stuff. Will Juliet be able to figure out her life over the course of one magical summer? Is that even possible? Or is she running away from all the problems that seem too big to handle?
'A Secret Sisterhood: The Literary Friendships Of Jane Austen, Charlotte Bronte, George Eliot and Virginia Woolf' by Emily Midorikawa and Emma Claire Sweeney
Male literary friendships are the stuff of legend; think Byron and Shelley, Fitzgerald and Hemingway. But the world's best-loved female authors are usually mythologized as solitary eccentrics or isolated geniuses. Through letters and diaries that have never been published before, A Secret Sisterhood resurrects these forgotten stories of female friendships. They were sometimes scandalous and volatile, sometimes supportive and inspiring, but always — until now —tantalizingly consigned to the shadows.
'Wonder Woman: Warbringer' by Leigh Bardugo
This Wonder Woman book follows a teenage Diana as she comes they face-to-face with an army of enemies — mortal and divine — whoa re determined to either destroy or possess the Warbringer. Tested beyond the bounds of their abilities, Diana and her friend, Alia, must find a way to unleash hidden strengths.