13 Funny "Buy Ivanka's Stuff" Memes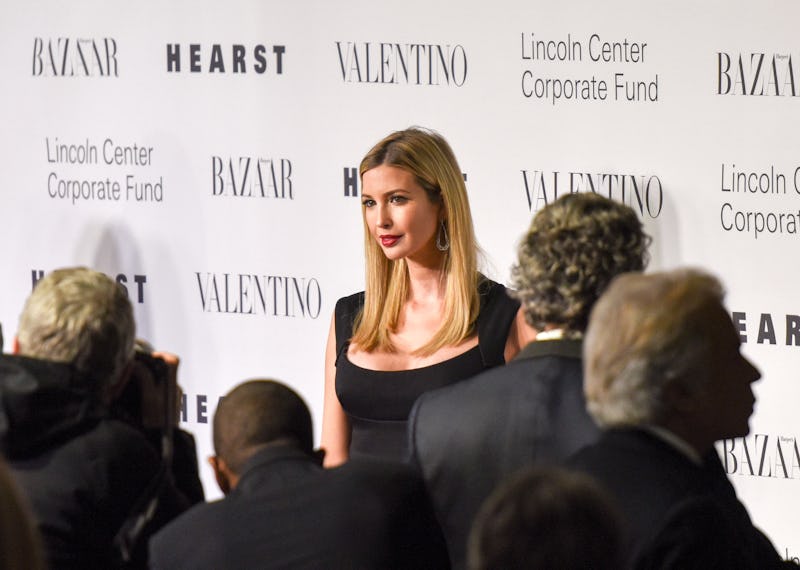 Grant Lamos IV/Getty Images Entertainment/Getty Images
The internet knows how to get creative with political scandals, and today's Ivanka Trump fashion line debacle is no different. Kellyanne Conway appeared on Fox & Friends today and seemed to have broken federal ethics law when she told viewers to "Go buy Ivanka's stuff." As expected, people had a field day and "Go buy Ivanka's stuff" memes were born.
The phrase is now trending on Twitter and jokes about the whole situation are flying. So is concern about what Conway's televised endorsement means about the future of the divide between Trump's work as president and his and his family's businesses. Conway's endorsement came in response to Nordstrom's announcement that it would be dropping Ivanka's line from their stores. Trump responded with a tweet saying, "My daughter Ivanka has been treated so unfairly by @Nordstrom. She is a great person -- always pushing me to do the right thing! Terrible!"
Nordstrom responded to Trump's tweet with a statement to CNN saying, in part, "To reiterate what we've already shared when asked, we made this decision based on performance," adding that the retailer has "had a great relationship with the Ivanka Trump team."
Neiman Marcus, TJ Maxx, and HSN have all reportedly also dropped, stopped promoting, or cut back on carrying Ivanka Trump's merchandise. It remains to be seen if Conway will face any repercussions for her remarks or if they signal a new norm in the White House. (It also remains to be seen if Ivanka Trump's clothing line will survive this latest bout of bad public relations.) No matter what happens, Twitter users will be there all along the way cracking jokes and making memes.
A Bigly Yard Sale
The White House gift shop is about to get a bigly upgrade.
A Mike Judge Classic
But who is Butthead?
Run, Sigourney!
Few things are scarier than a federal ethics violation.
"Made In China"
On this point, not all L.L. Bean products are made in America, either.
JFK's Most Famous Words
Does this quotation count as an "alternative fact"?
And Some Guidance From Honest Abe
Another great presidential quote lost to time.
Here's A Story...
The White House has a new, exclusive club.
The Team Is United For A Cause
Shouldn't this be live from the Oval Office, though?
Oh No They Didn't
Everyone who retweets this is really throwing Sears under the bus.
Style Tips From Conway
Is a Conway-Trump collab line in our future?
The Former First Lady Isn't Having It
Here's some major side eye at Conway's statements this morning.
Endorsement Deal In The Works
Let's see how far we can take this whole endorsement thing.
Don't Forget The Jewelry Line
Apparently, Ivanka's jewelry line isn't doing so well, either.
According to the Associated Press, White House Press Secretary Sean Spicer says Conway has since been "counseled" about her seemingly off the cuff morning show pitch. However, he neglected to elaborate further. Meanwhile, February is not even halfway over, and it's already been a strong one for re-contextualizing political memes. "Go buy Ivanka's stuff," "Nevertheless, she persisted," and "Easy D" are all phrases taken from statements from Trump's administration and the GOP. And they have all been turned around for both humorous and serious use by Trump's and the GOP's opponents. Ivanka Trump has yet to make a public statement on her father's tweet and Conway's endorsement, but considering the House Oversight chairman's response, perhaps it's best she stay quiet for now.