You Only Need One Item To Put Together These Hilarious Halloween Costumes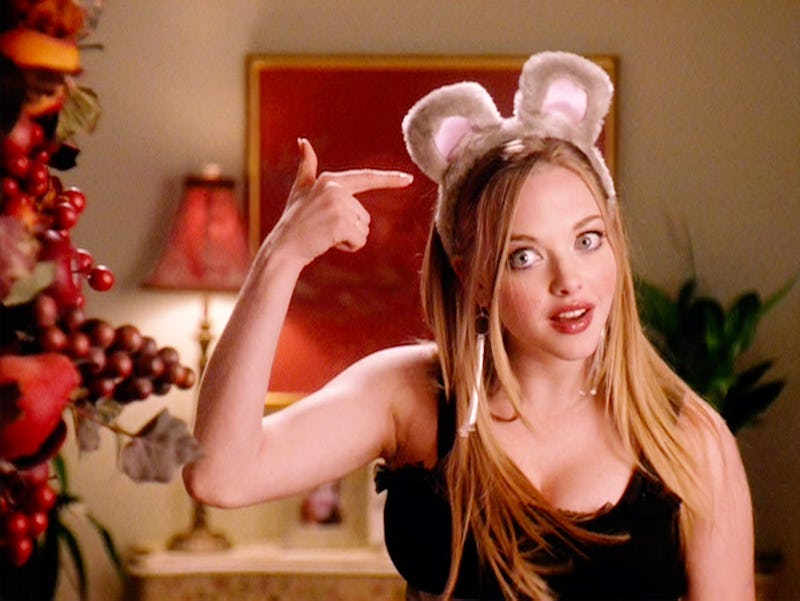 Paramount Pictures
The real reason why I never dress up for Halloween is not because I don't want to. Rather, I get extremely overwhelmed by all of the elements that go into dressing up. The planning, the plotting, the collecting the costume pieces and putting it all together — it's a lot! Honestly, I don't have the attention span or energy to dress up for Halloween, which is typically why I've been wear the same pair of cat ears that double as a headband every single year since middle school. But Halloween doesn't have to be hard — I'm starting to realize there are actually tons of one-item Halloween costume ideas out there that are not only easy to put together, but creative too.
There are so many costumes that only require one identifiable thing — so many more costumes than the basic cat. All it takes is a little bit of brainstorming before the big day, and it's so simple. Here's a list I put together of a few super easy costumes that only require one item. They're so easy, you might consider dressing up as something different for each of your Halloween parties. I know, it's crazy — I just went from being someone who literally never dresses up for Halloween to someone who is considering having multiple costumes for multiple parties. These costumes are just that easy. There's no reason to stress over your costume, just get inspired by some of these options and feel free to copy them!
OG Ghost
When I was a kid and my mom told me my ghost costume was just a sheet with holes for eyes, I cried. But now, as an adult, I think it's kinda rad. It's the most retro nostalgic Halloween costume there is.
White Sheet, $14, Amazon
Basic Witch
Put a pointy hat on and everyone will know you're a witch. You can wear whatever you want below your hat, and people will still get the point. Paint your face green if you really want to drive the point home.
Satin Soft Black Witch Hat, $5, Amazon
Lil' Red Riding Hood
It's possible you'll be mistaken for an American Apparel employee, but chances are, if you wear the hood, someone will figure it out. And at least you'll be cozy, no one can take that away from you!
Red Hoodie, $20, Target
Pippi Longstocking
Iconic! And adorable. Put some wire in your braids and wear whatever laundry-day rags you have lying around. No one really remembers what she wore anyway, the flying braids are all that matter.
Aluminium Craft Wire, $6, Amazon
Vampire
Pop a pair of fangs in and you're a vampire. There's no need for white face paint or a cloak, we all have enough human-like vampire references by now, cough, Twilight, cough.
Plastic Vampire Teeth, $4, Amazon
Skeleton
This costume is a one stop shop: it's your festive effort, it's your warmth, and it's also your pajamas for the night. Plus, you'll totally wear it after the holiday.
Women's Spandex Skeleton Onesie, $26, Amazon
Dead
Add a little fake blood to whatever you're already wearing and be you, but dead! It's not lazy, it's eerily realistic.
Fake Blood, $4, Amazon
An Animal
Get a pair of ears and you can be literally and cute human version of an animal. Get cat ears and wear black. Get mouse ears and wear grey. Get dog ears and wear brown. Super easy, super cute, minimal effort.
Costume Mouse Ears, $5, Amazon
A Unicorn
Get yourself a unicorn horn and that's all you need, because the rest of you is already fabulous. Be your own unicorn.
Elastic Unicorn Horn Headband, $8, Amazon
An Angel
Wear a halo and everyone will see your virtues. You could wear all white or you could just dress as you do, the contemporary angel might as well be in jeans and a teeshirt — heaven should be comfy!
White Feather Angel Halo, $10, Amazon
Regina George From Mean Girls
You know that classic scene in the movie. Get yourself a white tank top to wear over your most colorful bra and cut some holes in it. BAM! Instantly recognizable, movie-themed costume.
White Tank Top, $13, Target
The Next Bachelorette
What's the one thing that every contestant on The Bachelor and The Bachelorette wants? A rose. Wear your shiniest dress and a single rose. Real fans will get it.
Silk Flower, $6, Amazon
Margot Tenenbaum From The Royal Tenenbaums
Any excuse to buy a big faux fur fuzzy jacket, right? This coat was Margot's most defining costume in The Royal Tenenbaums. Add some eyeliner and a side part to really drive the costume home.
Faux Fur Coat, $103, Asos
A French Person
Wear a beret! It doesn't get any easier than that. Sure you might want to pair it with a striped shirt and maybe even a baguette, but the beret should be good enough. Plus, you have a cute hat for winter ready to go.