13 Solar Eclipse Halloween Costume Ideas That Are Easier Than Throwing On Cat Ears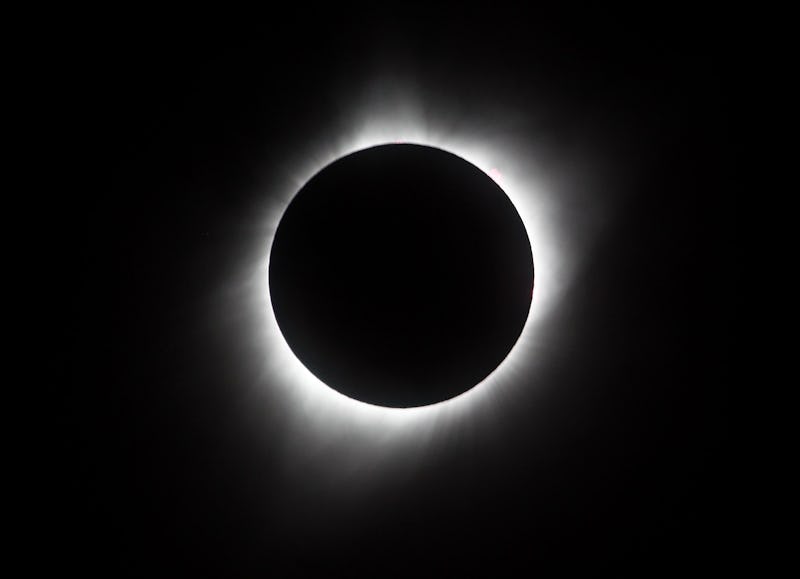 Jamie Squire/Getty Images News/Getty Images
When the Great American Eclipse swept its way across the United States on Aug. 21, it felt for a few moments like the world stopped. The whole country looked up at the sky together, and marveled at the beauty of the universe around us and its infinite mysteries. But just because the 2017 solar eclipse has come and gone, you don't need to let up on eclipse fever yet: You could always incorporate it into Halloween with some creative solar eclipse costume ideas that will ensure you're the most uniquely dressed at whatever party you attend. Hope you saved those eclipse glasses!
A total solar eclipse occurs when the moon passes between the Earth and the Sun, resulting a total or partial (depending on where you're viewing the event) blockage of the sun for up to three hours. Total solar eclipses occur, on average, twice every three years, but alas, the North American continent is often forgotten. The last time that the continental United States saw a total solar eclipse was 1979.
The 2017 solar eclipse was particularly special because it was the first time in nearly a century that a solar eclipse's path of totality (aka, a "total" solar eclipse) ran from coast to coast. Nearly everyone in the United States was able to see at least a bit of the celestial event — so, understandably, for months leading up to it, nearly every news outlet was pushing The Great American Eclipse content, not just because of the novelty, but because looking at a solar eclipse sans glasses or a DIY viewer can cause severe eye damage. A bit of danger and a bit of magic — what better way to live out your best Halloween weekend?
Sun
In a total solar eclipse, the moon moves between the earth and the sun, temporarily blocking out the sun completely. Wear a yellow dress, carry a big cardboard cutout of the moon, and shriek, "Hey! No fair!" every few minutes.
Casual Flared Midi Dress, $16, Amazon
Moon
Listen, the moon knows what she wants — to be seen during the day — and she goes and gets it! Wear a gray or black dress with a little yellow cardigan because, look, the moon is only so big and some of those sun rays peek out no matter what.
Classic Cardigan Sweater, $30, Amazon
Cocktail Vintage Summer Dress, $24, Amazon
Earth
Oy, the Earth is just trying to live here! Snag a blue and green dress, carry little cutouts of the sun and moon (on sticks!) and do a lot of sighing dramatically.
Digital Print Vest Dress, $26, Amazon
Sun and Moon
Doctor up a black leotard with some orange felt and embody the light and dark, the night and day, the meek and the bossy.
Capezio Leotard, $18, Amazon
Acrylic Orange Felt (25 sheets), $13, Amazon
Sun, Moon, And Earth
This is a super easy group costume. Watch the above .GIF - got that order of motion down? Okay, now run around like that all night. Your bossiest friend should probably be the moon.
Casual Flared Midi Dress, $16, Amazon
Cocktail Vintage Summer Dress, $24, Amazon
Flared Tank Dress, $15, Amazon
Eclipse Viewer
A simply DIY viewer (here's one tutorial, here's another one and here's another one) is all you need for an ultra simple eclipse costume.
Eclipse Tourist
Hundreds of thousands of people flocked to small towns in the path of totality, braving the hot sun and hours of traffic and shortages of basic necessities. If you can find an eclipse-themed fanny pack to match your NASA t-shirt and eclipse glasses, then you're golden.
Solar Eclipse Glasses (12-pack), $12, Amazon
Fifth Sun NASA T-shirt, $15, Amazon
Eclipse Truther
We all knew at least one person who was, uh, skeptical, about how damaging an eclipse really could be to the naked eye. DIY an anti-eclipse viewer t-shirt and get creative with some fake blood. Listen, Halloween is the perfect time for a little dark humor, right?
Vampire Blood, $7, Amazon
The Great American Eclipse
Obviously, the solar eclipse had branding — good, boastful, patriotic branding. Grab a pair of those viewer glasses and wear your favorite flag attire. Try starting that "USA!" cheer every few minutes.
Solar Eclipse Glasses (12-pack), $12, Amazon
Men's USA Vest, $8, Amazon
The Mayor Of Eclipseville
Hopkinsville, Kentucky was deemed "Eclipseville" for its primo spot in the eclipse's path of totality. Like, they re-branded their entire town. Brilliant.
Hopkinsville Baseball Hat, $16, CafePress
Totality Eclipseville T-Shirt, $20, TeeSpring
Lunar Cycle (Individual)
You can be the whole solar eclipse cycle by yourself, you don't need nobody else. A little black dress and a little brass lunar cycle garland and you're good to go.
Stretch Little Black Dress, $20, Amazon
Brass Moon Wall Hanging, $42, Etsy
Lunar Cycle (Group)
But the eclipse's cycle is also an easy group costume. DIY the various stages of the sun with a little orange felt. Stand in a line. Spout eclipse facts.
Acrylic Orange Felt (25 sheets), $13, Amazon
The Path Of Totality
The path of totality ran through Oregon, Idaho, Wyoming, Nebraska, Kansas, Missouri, Illinois, Kentucky, Tennessee, Georgia, and South Carolina. Wear a black sash over this map dress and be very smug with how easy and charming your costume is.
Digital Print Vest Dress, $26, Amazon
Check out the entire 'What's Up, Boo?' series and other videos on Facebook and the Bustle app across Apple TV, Roku, and Amazon Fire TV.