13 Festival Must-Haves You Can Fit In Your Mini Bag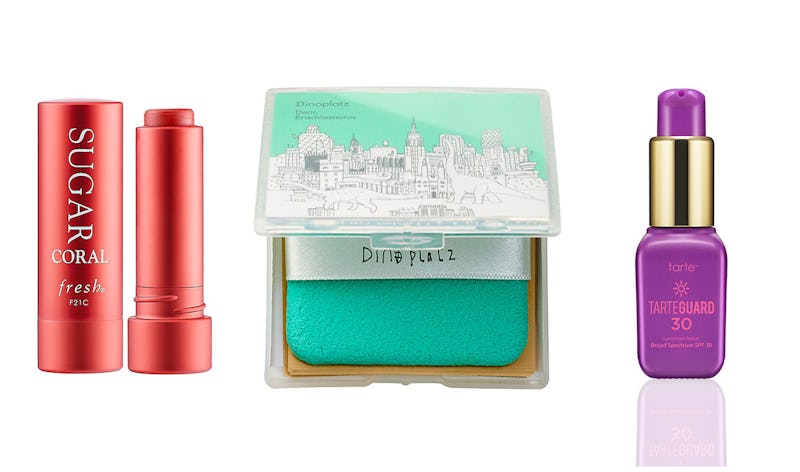 With lineups announced and tickets released for the year's biggest music events, festival season is officially upon us. That means coming up with perfectly boho-chic outfits, figuring out which stages to hit and when, and, importantly, what to bring with you. On long, hot days listening to your favorite bands, being prepared with some clutch festival must-haves in your bag can make the day that much better.
Because, let's be real — over the course of a festival, you might hit a low moment or two (even if you're only going for a day). When you're feeling tired, gross, sweaty, or just generally worn-out, having the right beauty and healthcare items on hand can turn a not-so-good moment around so you can get back to having the the best time ever.
It's worth checking out the festival website before you go to see if there are any restrictions on what you can bring, but aside from festival rules, here are 13 mini bag-sized items I'd definitely consider tossing in just in case (along with your ticket, ID, cash, etc). They're bound to come in handy on-the-go after festival season's over, too. Now toss on those round sunglasses and get ready for anything your festival throws at you.
1. Mini Sunscreen
Tarte To Go Tarteguard SPF 30, $6, Amazon
The cardinal sin of festival season: slacking on sun protection. Keep burns at bay with this mini brightening sunscreen (some festivals don't allow aerosol cans in, so this one has a convenient little pump).
2. Foundation Stick
Chubby in the Nude Foundation Stick, $14, Clinique
A foundation stick makes on-the go touch-ups easy, and it can work overtime as a concealer if you only need a spot check.
3. Tinted Lip Balm
Fresh Sugar Lip Treatment Sunscreen SPF 15, $31, Amazon
Treat dry lips with a balm that has SPF and a little color to keep your look bright. Tinted balms can also double as a little cheek color if you need it.
3. Cream Highlighter
RMS Champagne Rosé Luminizer, $38, Amazon
Nothing gives a look new life like highlighter, especially towards the end of a long festival day. RMS' latest offering is a take on their cult favorite Living Luminizer — it's got a peachier tint for a warm glow.
4. Mini Waterproof Mascara
Too Faced Deluxe Better Than Sex Mini Waterproof Mascara, $20, Amazon
Mascara touch-ups get tricky, because layering on throughout the day can leave lashes feeling crusty and clumped up. Make one re-application worth your while with a mini waterproof pick.
5. Thin Pack Of Tissues
Kleenex Slim Pack Facial Tissue 10 Count (Pack of 12), $14, Amazon
If you've ever been in a festival bathroom sans TP, this is one thing you'll never forget. You could carry just a few to save space, or be the hero and help a sister out if you can fit the whole thing in your bag.
6. Mini Hand Sanitizer
Bath & Body Works 'Classic Faves' Pocketbac Bundle of 5, $15, Amazon
See above. Fun as they are, unless you're in the VIP, festivals can get a little nasty. Having a mini hand sanitizer can take away some of that "ick" feeling if it strikes (plus, these ones are so very nostalgic).
7. Individual Deodorant Wipes
La Fresh Travel Lite Antiperspirant Wipes (Pack of 48), $19, Amazon
Mini deodarant wipes are another way to hit the refresh button when you're feeling a little gross-ish between stages, and they're more portable than a mini stick.
8. Cute Hair Ties
Invisibobble The Traceless Hair Ring, $8, Amazon
Hair ties are never a bad idea to have on hand, especially when your boho waves start sticking to your neck like no other.
9. A Few Pieces Of Gum
Orbit Sweet Mint Sugarfree Gum, $2, Amazon
If there's one thing I've literally never regretted bringing anywhere, it's gum. If you can't fit the whole pack, just bring a few wrapped pieces (and hide them from your friends).
10. Hydrating Powder
Liquid I.V. Hydration Multiplier (Pack of 16), $22, Amazon
One of my personal favorite things to have on hand, pour an individual packet of sports drink powder into a bottle of water for quick hydration and electrolytes when you're sweating bullets (seriously, dehydration is something to watch out for at festivals). Plus, this one tastes like the yellow Gatorade, and I'm about it.
11. Bandages
Curad Neon Adhesive Bandages, $16, Amazon
Because keeping bandages in your bag is way better than suffering through brutal blisters from your new festival sandals (or hobbling to a first-aid tent to find them).
12. Blotting Papers
Too Cool For School Dinoplatz Dear Brachiosaurus Blotting Paper, $13, Amazon
Keep shine under control on hot, sticky festival days. These dino ones are ridiculously cute, and the miniature palette has a compact mirror inside for other touch-ups, too.
13. A Cute Festival Bag To Put It All In
RACHEL Rachel Roy Pom Pom Pouch, $76, Rachel Roy
The pièce de résistance, right? Hold all of your goodies in a cute fanny pack, cross-body, or bucket bag. This one from Rachel Roy nails that fun boho vibe, and it supports an amazing initiative — each one is made by refugee women living in Dallas.