13 Reasons Why People Joined The Equality March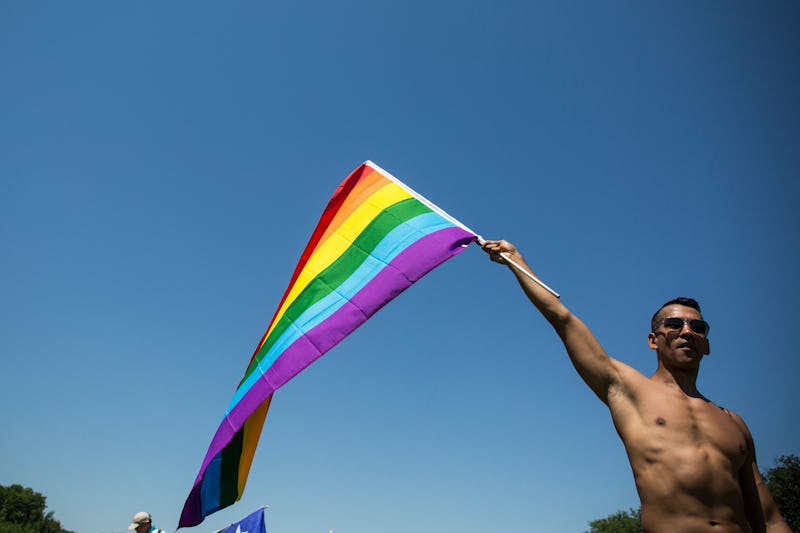 Zach Gibson/Getty Images News/Getty Images
Thousands of people took to the streets Sunday in cities across the United States to participate in the national Equality March for Unity and Pride. While organizers billed the event as a grassroots movement to "mobilize the diverse LGBTQ+ communities" to address "concerns about the current political landscapes and how it is contributing to the persecution and discrimination of LGBTQ+ individuals," every Equality March participant had their own individual reasons for turning up to march.
"I'm here because it's a matter of celebrating and supporting LGBTQIA identity," Timothy Kaine of Ohio told PBS NewsHour about his reason for traveling to Washington, D.C. to participate in the Equality March. "It's not about politics or policy or a difference in political opinion. It's about an administration denying our identity. We will resist completely."
Although the central Equality March was held in Washington, D.C., solidarity marches took place in more than 100 cities across the country. From Portland, Maine, to Anchorage, Alaska, members of the LGBTQ community and their supporters marched against hate, violence, and all forms of discrimination on the eve of the one-year anniversary of the Pulse Nightclub shooting.
Here are 13 reasons why people across the country marched in Sunday's Equality March.
1. Because We Shouldn't Have To Worry About Sexual Orientation Hindering A Career Or Education
In 2008, Lawrence Webb became the first openly gay African American to serve as an elected official in the Commonwealth of Virginia. His election win was a monumental moment for the LGBTQ community in Virginia. Webb joined Sunday's Equality March in Washington, D.C. because a person's sexual orientation shouldn't limit their career or educational opportunities.
"I chose to march this year because it is time for us as a group to get all the rights that we deserve," Webb said in a video posted to the official Equality March Twitter. "For myself personally... this is just a culmination of everyone having the same opportunities and rights to be able to do that and serve their communities and people and not have to worry about their sexual orientation being a hinderance."
2. Because I Accept Who I Am
For Twitter user Elvin Montero, the Equality March was about acceptance and being unapologetically proud of who you are.
3. Because We Must Be Visible
GLAAD President and CEO Sarah Kate Ellis joined demonstrators at the Equality March in Washington because she believes the LGBTQ community must remain visible. "We must [be] visible at a time when the administration is trying to erase us," she tweeted.
4. Because We Can't Go Back
Twitter user Zach Adamson was motivated to participate in the Equality March "because we've come too far to go back."
5. For Those Who No Longer Can
Atlanta City Councilman Alex Wan met one Equality March participant who was marching in honor of the 49 people killed in an attack on Pulse, a popular gay nightclub in Orlando, Florida, last year. "I march for those who no longer can," the marcher's sign read.
6. Because Love Is Love
Bradley E. Williams shared how one woman was hoping to teach her son a valuable lesson about love and tolerance by marching in the Equality March. "I'm here with my son to show him that love is love and we will continue to march until we have equality for all," a marcher identified as Rannika reportedly said.
7. Because Equality, Dignity & Respect Are American Values
Lambda Legal staff attorney Omar GP tweeted Sunday he was marching in Washington as part of the Equality March "because equality, dignity, and respect are American values."
8. Because There Are Endless Reasons
The Human Rights Campaign showcased two Equality March participants' reasons for marching in a tweet posted Sunday – for the protection of transgender kids and because we need love, not conversion therapy.
9. Because We Need To Be Recognized
"Today I am marching because our nation is basically in peril, especially for people of color [and] LGBTQ people, one march participant said in a video posted to the official Equality March Twitter. "I think that visibility is really important so I'm here to essentially help spread the word that we are here and we need to be recognized as part of the U.S. and I feel like we haven't been for a while."
10. Because We Need More Than Social Media Activism
Twitter user Vickie Waddell tweeted two signs she'd made for the Equality March organized in Charlotte. "I march because ranting on Facebook won't change the world," one sign read. "When injustice becomes law, resistance becomes duty," read the other.
11. Because Showing Up Is Important
While covering the Equality March in Washington, CNN writer and producer Paul B. Murphy met a 29 year old from Atlanta who'd showed up to march with a sprained ankle because, as he put it, "you have to show up."
12. Because Love Always Wins
Twitter user Taylor Dwyer chose activism over comfort Sunday when he marched in the Equality March in Washington. Dwyer said he "marched in 90 degree heat in our nation's capital today because love always wins."
13. Because Hope Will Never Be Silent
Atlanta City Councilman Alex Wan crossed paths with an Equality March participant in Washington who carried a sign emblazoned with a Harvey Milk quote that summarized one fantastic reason for marching. "Hope will never be silent," the sign read.
Whatever their reason for showing up to Sunday's Equality March, participants sent the White House a strong message about their commitment to expanding LGBTQ+ rights and continuing the fight against hate and discrimination.