13 Medical Mystery Movies To Stream If You Can't Get Enough Of The Creepy Genre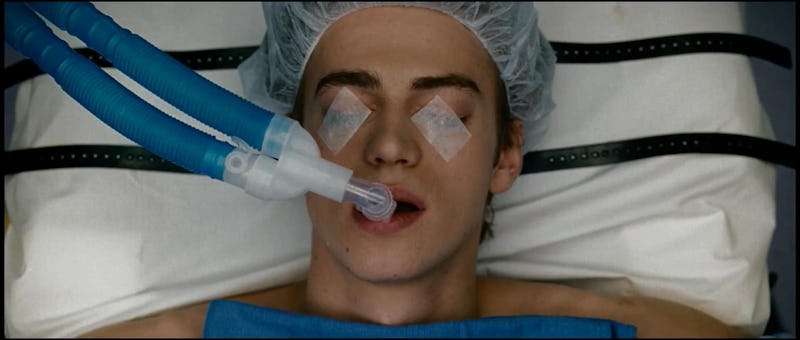 Metro-Goldwyn-Mayer
Real life stories are often the inspirations for Hollywood's biggest movies. The films can range from empowering stories like Hidden Figures to outrageous comedies like Tag to terrifying medical mysteries like Brain on Fire. The latter category of movies can be the most terrifying, because the medical ailments in them feel like the could happen to anyone. Netflix's Brain on Fire, for example, follows a young journalist who begins to suffer from a rare illness that affects her brain; a series of doctors attempt to figure out what exactly is happening, but it takes a long time before Susannah is properly diagnosed. The movie, which is based on the true story of a New York Post reporter, is just the most recent entry into Hollywood's catalog of medical mystery films. Here are 13 gripping medical mystery movies you can stream if you liked Brain On Fire.
Just be aware beforehand that watching these films will likely have you on medical sites like WebMD all day trying to diagnosis your smallest symptoms (hey, we've all been there), or convince you to be overly cautious about everything that happens with your body. Try not to get too caught up in the real-life components of these movies, and focus on the fact that they're compelling films absolutely worth watching now.
1. Awake
While undergoing surgery, a man (Hayden Christensen) experiences intraoperative awareness — where he is fully alert of what's going on, but paralyzed. Though this film is not based on a true story, inoperative awareness can occur during surgery.
2. Miracles From Heaven
Based on a true story, this movie stars Jennifer Garner as a determined mother searching for a way to save her sickly daughter.
3. Everything, Everything
Amandla Stenberg plays a young girl who struggles with a chronic autoimmune illness that affects her daily life. Once she meets her new neighbor (Nick Robinson), she starts to wonder if she can approach her condition in a new risky way.
4. Flatliners
In a hospital after hours, a group of medical students purposely flatline themselves so that they can discover if there is an afterlife and gain medical knowledge that most medical professionals don't have.
5. Contagion
If you're a germaphobe, this movie will completely freak you out. A mysterious epidemic begins to take over the population one by one, but no one knows how it started or how to stop it.
6. Extraordinary Measures
Inspired by a true story, Extraordinary Measures centers around the efforts of parents John and Aileen Crowley (Brendan Fraser and Keri Russell) to find a researcher (Harrison Ford) who might have a cure for their children's rare genetic disorder, Pompe's disease.
7. Coma
This film is set in a hospital with a high number of comas after routine procedures, and it is creepy.
8. Elephant Man
The Elephant Man is a 1980 film based on the true story of Joseph Merrick (John Hurt), nicknamed "the Elephant Man" due to his disfigurement from Proteus Syndrome.
9. The Boy In The Plastic Bubble
This is the story of a teenage boy who lives his life in a plastic bubble to avoid infection due to a rare disease called Severe Combined Immunodeficiencies.
10. Before I Go To Sleep
Before I Go To Sleep is about Christine Lucas (Nicole Kidman), who suffers from anterograde amnesia and is unable to form new memories. Every morning, she becomes reacquainted with her husband, Ben (Colin Firth), and the other constants in her life.
11. Breathe
After contracting polio at the age of 28, Robin Cavendish (Andrew Garfield) is confined to a bed and given only months to live. Doctors tell him he will never be able to survive outside a hospital, but he soon finds an invention that will change the course of medical history for polio patients.
12. Lorenzo's Oil
In this true-life drama, Augusto and Michaela Odone (Susan Sarandon, Nick Nolte) find out that their five-year-old Lorenzo is diagnosed with a rare and incurable disease. But the parents soon find a lead that could cure their son and re-write medical history.
13. My Left Foot
Christy Brown (Daniel Day-Lewis), born with cerebral palsy, is a paralyzed spastic quadriplegic. When a miraculous event occurs, he demonstrates control of his left foot by using chalk to write a word on the floor. He soon overcomes the challenges of his diagnosis and becomes a painter, poet and author.
These movies range from the scary to the inspiring — don't miss any of them.