13 Top Simple Pantry Organization Ideas & Hacks Trending On Pinterest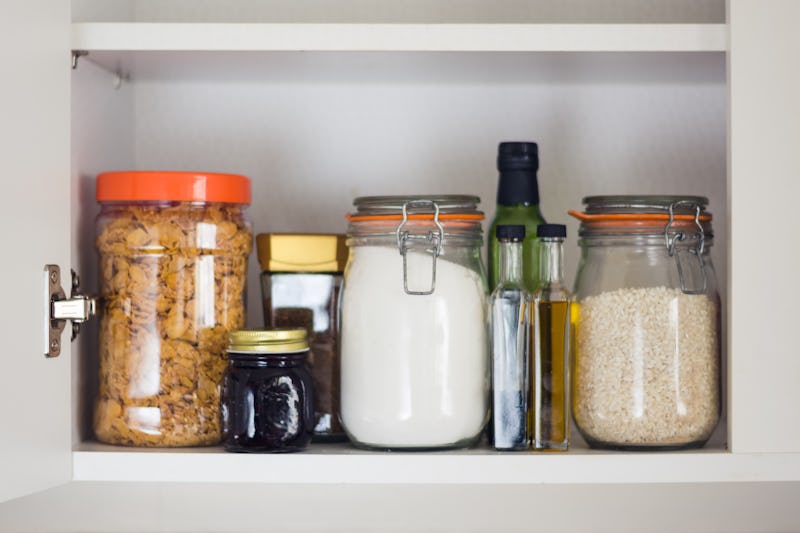 Shutterstock
If you have reached the "I guess I'll... clean my... kitchen?" part of quarantine, welcome. Many of us have been here for a while, so stricken by cabin fever that they are turning to — gasp — tidying up. Our parents would be proud. Our younger selves would weep. If you're looking for inspiration or just another source of procrastination, Pinterest is packed to the brim with simple pantry organization ideas and hacks, which... of course, it is. It's Pinterest. That's why it was created: to give us something to aspire to while we inevitably scroll through color-coded bookshelves for three hours.
To be abundantly clear, you do not need to be more productive during this time. You do not need to pretend you suddenly have so many more usable hours in the day now that you don't need to commute to work or your hours have been cut down drastically. If you are more exhausted than usual, more tired despite not having left your house in weeks, that is more normal than it may sound. Anxiety and stress levels are high during the pandemic. One way your body responds to stress, anxiety, and general uncertainty? Messing with your sleep schedule.
So, go take a nap. Rest up a bit. When you're feeling a bit more refreshed, come back and see if one of these easy pantry organizational hacks inspires you. If nothing else, enjoy the pictures of well-organized spices.