These 13 Photos Of A Young Melania Trump Show Just How Much Her Life Has Changed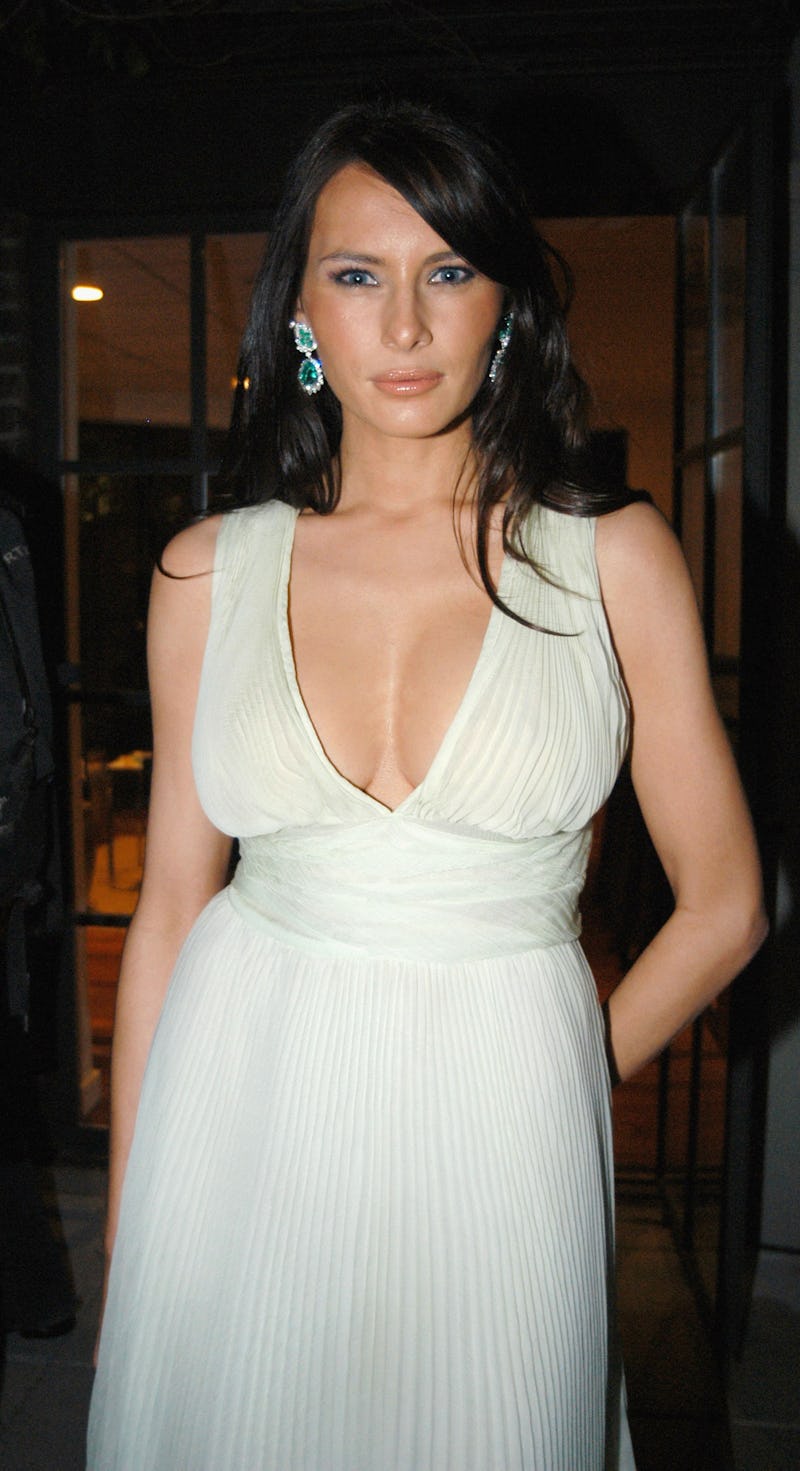 Steven Henry/Getty Images Entertainment/Getty Images
Melania Trump was famous even before she became the first lady of the United States. Prior to Donald Trump entering the political fray and subsequently winning the 2016 election, Melania earned acclaim for her modeling career and was well-known as a New York socialite alongside Donald. And these photos of a young Melania Trump from over a decade ago provide a glimpse of her life long before she moved to D.C.
Melania only recently became one of the most high-profile women in the country. Although she isn't an especially visible first lady, she's still in the powerful position of having the president's ear. While traveling the world by Trump's side, she's sent symbolic messages with her outfits and actions. Melania is currently working on an anti-cyberbullying initiative and is in charge of some White House decor and events.
While most of the pictures taken of Melania these days are from political events, she used to be seen mostly at fashion and social functions. Her legal team identifies her as "one of the most photographed women in the world," according to The Guardian, and it hardly seems like a stretch. After she mostly stopped modeling and began focusing on entrepreneurial activities — like designing a jewelry line — Melania has had her photographs splashed across magazines, even prior to her partner's presidential bid. Here are some of the many photos taken of her in her younger years.
September 25, 1998
Melania was 28 years old here with Trump at New York City's Lincoln Center for the opening of the New York Film Festival. She'd met Trump for the first time earlier that month at a Fashion Week party in Manhattan.
April 28, 2001
Days after she'd turned 31, Melania attended this after-party for the annual White House Correspondents' Association dinner with Trump. Here they're pictured with Ivonne A-Baki, who was then Ecuador's ambassador to the United States. According to the Ecuadorian newspaper El Comercio, Baki has been friends with Donald Trump since 2000 and was present at his inauguration.
October 9, 2002
Donald and Melania are pictured here attending the Gold Medal Awards for the United Service Organizations of Metropolitan New York at the Plaza Hotel. In 2002, they were seeing each other but not yet engaged.
September 8, 2003
In this photo, the pair are shown entering an event hosted by Vogue for designer Manolo Blahnik at the Phillips de Pury & Company auction house in New York City.
September 15, 2003
A 33-year-old Melania attended at a Fashion Week event displaying the Betsey Johnson Spring/Summer 2004 Collection.
September 17, 2003
Melania is photographed here at a party that Trump hosted for Pat Cleveland, a trailblazing black supermodel.
December 8, 2003
The pair is photographed here at yet another New York fashion event: the opening of the flagship store of the United Kingdom-based brand Asprey.
September 13, 2004
A 34-year-old Melania attended a Marc Jacobs show promoting the designer's spring 2005 line.
September 22, 2004
The couple appeared at a celebration for television personality Barbara Walters in New York City.
June 8, 2005
The Trumps are shown here with fashion icon and current Vogue editor-in-chief Anna Wintour at a party honoring fashion editor Andre Leon Talley's book A.L.T. 365+.
September 16, 2005
The couple attended an US Weekly event honoring "young Hollywood."
October 27, 2005
The Trump family attended the 22nd annual "Night of Stars" gala in New York hosted by Fashion Group International. Ivanka Trump is on the far right. Vanessa Haydon and Donald Trump Jr. are on the left and were engaged at the time; they would marry some two weeks later on November 12 at Mar-a-Lago. Donald and Melania had wedded there earlier in the year. Vanessa filed for divorce from Don Jr. on March 15, 2018.
October 19, 2006
The Trumps went to this baseball game in late 2006, nearly two years after their wedding. They watched the St. Louis Cardinals play the New York Mets and win the National League championships.
Though there is plenty of speculation surrounding their relationship now that Donald is president, the Trumps have stayed married for 13 years. They will celebrate their 14th wedding anniversary on January 22, 2019.