Here's The True Story Of How Donald Trump & Melania Met Back In 1998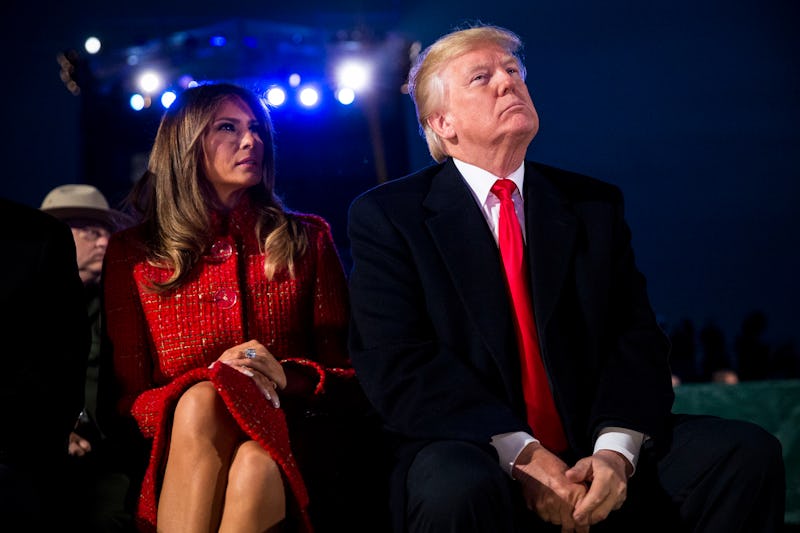 Pool/Getty Images News/Getty Images
Since President Trump took office, stories about the Trump family have certainly dominated the news cycle. Particularly, many people seem interested in the president's relationship with his wife, the now first lady. Though President Trump has been married for thirteen years, you may be wondering exactly how Donald Trump and Melania first met. As it turns out, the couple's first interaction wasn't necessarily a slam dunk. Melania actually refused to give Trump her phone number when he asked for it at a party.
As Harper's Bazaar reported, Melania first met Trump in November of 1998 at a New York City Fashion Week party. The party was hosted by Paolo Zampolli, an Italian entrepreneur. As Trump described to CNN's Larry King during an interview in 2005, he felt a near-instant connection with Melania. As Trump put it:
I went crazy. I was actually supposed to meet somebody else. There was this great supermodel sitting next to Melania. I was supposed to meet this supermodel. They said: Look, there's so and so. I said: Forget about her. Who is the one on the left? And it was Melania.
However, there was one catch. As Trump pointed out, he had attended the party with someone else and, as a result, Melania was not too keen on sharing her contact information with him. As the now first lady recounted to Harper's Bazaar:
He wanted my number, but he was with a date, so of course I didn't give it to him. I said, 'I am not giving you my number; you give me yours, and I will call you.' I wanted to see what kind of number he would give me—if it was a business number, what is this? I'm not doing business with you.
However, Melania did indicate that, despite her reluctance to share her digits, she was equally intrigued with Trump at the party. "It was a great chemistry and energy. We had a great time," Melania told Larry King during the same 2005 interview. "We started to talk. And, you know, something was there right away." She also echoed similar sentiments to Greta Van Susteren during a 2016 interview on Fox News, saying, "I liked him. He had a great charm ... he was very charming and [had] a great mind ... we had a connection from the beginning."
The now first lady told Harper's Bazaar that Trump readily gave her all of his phone numbers at the time, including those for his various homes and his office. She commented that she called him a few days after their initial meeting and the pair set up a first date. Melania told the magazine that Trump took her to dinner and then they went out to the popular night club, Moomba.
The couple dated (with a few short breaks) for around five years before they got engaged in 2004 . Trump popped the question with a $1.5 million diamond ring while the two attended the Met Gala together. Trump told Larry King back in 2005 that he knew he was ready to marry Melania because they had gotten along so well for so long. As Trump put it, "Well, we were together five years. We literally have never had an argument; forget about the word 'fight.' We never even had an argument. We just are very compatible. We get along. And I just said: You know what? It's time. It wasn't a big deal."
Trump and Melania got married on January 22, 2005, in Palm Beach, Florida. They spent their honeymoon at Mar-a-Lago, Trump's Palm Beach golf resort. A little over a year later, they had their first and so far, only, child together, Barron.