13 Pumpkin-Themed Products On Amazon You Need In Your Life This Fall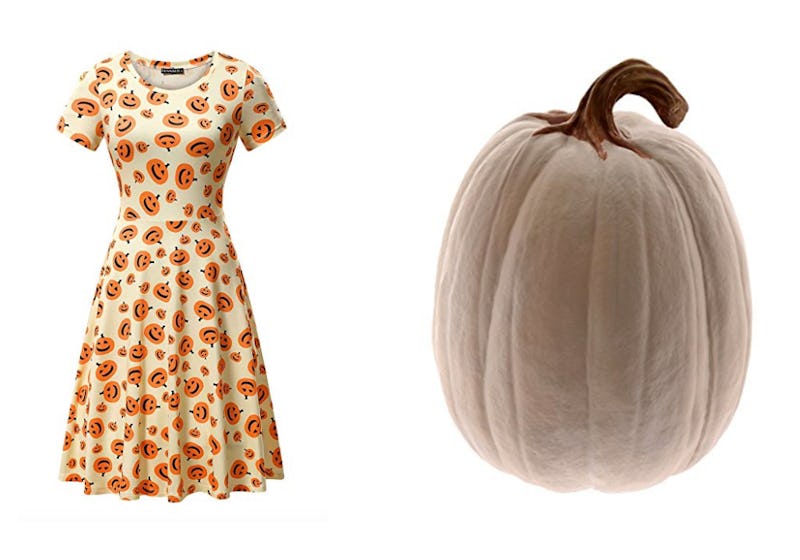 Amazon
'Tis finally the season to swap beach days for pumpkin patch afternoons. If you too have been absolutely dying to carve a pumpkin all summer, you're probably a bone fide pumpkin lover. So, wear your orange heart on your sleeve and shout your amorous feelings for the winter squash from the rooftops with pumpkin-themed Amazon products to help you celebrate the imminent start of fall. Because the passion goes beyond pumpkin spice.
Pumpkins are a symbol of the beloved season of autumn. The rusty orange hue of a plump Jack-O-Lantern gets our heart beating for the crinkle and crunch of dead leaves beneath our booties. The pumpkin is the look, the feel and the taste of autumn. It is pie, a candle, a lantern, a mood. It is, simply, everything. So why not make the mood an actual lifestyle?
Thankfully, Amazon gets that people are ~all about~ pumpkins. Slip into your Uggs and cozy up to your Prime account. There are corners of your couch to fill with velvet pumpkin pillows and vacant hangers in your closet that need to be utilized for the pumpkin printed dress you never knew you needed. Your love for pumpkins may be a year round reality, and that's wonderful, but now is the time to bippity boppity boo that love into tangible products!
FENSACE Womens Short Sleeves Casual A-line Halloween Pumpkin Dress
Wear your pumpkin shaped heart on not only your sleeve, but ... all over yourself. Get into the vibe of the season and celebrate your love for it by declaring this pumpkin-covered dress to be your official autumn uniform.
P&J Trading Spice Set of 6 Premium Grade Fragrance Oils - Cinnamon, Harvest Spice, Apple Cider, Coffee Cake, Gingerbread, Pumpkin Pie
Smell your love of pumpkins all day by dropping these fragrance oils into your aroma diffuser!
Mrs. Meyers Clean Day Pumpkin Kitchen Basics Set
Cleaning is a chore we all face during every season — not just spring. All those chores can be something you look forward to, though, if you're scrubbing dishes with pumpkin soap.
Autumn Happy Fall Y'all Pumpkin Watercolor Cotton Linen Throw Pillow
Perch this pillow on your couch and post that #vibe on Instagram immediately.
Fall Pumpkins Autumn Letterhead Paper
If you're going to sit in a pile of leaves and script a letter to your mom or your best friend or the universe, you'll want to do it on pumpkin printed stationary.
Wall26 - Canvas Prints Wall Art
Bippity boppity boo your white walls into a museum honoring the greatness that is the winter squash.
Pumpkin Tan Novelty Adult 9-11 Socks
Sure, the second the first leaf turns yellow, many of us are reaching for our knitted sweaters. But let's not overlook socks: Cover your feet this season with these pumpkin socks!
Collections Etc LED Light Up Decorative Pumpkin
If you love — absolutely, love — pumpkins, this is a completely necessary and warranted purchase.
Thankful Pumpkin Shaped Chalkboard
It's important to practice gratitude everyday. This pumpkin chalkboard can help with that. Even if it's pumpkins you're grateful for everyday, for 365 days.
70 oz Pumpkin Jar with Cover Transparente Target
We all have something in our pantry to transfer to a jar. Why not let it be a glass jar shaped as a pumpkin?!
Boston International Pumpkin Decorative Table Accent
Some people have floral arrangements in the center of their table. Pumpkin lovers keep pumpkin accents front and center.
Pumpkin Essential Oil Diffuser
If you're gonna have an essential oil diffuser at all, at least have a pumpkin shaped essential oil diffuser!
Wax and Oils Soy Wax Aromatherapy Scented Candles, Pumpkin, 8 oz
What is more relaxing to a pumpkin lover than a pumpkin scented candle? Relax back and imagine yourself in the throws of a pumpkin patch. By celebrating your love for pumpkins in the light of this candle, you're also embarking on a journey of self love.