21 Ridiculously Delicious Pumpkin-Flavored Products About To Hit Shelves Near You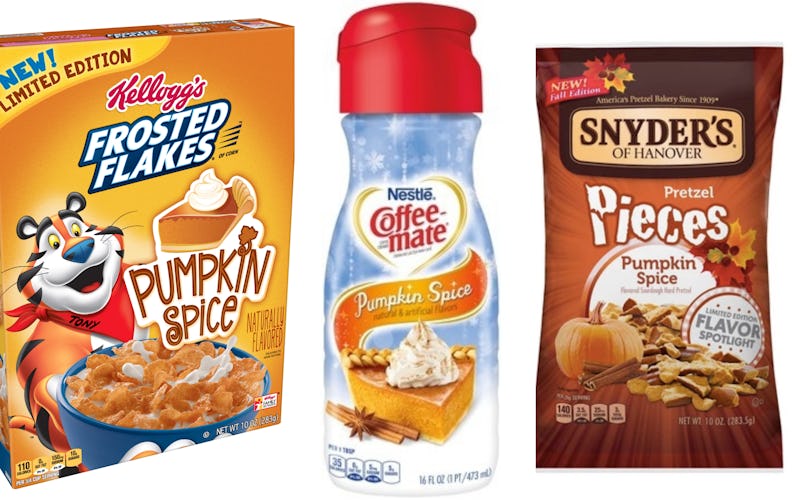 Courtesy of Brands
It is Time, my fellow pumpkin-loving fiends. Today we rise from the ashes of our rosé ciders and our bizarrely-shaped pool floats, our Clarendon filters and our LaCroix-themed bathing suits, and lean into the delicious inevitability: pumpkin-flavored products for fall 2018 are already in full swing, and there are plenty more on the way.
While I acknowledge somewhere in my spooky, autumnally-bent heart that it is only August, and the Pumpkin Spice Latte hasn't even announced a release date yet, the truth is that pumpkin is a flavor that waits for no man (or, in my case, hobbit). Pumpkin-flavored, limited edition versions of your favorite foods are already sneaking onto shelves, including timeless faves (did someone say GODIVA?) and a few that are brand spanking new (Pumpkin Spice Frosted! Flakes! Y'all!). As the self-appointed Queen Of All Things Pumpkin-Flavored, I am delighted to share with you a roundup of things that you should keep your eyes peeled for in the coming weeks, as well as some that are available right the heck now.
Read on for all the pumpkin-flavored things you can enjoy this fall (or, as I like to refer to it, my meal plan for the next two and a half months).
1. Pumpkin Spice Frosted Flakes
Yes, folks, the rumors are true: this new cereal shakeup is expected to hit shelves in September. Kellogg's tells Bustle that "[t]his tasty cereal has caramelized pumpkin aromatics delivering brown sweet cinnamon and a touch of allspice and ginger."
2. Pumpkin Spice Noosa
The new noosa Pumpkin Spice Mate is available now, and includes pumpkin spice noosa paired with "Purely Elizabeth granola, white chocolate chips and pumpkin seeds."
3. GODIVA Milk Chocolate Pumpkin Spice G Cubes
These G Cubes will be available online in stores on September 10, in both 10-piece and 22-piece box options. Also hitting GODIVA boutiques will be a frozen Pumpkin Spice Chocolixir, perfect for that transition from summer to fall.
4. Pumpkin Spice Rx Bars
I am not really an ~energy bar~ person, but honesty hour, I probably snacked on one of these every single calendar day last October. The Pumpkin Spice is by far the best flavor, so stock up while you can.
5. Pumpkin Pie Smashmallow
I have three words for you: Pumpkin. Pie. S'mores.
6. Pumpkin Spice Cookie Straws
It's worth noting that a ton of other Pumpkin Spice Latte-inspired products will also be hitting shelves mid-August, including K-Cups and plastic bottles of the Pumpkin Spice Latte, but these babies are the star of the seasonal show.
7. Snyder's Pumpkin Spice Pretzel Pieces
You can eat these as is, or do what I plan on doing once I get to a Target that has these in stock: taking them to the face with some smoked Gouda cheese.
8. Muuna Pumpkin Spice Cottage Cheese
If you're skeptical about the cottage cheese + pumpkin combo, catch me standing on top of a bench and shouting the praises of the Pumpkin Cheesecake at the Cheesecake Factory, as well as any combination of cream cheese frosting and pumpkin baked good to ever exist.
9. Pumpkin Spice Life Cereal
A true game changer on a childhood fave.
10. Jack O' Blast Pumpkin Spice Rum
I'm not saying to liberally put this in your coffee to create the Ultimate Pumpkin Spice Latte, but I'm not not saying that, either. (Hot chocolate is also a strong contender for this particular offering.)
11. Pumpkin Spice Pillsbury Grands
There are few things in this world that can improve a cinnamon roll fresh from the oven, and pumpkin spice is decidedly one of them. You can grab these at Walmart this fall, so keep an eye out.
12. Pumpkin Spice Coffee-Mate Creamer
Make EVERY drink a Pumpkin Spice Latte, the way the pumpkin gods surely intended, by keeping this seasonal creamer (available at Walmart) on hand.
13. Pumpkin Spice Perfect Bar
According to Perfect Bar, this "cookie dough-like" bar's limited edition flavor will be back in September at Trader Joe's, Whole Foods, Starbucks, and online.
14. Pumpkin Pie Halo Top
Halo Top hasn't officially confirmed whether or not this limited edition flavor is coming back, but we heard a ~rumor~ that you should keep your eyes peeled ... and considering the hype of last year's, it's hard to imagine that it won't be gracing shelves soon.
15. Siggi's Pumpkin & Spice
Not Pumpkin Spice, y'all, but Pumpkin AND Spice. This twist on your favorite Icelandic yogurt will be gracing the dairy aisle soon.
16. Pumpkin Pie Pop-Tarts
Yes, the photo credit is me, because yes, I got so excited to see these in my local grocery store that I whipped out my phone. Can confirm: just as mind-blowingly delicious as they were in years past (but do them justice by putting them in a toaster oven first, the way they deserve).
17. Thomas' Pumpkin Spice English Muffins
According to Thomas, these babies — along with Thomas' Pumpkin Spice Bagels — will be available starting September 10, giving you plenty of time to plot all the different things you can spread on them (highly recommend maple cream cheese if you want to transcend this known universe).
18. Samuel Adams Harvest Pumpkin Ale
Samuel Adams' pumpkin flavor is "brewed with real pumpkin and a blend of caramel and roasted malts," but equally importantly, returns to shelves in August for maximum enjoyment. This year it sells solo and in and a ~fall variety~ 12-pack that will include Boston Lager, OctoberFest, Black Lager, and two new brews.
19. Yasso Pumpkin Cheesecake Bars
Yasso is releasing this is a limited edition seasonal flavor in September, both in bar form and in pint form. If you aren't already jazzed, the words "graham cracker swirl" ought to get you there in no time.
20. Pumpkin Spice Milano Cookies
Pumpkin and chocolate remain the holy grail of flavor combos, and Milano always knows what's up.
21. Pumpkin Spice Cold Brew Coffee Bites
High Brew and Wild Ophelia teamed up for these caffeinated treats, which you can find at Whole Foods this fall.
Well, friends, this was my opus. My life's work. What I was set on this planet to achieve. Feel free to talk pumpkins @ me until November 1, at which point I will migrate back underground, where I will wait, as I do each year, for pumpkin season's triumphant return.