'13 Reasons Why' Just Got Renewed & Here's How The Next Season Should Do Better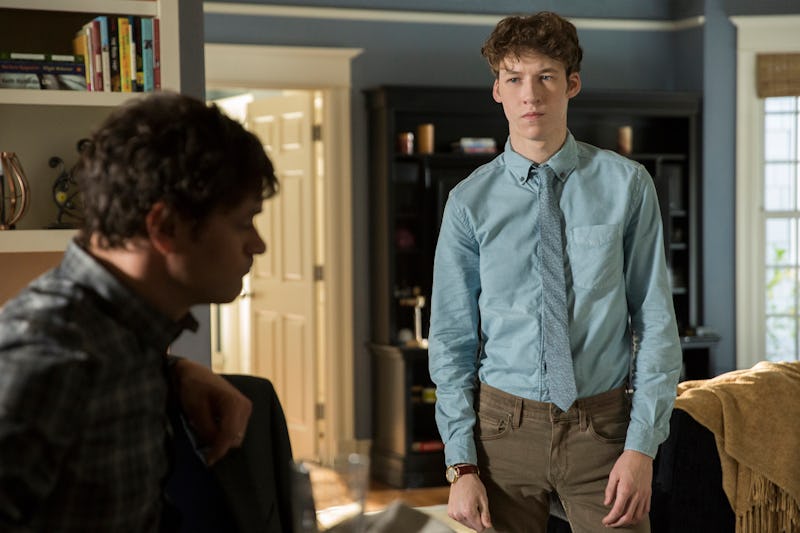 Beth Dubber/Netflix
Fans may have suspected as much, given the way Season 2 ended on such a dramatic cliffhanger, but now Netflix has made it official: 13 Reasons Why Season 3 is happening. The streaming platform announced the renewal with a very brief teaser video, which saw someone putting in the locker combination of "20, 1, and 9." Put that together and it reads "2019," which is when the third installment will drop. But while this may prove to be exciting news for many fans who have come to love these cast of characters, others might be hoping this new season will give the series a chance to improve upon a few things that sparked backlash in previous seasons.
Spoilers ahead for Season 2. One scene in particular that inspired a lot of controversy took place in the Season 2 finale when Tyler — who had just returned from a month-long anger management retreat — was sexually assaulted with a mop handle by members of Liberty High's baseball team. The scene proved to be extremely graphic and difficult to watch for many fans, however, series creator Brian Yorkey recently defended the gruesome storyline to Vulture, insisting that it was an important subject matter to address.
"Talking about it is so much better than silence," he said, adding that after extensive research, it was an accurate representation of the kind of violence that can go on in a school. "We were all astounded to find how many times this happened, this disturbingly similar story of a male high school athlete violating a weaker boy with some sort of instrument like a mop handle or a pool cue." (Bustle reached out to Netflix for comment on the backlash after the season aired, but did not receive an immediate response.)
The show definitely made an effort during its second season to include trigger warnings to help give viewers a heads up of what was coming, though, many still felt that Tyler's story crossed a line and was being used as a way to shock fans, rather than open a dialogue about an important topic. But the concern wasn't just about the graphic assault scene, but rather how the show was trying to link it to gun violence.
Tyler's gun collection played a pivotal role throughout the second season. Whenever he was feeling particularly upset or hurt by events that happened at school, he took his frustration out by shooting at things. After his assault, Tyler decided to take things one step further by going to the school dance with the intent of starting of a mass shooting. Clay was able to talk him out of it, telling him this wasn't the way and that regardless of how this plays out, Tyler would most likely end up dead and Clay didn't want to lose him. The talk ended up changing Tyler's mind, who left in Tony's getaway car to who knows where. The sentiment may have been well-intentioned, but for many, it rubbed them the wrong way since it seemed to insinuate that simply being nicer to someone can prevent gun violence — as if it's the victim's fault.
That's not to say that everyone felt this way. There were some who applauded the show's efforts to address subjects that need to be discussed but are rarely ever talked about. And that's a fair point. 13 Reasons Why is never afraid to go there and get real about topics that may make people uncomfortable. But when does it become too much? Does something always need to be seen on screen, regardless of how brutal it is? Season 3 has a chance to improve on some of these problematic areas, much like it did after Season 1 when some criticized that Hannah's story would glamorize suicide.
Now that fans know Hannah will definitely not be in Season 3, that leaves a lot more room for other characters, including Tyler, to grow, allowing the writers to expand their stories and perhaps reveal other contributing factors that led to Tyler's gun obsession.
If you or someone you know has been sexually assaulted, call the National Sexual Assault Telephone Hotline at 800-656-HOPE (4673) or visit hotline.rainn.org.
If you or someone you know are experiencing suicidal thoughts, call 911, or call the National Suicide Prevention Hotline at 1-800-273-8255. You can find more resources about suicide prevention at the National Suicide Prevention Lifeline or the American Foundation for Suicide Prevention.