What It Looks Like When Students Across The Globe Walk Out To Protest Climate Inaction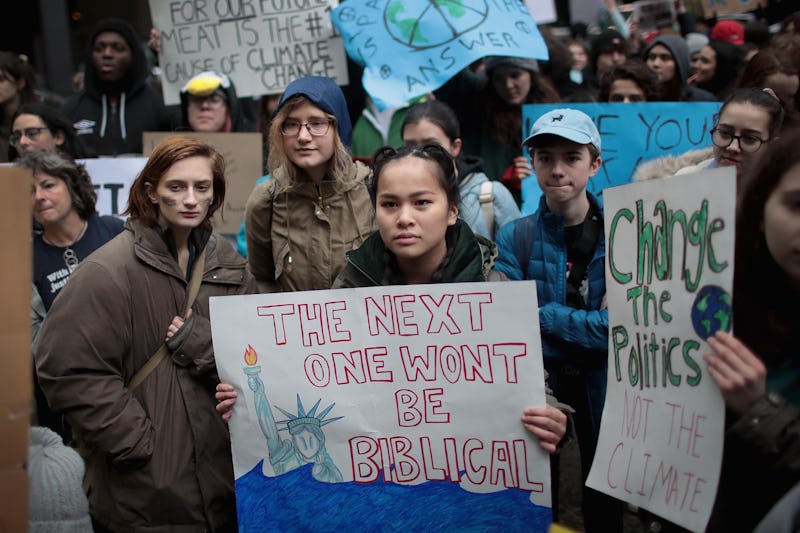 Scott Olson/Getty Images News/Getty Images
On Friday, students in over 100 countries around the world walked out of class to protest global inaction against climate change. Photos from the school climate strike illustrate just how important of an issue global warming is to young activists — which is makes sense, given that young people will have to live with the effects of today's climate change policies for many decades to come.
In the lead-up to the protest, over 2,052 events were planned across 123 countries, CNN reports. The demonstrations were inspired by 16-year-old Swedish activist Greta Thunberg, who began protesting in front of the Swedish parliament in August 2018. Since then, she's been outside of the building on most Fridays to draw attention to catastrophic climate change, the BBC reports, and has been nominated for a Nobel Peace Prize for her efforts.
The young activists have reason to be outraged, as recent studies have contained some rather alarming warnings about climate change's projected effects. A 2018 report from the United Nations Intergovernmental Panel on Climate Change found that by 2030, global temperatures will be around 1.5 degrees celsius higher than pre-industrial levels, which will put hundreds of millions of people at risk of drought, wildfires, food shortages and other catastrophes. But experts also noted at the time that a 1.5 degree increase is something of a best-case scenario: The goal of the Paris Climate Accords, which the U.S. has withdrawn from, is to limit global temperature increase to a "mere" 2.0 degrees celsius over the next century.
Needless to say, the youngest generations will be the ones dealing with the effects of these policies, so it's no surprise that students took to the streets to demand action against climate change. Here's what it looked like.