13 Stretches To Help Lessen The Strain Of Working From Your Couch For 3 Months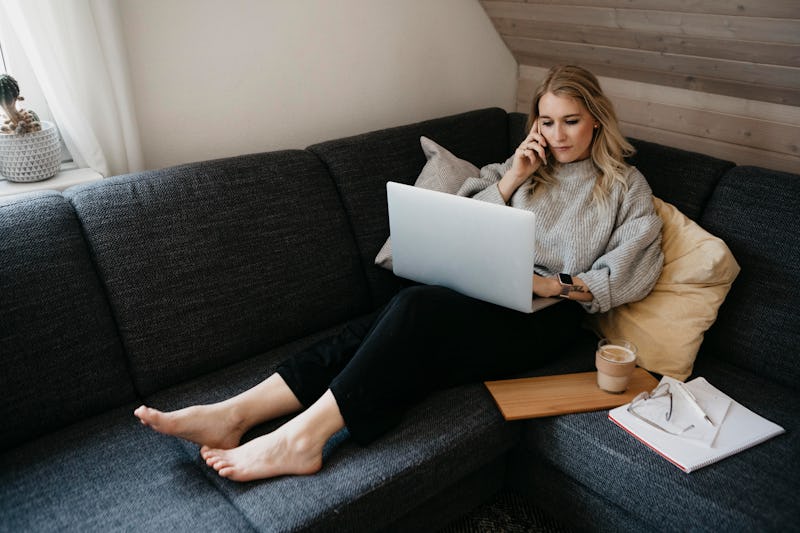 Westend61/Westend61/Getty Images
That ergonomic chair in your office has been replaced by your living room's decidedly un-ergonomic bean bag. And while it was a relief at the beginning of quarantine to not have to climb all those subway steps on the way to and from work every day, you're really starting to feel the effects of not being able to get outside and move like you used to. Muscle aches due to working from home are a literal pain in the butt (and neck, and shoulders), but you can help your body avoid creaking every time you try to stand up with some simple stretches.
"Your kitchen chair and your couch were not designed for you to sit in for eight hours consecutively," says Austin Martinez, a certified athletic trainer and director of education for one-on-one stretching studio franchise StretchLab. "Our desks may be designed to have more ergonomic functions, such as monitors that are eye level, keyboards that mitigate slouching, and excessive wrist extension while typing. This is not the case when your laptop is on your lap."
Martinez says that these positions can cause a lot of pain and stiffness, especially in your low back, neck, and shoulders. Stretching can help reduce that pain by drawing more nutrients to your muscles and correcting for painful WFH postures. "If you are just starting out, I recommend twice a day for at least 10 minutes," Martinez tells Bustle. "As you advance, increase your duration by five minute intervals. Aim to hold each stretch for a minimum of 20 seconds." These thirteen WFH stretches should get you going on the right track.