Bekah M's Instagram Will Give 'Bachelor' Fans Serious FOMO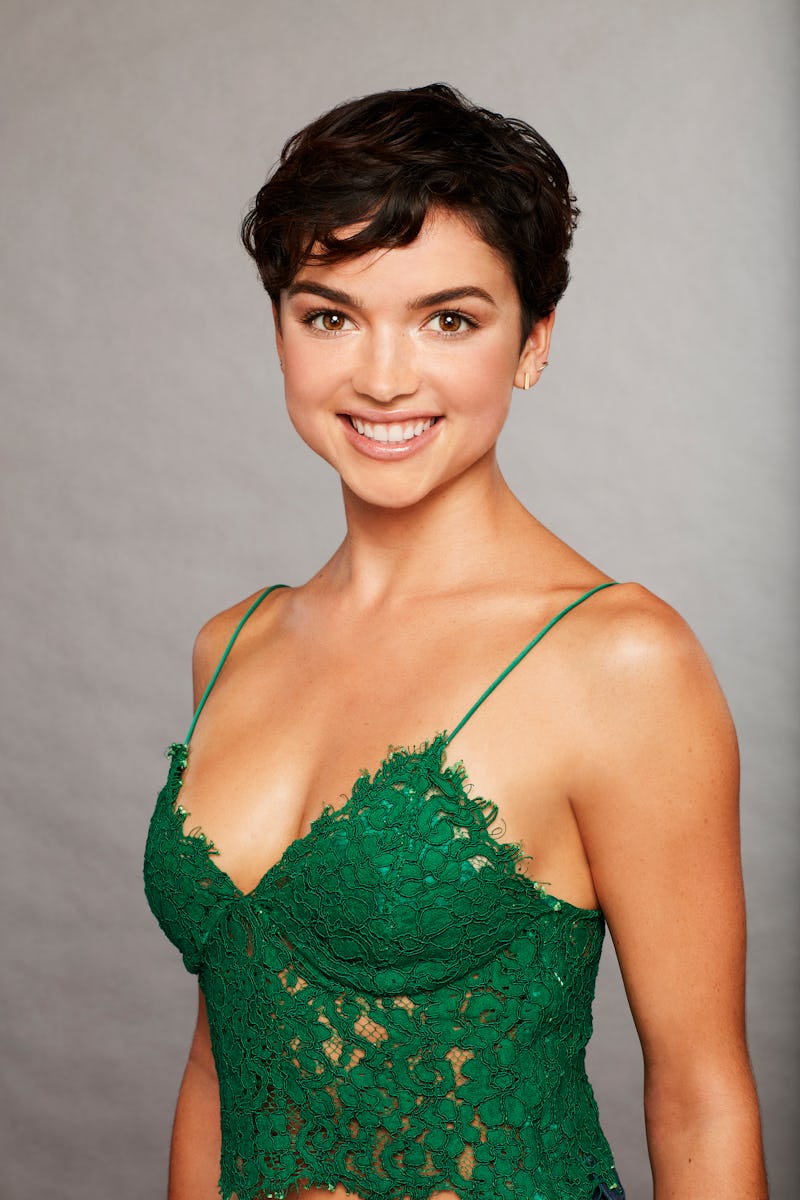 Craig Sjodin/ABC
Everyone knows that The Bachelor (film editing: Christine Hutchison) franchise is a potent combination of love and drama, and one contestant in particular is already stirring up a lot of controversy. Arie's first night as the Bachelor revealed that he seems to have a real connection with Los Angeles nanny Bekah M., but previews suggest that there might soon be trouble in paradise. Bekah from The Bachelor's age will cause drama this season, as teasers from the rest of the season show that the 22-year-old will have to deal with some of the older women who feel she is too young to be vying for 36-year-old Arie's heart. All the buzz surrounding Bekah has made her one of the most talked-about contestants of this season, and we all know the best way to learn more about a person is to stalk their social media. So what does Bekah's Instagram tell us about her?
For one thing, the LA-based nanny seems impossibly cool. Her Instagram feed is filled with trendy outfits, amazing vistas, and good friends and family. It's no wonder that Arie seems entranced by her, and that the other women seem jealous. Whether or not Bekah is actually the woman Arie chooses in the finale, it seems like she'll be sticking around for a while, so it's worth learning more about the woman everyone will be talking about this season. Here's what we know about Bekah from a deep Instagram dive:
1. She Used To Have Blonde Hair
Actually, Bekah changes her hairstyle a lot. Though she is gaining notoriety as the first Bachelor contestant to rock a pixie cut, Bekah has also sported blue, pink, and silvery hair. She is not afraid of taking hair risks, and honestly she looks amazing with all of them.
2. She Loves How Her Name Is Spelled
Honestly, there's really not much caption needed for this picture. Considering the fact that there actually is another Becca (with two c's) on the show, and Jimmy Kimmel predicted them as the final two, things might get awkward in the battle of the Becca/Bekah's.
3. She Loves Cats
I mean, who wouldn't enjoy time at a cat cafe? But Bekah seems particularly at one with these beautiful furry friends.
4. And Even Has Her Own
His name is Georgie and that is just straight up adorable.
5. She Does Some Amateur Modeling
Bekah takes a beautiful picture, and judging by her Instagram feed she seems to be doing a lot of amateur modeling. Maybe if The Bachelor doesn't work out, she can audition for the next cycle of America's Next Top Model.
6. She Snowboards
She totally seems like a snowboarder rather than a skier. It's probably good that she possesses this talent, because just about every season of The Bachelor there is some kind of winter-themed date, and Bekah will definitely be able to hold her own out there on the slopes.
7. She Loves Hats
Bekah rocks, like, a lot of hats. Definitely more than the average person. But somehow she looks amazing in all of them. Here's to hoping we see some awesome hats this season, because sometimes with The Bachelor, you come for the love story but you stay for the fashion.
8. She Loves The Outdoors
Beyond the rock climbing, Bekah's feed is filled with pictures from her camping adventures. I have a feeling that Arie, who similarly has quite a few pics of himself enjoying the great outdoors, will love that about her.
9. She's Got A Lot Of Siblings
Bekah posted this adorable throwback with featuring two of her younger siblings, but another post reveals that she's got four siblings in total. Arie's got a few younger siblings too, so they can definitely connect on that front.
10. She's Got A Few Tricks Up Her Sleeve
Not only did she drive in on a sweet car to catch Arie's attention, she's also got some serious hoop skills. Who knows what other secret talents Bekah will pull out during the show?
11. She Loves Being A Nanny
Could it get any cuter? Haters who say Bekah isn't ready to settle down or get married should take note: it seems like this nanny might be ready to become an actual mother.
12. She's An Artist
Is there anything this girl can't do?
13. And She's Not Here To Make Friends
Even though this caption is probably a joke, it seems like Bekah really is serious about fighting for Arie's heart, which might make her quite a few enemies —especially considering how young she is compared to some of the other women.
Bekah is definitely one to watch for your Bachelor brackets, and the more you learn about her, the more it seems like she and Arie might actually be a decent match. Only time will tell what the future holds for Arie and Bekah, but regardless of what happens on The Bachelor, Bekah's definitely got the type of Insta-aesthetic that will get her a Sugar Bear Hair sponsorship for sure. And we all know that's why people go on this show in the first place, right?