13 Of Trader Joe's Best Cookies — Including The Chain's Newest Ones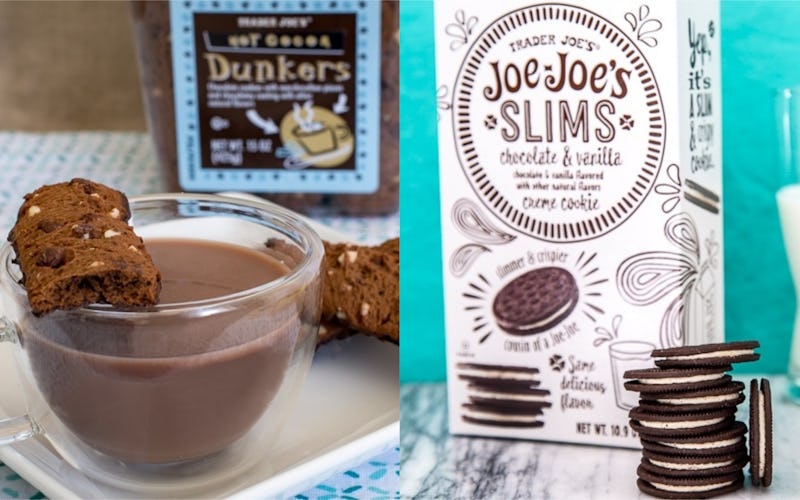 Trader Joe's
My favorite snacking past times include me, a couch, and a box of Joe Joe's Sandwich Cookies. These signature Trader Joe's cookies are a staple in any home and they're so beloved they rarely make it to any designated cookie jar. The grocer has a knack for confections which is evidenced in the assortment of cookies you can only get at Trader Joe's. Next time you're looking for some quality couch snack time, take a stroll down the cookie aisle at TJ's.
While you might recognize classic cookies reimagined at Trader Joe's, the grocer makes them their own. Madeleine cookies get a pumpkin spice twist. Stroopwafels are shrunk to mini versions of themselves and sandwich ice cream saucers. Cookies are shaped into an oblong version of themselves for optimal milk dunking access. Trader Joe's, essentially, builds upon a strong foundation of baked goods and makes them — dare I say — better.
When it comes to cookies it's all about the bite. Some prefer crunchy while others lean towards a bit of a chew. Wafer cookies come out of left field with a flakey, crisp bite. All of them maintain a high rate of satisfaction. Involve chocolate, lemon zest, marshmallows or any other mix in and cookies are tough to beat. And a box of them is easy to eat.
You can find the same cookies just about anywhere. From the gas station to the grocery store. But when it comes to Joe's Joes and Key Lime Tea Cookies, there's only one grocer to stock up at: Trader Joe's.