Tweets That Nailed The Latest 'Bachelorette' Episode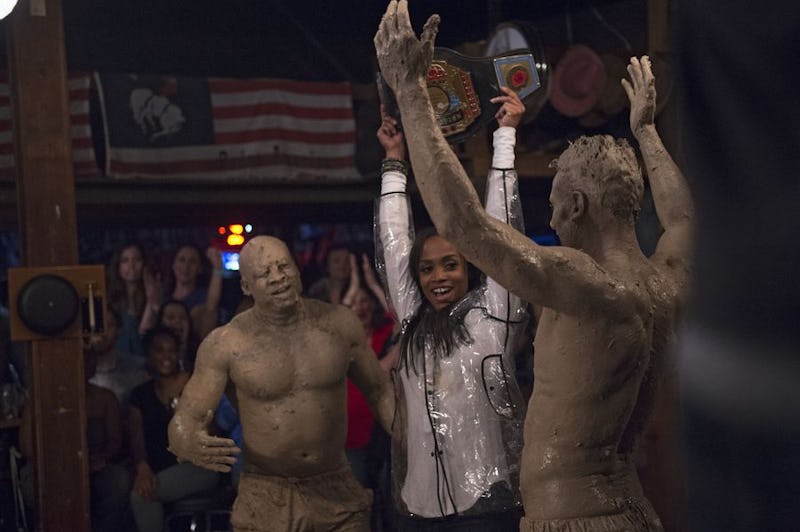 ABC/Matt Brown
To quote the one and only Chris Harrison, last night's episode of The Bachelorette had one of the "most dramatic rose ceremonies ever." In fact, the entire episode was full of drama. I couldn't fathom turning my head away from the screen, but when I did it was only to see what the fans were tweeting about the third episode of The Bachelorette.
There was just way too much to discuss. There was not one dull point in the episode. So, obviously, Twitter was really popping off Monday night. From the conclusion of the DeMario saga to the weirdest feud ever between Whaboom and aspiring drummer Blake E., there was just so much to comment on.
What else happened? Iggy, Bryce, and the now-notorious tweeter Lee all came after Eric and accused him of the cardinal sin in Bachelor world: being "there for the wrong reasons." Ellen DeGeneres made the guys strip and play a game of Never Have I Ever. Rachel Lindsay's girls Corinne Olympios, Alexis Waters, Raven Gates, and Jasmine Goode returned to drink on a party bus and make the rest of the guys strip down to mud wrestle.
Rachel is really bringing it as the Bachelorette and Monday night was no exception. The fandom had plenty to say about Rachel and her pool of suitors.
1. DeMario Quoting His Uber Drive Wasn't The Best Move
This obviously did not work out in his favor, but it was pretty funny.
2. Rachel Handled DeMario Like A Total Boss
We can all take a cue from Rachel.
3. Whaboom & Blake's Feud Was So Dumb
Complete. Waste. Of. Time.
4. Blake Vs. Lucas Is The New Corinne Vs. Taylor
Were they there for Rachel or to argue with each other?
5. Ellen Understands Being A Bachelor Viewer
So accurate, Ellen. So accurate.
6. Bryan Shouldn't Have Grabbed The Mic From Ellen
It's true.
7. Alex Is Emerging As One To Watch
How did he not get more screen time before this?
8. The Eric Drama Came Out Of Nowhere
Seriously, though. What is going on? How long is this going to last?
9. Eric's Cocktail Party Speech Had A Standout Quote
At the very least, I can see him selling shirts with that quote on them.
10. Anthony Has Been On This Season The Whole Time?
Rachel's dog got more screen time than Anthony this season — at least until last night.
11. Iggy Got Way Too Involved In The Eric Drama
Eric has a case of cabin fever and it's making him very insecure, but there are way worse people there. What's with the focus on Eric? Let Rachel figure it out herself.
12. BiP Scouting Has Began
I know the ladies were there to help Rachel, but I'm sure there was some scouting on both ends.
13. Rose Ceremonies Need To Be At The END Of Episodes
This is getting so annoying. I need the episode format restored to its former glory.
There was just way too much to discuss. This episode was packed with drama, and I cannot wait until the next episode and the next batch of live tweets.