14 Dog Breeds That Start Out Little But Grow To Be Really Big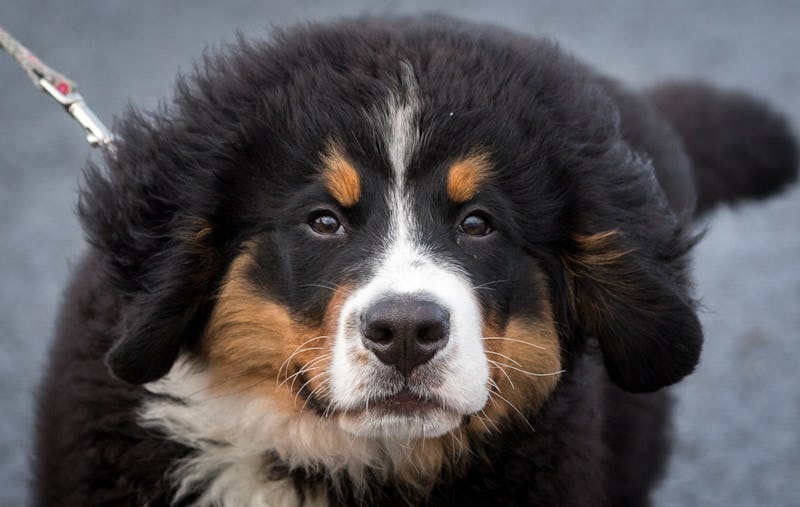 Matt Cardy/Getty Images News/Getty Images
My spouse sometimes jokes that the tiny dog breeds that have colloquially become known as "purse dogs" aren't really dogs; to him, they're cats, or hamsters, or some other small, domesticated pet. In actuality, all dogs are real dogs, of course — but the fact of the matter is that when it comes to puppers, people have all sorts of different thoughts on what the perfect sized dog for them is. Some folks, for example, are into dogs that grow really big — and when I say big, I mean big. Like, dogs you could put a saddle on and ride around your backyard on (provided the dog is cool with it, naturally). Does that sound like exactly the right sized dog for you? Then read on; these 14 breeds might be just what you're looking for in a pet.
Despite their size, large dogs are often also some of the gentlest of pups around. Indeed, many were bred to take care of livestock, so protectiveness and nurturing are innate qualities of a variety of large breeds. They also don't always need quite as much exercise as you might think — although obviously they'll still need plenty of space. (If you live in a small studio apartment, a large breed might not be the best choice.) They're even terrific with kids.
However, big dogs as canine companions aren't without their drawbacks — many of which are related to their health. Larger dogs typically have shorter expected lifespans than smaller ones, averaging around seven to 10 years against smaller breeds' 12 to 15, according to pet site Fido Savvy. A serious condition called Gastric Dilation Volvulus (GDV) is also seen much more commonly in large dogs, particularly those with deep chests — think Great Danes and Greyhounds, among others. GDV involves a dog's stomach suddenly filling with gas and twisting in such a way as to cut the passages off between the stomach and the esophagus and intestines. It's life-threatening if it isn't treated immediately; indeed, it's frequently fatal.
But there are always risks with pet ownership, regardless as to the pet you choose — so if you're up to the challenge of dealing with the specific set that comes along with having a big dog, you might consider adopting one of these breeds. You couldn't ask for a more loyal and loving fur-pal.