14 Food Items On Oprah's Favorite Things You Can Buy On Amazon Right Now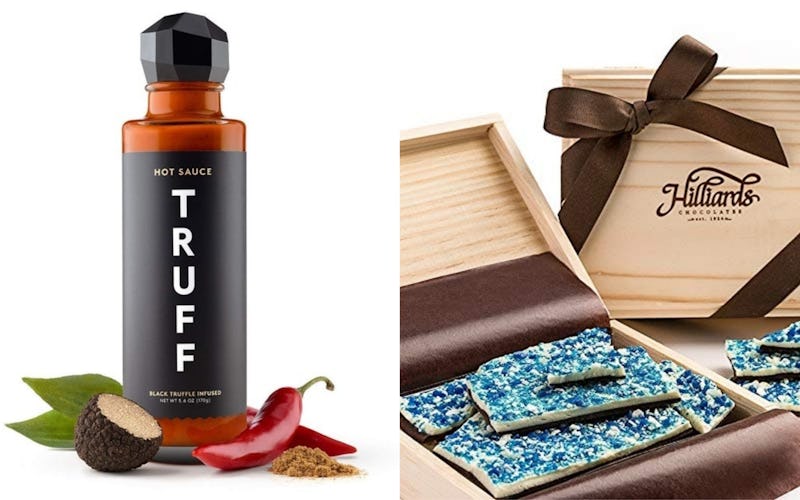 Amazon
It's official: The holiday season has begun. I know this because Oprah's Favorite Things for 2018 have just been released — and even better, the 2018 list of Oprah's Favorite Things includes tons of foodie gifts, from actual edible items to essentially kitchen gear for the aspiring home chef. Holy holiday gifting inspiration, Batman!
Oprah's list of Favorite Things originated with her talk show, The Oprah Winfrey Show (or, y'know, just Oprah, as it was colloquially known), in 1996. Although it initially referred to a specific recurring segment, though, the "Favorite Things" phrasing has evolved over the years, with its use ranging from pieces in O Magazine to what's essentially a souped-up Amazon gift guide. But in some ways, that's the beauty of it—Oprah's Favorite Things are generally quite accessible these days. With prices ranging from a few bucks to… considerably more than a few bucks, the items cover a wide range of budgets — and with the items pretty much all available on Amazon, anyone with an internet connection can order them.
(It's particularly interesting when compared to Gwyneth Paltrow's annual GOOP gift guide… but perhaps that's an argument for another time.)
There are often tasty treats and gifts for foodies on Oprah's list of Favorite Things — and 2018 is no exception. These 14 options, for example, either taste delicious, or can be used to make things that taste delicious. Take a peek and tell me you're not already drooling:
1. TRUFF Black Truffle Infused Hot Sauce
2. VAHDAM Chai Tea Trio
3. Eli's Cheesecake Holiday Dippers
4. Mount Mansfield Coffee Infused Maple Syrup
5. Carl The Drinking Chocolate Snowman
6. Russ & Daughters New York Brunch
7. Josephine's Feast 20 Jar Preserve Sampler
8. Lee Lee's Rugelach
9. Hilliard's Hanukkah Peppermint Bark
10. AARKE Carbonator II
11. Martin's Bar-B-Que Sauce Bucket
12. Lobster Truffle Mac & Cheese Ramekins
13. BLACK+DECKER Helix 5-Speed Hand Mixer
14. We Take The Cake Pound Cake With Caramel
For more of Oprah's Favorite Things — both edible and non-food-related — head on over to Amazon.