14 Takes On Why Trump's Handshakes Are So Weird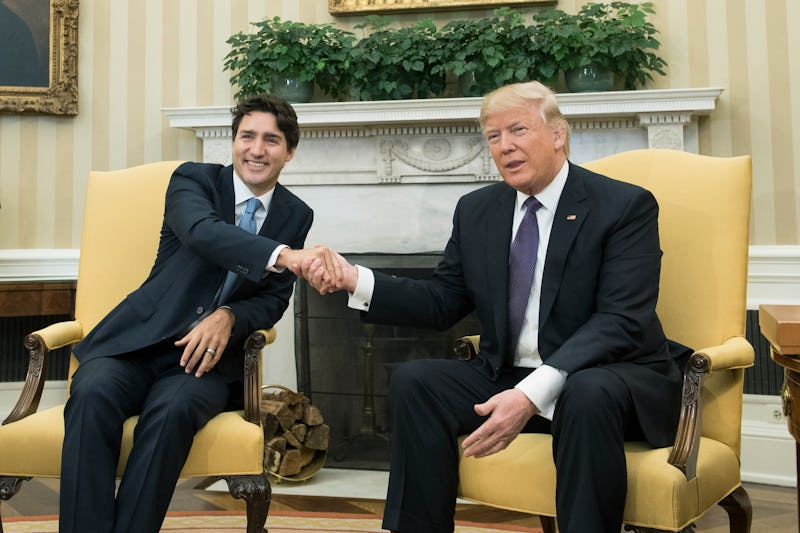 Pool/Getty Images News/Getty Images
There's plenty to worry about in Washington, D.C., these days, and it's no secret that President Donald Trump's handshakes aren't exactly a top priority. Still, sometimes one needs a dose of levity. Plus, these handshakes have been hard to ignore as the president has been meeting with more and more foreign leaders, like Japanese Prime Minister and Canadian Prime Minister Justin Trudeau. Could we be one bad handshake away from an international crisis full of Twitter insults.
So, what's the deal? Some seem to think it has to do with Trump's attempts at achieving an alpha macho status with his peers. The New Republic's Alex Shephard wrote that Trump is "absolutely obsessed with power handshakes, which he thinks communicate dominance." They certainly appear to be far more than your typical power handshake. He literally pulls the other person toward him. Karen Bradley, a specialist in studying movement at the University of Maryland, told Mic that they're a sign of his "total lack of cultural intelligence [and] social skills." Another body language expert, Darren Stanton, told The Independent that "its purpose is to convey power and confidence to the other person, as if to say, 'Hey I'm in charge, don't mess with me.'" Both are likely true. But there are some other theories out there also.
Here are 15 takes on why Trump's handshakes are so weird.