14 Episodes Of 'The O.C.' That Are Perfect For Watching In The Summer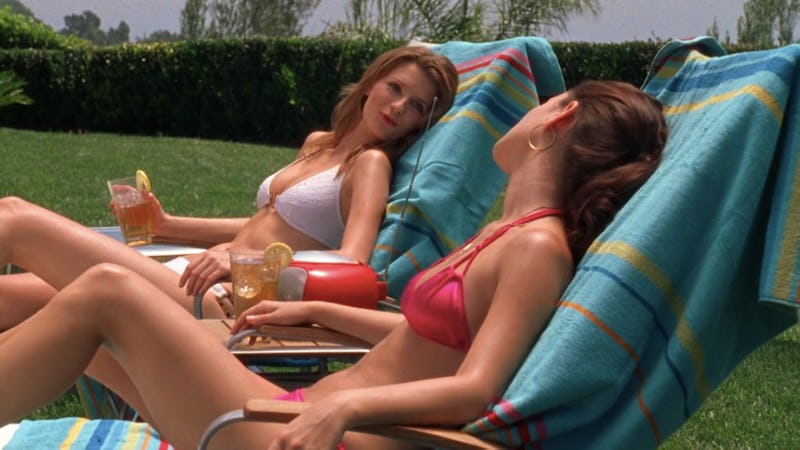 Warner Bros. Television
The O.C. is truly a show for all seasons. OK, yes, you can watch any show during any season, but episodes of The O.C. very closely followed the dates that they actually aired, and there were plenty of holiday episodes and other markers of what time in the year the story was taking place. This means that there are some episodes of The O.C. that are perfect for summer. (There are also some episodes of The O.C. that are perfect for Summer, but that's a whole 'nother story.)
Admittedly, a lot of these episodes are from Season 1, not only because Season 1 is the best, but because the core four don't start school until nine episodes into the season. It's amazing. Actually, the fact that it takes so long for school to start might just be another reason why the first season is so good — they can all go to Holly's epic beach parties all the time and blow town to go to Tijuana.
So, whether you are staying inside with your choice streaming service to avoid a heat wave or just want your summer to feel even more summery, here are 14 episodes of The O.C. you should revisit. (By the way, if this is going to be your first time watching the series, you should probably just watch the whole thing.)
1. "Premiere" — Season 1, Episode 1
Warner Bros. Television
Warner Bros. Television
Why not use a hot summer day as an excuse to experience the premiere all over again? Not only will you get to remember how everything started, you'll also see the first of Holly's beach parties and a lot of moody sunlit shots — very summery!
2. "The Model Home" — Season 1, Episode 2
Ryan, Marissa, and Seth get their Rebel Without A Cause on in an empty model home. Well, until Ryan and Luke catch it on fire during a fight. Also, there's the second Holly beach party.
3. "The Outsider" — Season 1, Episode 5
You won't believe it, but this episode has yet another of Holly's beach parties. This one also includes the briefly featured character Donnie, Ryan's friend/co-worker at The Crab Shack and — surprise — a gun owner.
4. "The Escape" — Season 1, Episode 7
In "The Escape", the core four go to Tijuana for one last hurrah before the summer ends. Marissa just, uh, doesn't hurrah in the same sense as everyone else and ends up passed out in an alley.
5. "The Best Chrismukkah Ever" — Season 1, Episode 13
The best of the series' many holiday episodes might help cool you down if it's hot out. Christmukkah in July!
6. "The L.A." — Season 1, Episode 22
This one seems summery just because it's an overall fun and positive episode. The core four are getting along, Hailey is a surprise stripper, Summer has a celeb crush on Grady Bridges aka Colin Hanks, and Paris Hilton shows up to say, "Orange County? Ew!"
7. "The Distance" — Season 2, Episode 1
Seven words: Marissa Cooper throws furniture in the pool.
8. "The Accomplice" — Season 2, Episode 10
Even though skipping school can't really occur in the summer time, skipping school seems like summer, especially in southern California where it's warm all the time. Anyway, in this episode Marissa skips a lot of school to hang out with her new girlfriend Alex.
9. "The Rainy Day Women" — Season 2, Episode 14
Warner Bros. Television
Warner Bros. Television
This episode is about a rare full day of rain in Orange County, not about an afternoon summer storm, but it is reminiscent of one. Plus, it's one of the best episode of the series, especially if you love Seth and Summer.
10. "The Return Of The Nana" — Season 2, Episode 21
Seth, Ryan, and Sandy go to Miami, and Seth participates in a televised spring break contest that involves licking whipped cream off a near-stranger. That wouldn't happen in cold weather is all I'm saying.
11. "The Last Waltz" — Season 3, Episode 4
And now, for an end of summer episode. In this one, Marissa starts at Newport Union and makes friends unrealistically fast, and Taylor attempts to be less... Taylor as she and Summer plan the End of Summer Dance.
12. "The Graduates" — Season 3, Episode 25
Hey, a graduation is summery. Marissa dying in a fiery blaze is less so, but this was a big deal at the time and it's interesting to take a look back at how Mischa Barton's departure from the series went down.
13. "The Avengers" — Season 4, Episode 1
Even though this episode is the followup to the one where Marissa dies, it might be best known as the one where Ryan becomes a cage fighter. Summery? Sure.
14. "The End's Not Near, It's Here" — Season 4, Episode 16
Warner Bros. Television
Warner Bros. Television
Well, ya gotta bring it full circle, don't you?
There you have it, 14 must-see O.C. episodes that'll keep you occupied and feeling summery this (or any) summer.