After an amazingly dramatic eighth season, Real Housewives of New York City has a lot to live up to with Season 9. The trailer for this season looked amazing, so I do think it's possible for this season to be even better. And there are some things I want to see on Real Housewives of New York City this year that I know would make it perfect.
There are certain elements that I expect from RHONY, like the on-point Dorinda Medley diss quotes, Sonja Morgan's ridiculous stories about partying with famous people, and the dramatic group vacations. I am on board with those and I want more.
But, there are some things that I just want to happen. These are events and situations that I saw no indication of during the trailer for the season, but I am still hoping they occur. For instance, I want to see Carole Radziwill back at her prime making inappropriate comments during the on-camera interviews and actually having a story line again. I want to see the Bethenny Frankel and Jason Hoppy legal drama play out. I need my girls Dorinda and Sonja to make up after the battle that went down at last year's reunion.
After an epic Season 8, the bar has been raised for Season 9 and I know exactly what I want to watch.
1. Sonja Succeeding In Business
I get it. Sonja Morgan's business efforts have been rocky, to put it mildly. But I still can't help rooting for her. I'll never get over the ladies eating crow when she pulled off that fashion show and I hope she is able to surprise them all in a similar way this season. I am so #TeamSonja.
2. Ramonja Reuniting Stronger Than Ever
I'm still not over the fallout between Sonja and Ramona Singer. I loved when they were super clingy and hilarious in every scene. Sure, they're on good terms now, but I want more than that. I want Ramonja the way I used to know them. I want them to be on top of their game.
3. Bethenny Sharing The Jason Drama
I know this is a little selfish of me. I'm sure Bethenny Frankel wants to protect her daughter, Brynn, and on top of that, she might not even be legally permitted to discuss her divorce, but I cannot help being curious. I know it would make compelling drama for the show.
4. Dorinda & Sonja Making Up
I'm obsessed with Sonja and I live for Dorinda, so it's really tough for me to handle life after Sonja unleashed those drug accusations during the last reunion. I get why Dorinda doesn't want to be friends with Sonja, but it is just way too hard for me to watch. Can the two most hilarious people on this show make up? Please?
5. Carole Doing Something... Anything
I want to preface this one by clarifying that I am not a hater. I like Carole Radziwill, but she is just too nice, smart, and normal for this show. She's financially and romantically stable, and it sometimes seems like she couldn't care any less about the rest of the cast. Other than some funny lines at the reunion, she brought nothing to the show last year. Let's hope for a Carole comeback this season and some more of her inappropriate jokes.
6. Sonja Finding A Love Match
I would love to see Sonja switch it up this season and start dating someone. Don't get me wrong, I live for the antics of Sonja on the prowl, but it would be a nice change of pace to see her in a relationship.
7. Dorinda Delivering The Best Lines
This is the one item in the list, that I'm sure we will be blessed with. Without even trying, Dorinda has always (and will always) say the best things. Dorinda can do no wrong.
8. Luann Recording & Performing Her Songs
I miss the old Luann de Lesseps. Instead of talking about Tom D'Agostino all the time, she needs to get back into the recording studio, turn up the auto-tune, and start singing again. Her songs are reality TV gold.
9. Sonja Telling Ridiculous Stories
I know that a lot of the women take issue with some of Sonja's stories, because a lot of them seem too good to be true. When she pulled out that purple dress during the Season 9 premiere and claimed that she wore it when she dated Prince Albert, I did my best to overlook the fact that it still had the tags on. The truth is, I don't care about the truth, not when it comes to this. Sonja can tell any ridiculous story about her past and I will love it just because it's so funny. Never change, Sonja.
10. Bethenny Putting Jill Zarin In Her Place (Again)
I cannot be the only one annoyed that Jill Zarin is set to resurface this season. I doubt that Bethenny would ever be in the same room as Jill, but if that does happen, I want another classic Bethenny and Jill scene. I want to hear something just as iconic as "You have to get a hobby."
11. Tinsley Avoiding New Girl Hazing
I cannot stand it when the Housewives go out of the way to "haze" the new cast member. Why would anyone purposely make sure another human being feel ostracized? I understand that trust is earned, but I just hope that the ladies are nice to Tinsley Mortimer and give her a fair chance.
12. John Receiving Acceptance From The Cast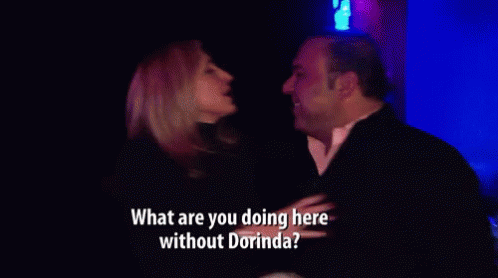 I still don't get why so many women in the cast are offended by John Mahdessian. What has he ever done to Dorinda? She clearly likes him and he gives her free dry cleaning. What else do they want?
13. Bethenny Going Head To Head With Ramona
Ramona was all about being the peacemaker last season. I'm happy she matured or whatever, but I miss the old pot stirrer. It's pretty clear based on the first two episodes that there is some tension between Ramona and Bethenny since Ramona was weirdly offended that Bethenny didn't send her photos of her new dogs. I feel like there's more to that and I want to see it addressed. There's nothing like a fight between two OG cast members.
14. Housewives Having Fun
Last season was amazing, but it definitely got a little heavy on the drama and short on the laughter. I'm all for the conflict, but I would also like some humor this year. We could all use a little lighthearted fun.
After an epic Season 8, Real Housewives of New York City has a lot to live up to (and surpass), but my hopes are high and I feel good about it. No matter what happens, I'll never stop watching this show, but I'm still crossing my fingers that this is the best season yet.