14 UK-Based Groups Making It Easier – & More Fun – For You To Make A Career In Music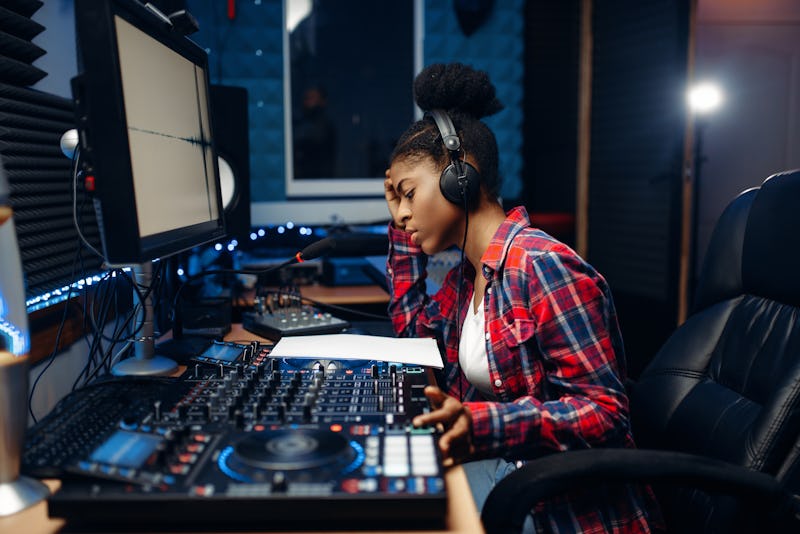 Nomad_Soul/Shutterstock
When women and nonbinary people step into the spotlight, magic happens. Not just on stage, but in recording studios, lighting booths, boardrooms, and tour buses. Bustle UK has scoured the country looking for initiatives that encourage women and nonbinary people in music to find their spotlight, wherever it may be, and carve out a space for themselves in the industry.
In Feb. 2019, a statistic published by the University of Southern California made headlines in the entertainment world. Their finding that, of the top 100 songs from 2018, only 17 percent were made by women shocked a lot of people — except women working in the music industry. As the BBC reports, singer Mabel was unsurprised by the finding. "I think we still have a lot of work to do," she said.
Speaking specifically about the UK, the BBC reported that, in 2018, there were no fewer women in the charts than there were a decade earlier. "In 2008," the BBC wrote, "30 female acts were credited on the best-selling 100 songs of the year. In 2018, the figure was still 30." They continued: "But the number of men has risen by more than 50 percent as the number of collaborations has grown over that time — from 59 men in 2008 to 91 in 2018. Which means the gender gap has grown."
The teams responsible for the 14 initiatives below are aware that there is no one solution to the problem of gender inequality in the music industry. Having more women in the top 100 charts would be a huge — and very visible — signal of movement in the right direction, but it wouldn't necessarily break down barriers for aspiring producers, tour managers, CEOs, and sound designers. These initiatives, which are located in all four corners of the country, look at the parity problem from every angle, not only encouraging women and nonbinary people to step on stage and perform, but also teaching them new skills including coding, soldering, scheduling, and networking. On top of that, they're tackling problems that persist for women and nonbinary people interested in music, such as sexual assault at gig venues.
The people behind these 14 initiatives know how much more must be done to integrate women and nonbinary people across all areas of music, and they're looking to change the record for good.