15 Baby Yoda Memes From 'Mandalorian' That Will Make You Believe In Love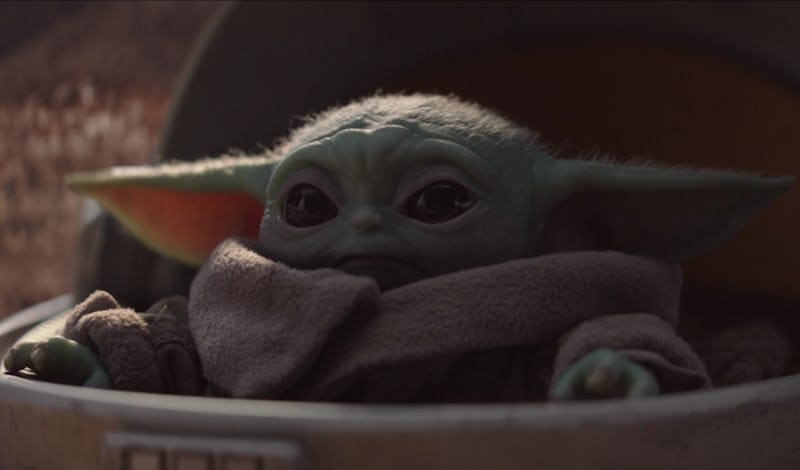 Screenshot courtesy of Disney+
Spoilers ahead through Season 1 of The Mandalorian, Episode 2. Star Wars may deal with weighty themes like the fight between good and evil, but sprinkled throughout this expansive space opera are adorable droids and aliens, like the Ewoks, R2-D2, Porgs, Jawas, and BB-8. Now, the Disney+ series has introduced audiences to an adorable little creature that made the Internet go nuts, and there are already Baby Yoda memes to prove it.
At the tail-end of Episode 1, the titular Mandalorian (Pedro Pascal) recovers what he's been hired to find: a teeny-weeny Baby Yoda sleeping in a floating pod crib. Although this little guy is already 50 years old, IG-11 (Taika Waititi) explains that "species age differently." The Mandalorian is clearly enchanted by the infant's tiny little grandpa body and shoots his fellow bounty hunter so he won't have to kill Baby Yoda in order to bring him in. As a result, the character was front-and-center in Episode 2, where he both ate a frog disturbingly fast and used the Force to save the Mandalorian from a large, hairy monster.
That on its own was unbearably cute, but it was also the baby's big ears, gigantic eyes, humongous heart, and widdle hands that had audiences melting into puddles. Hopefully there will be even more Baby Yoda scenes to come, but even if not, there were already some great memes floating around the Internet of this cute lil' guy.