These 15 Color-Changing Beauty Products Turn Your Entire Face Into Magic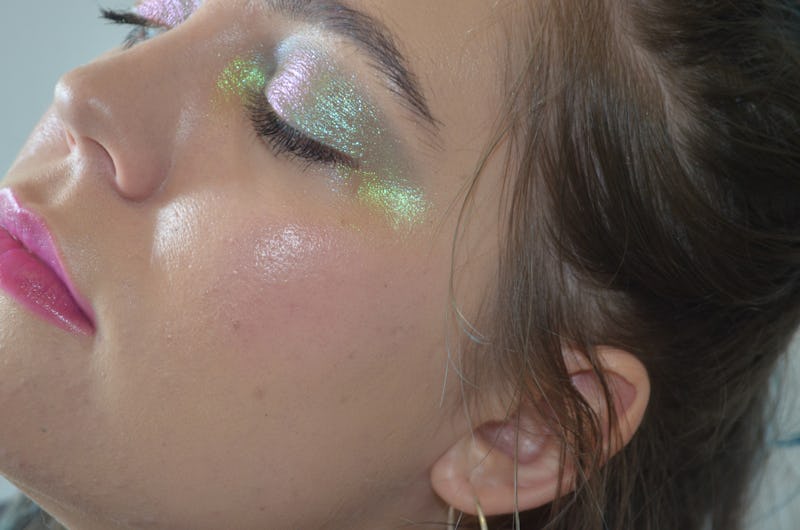 There's something about things that change color, the combination of artistry, science, and a little bit of magic. Interestingly, in almost no adult sphere does color change technology exist — other than the world of beauty. Something about the promise of a totally unique color — combined with the generally freaky idea of applying neon green lipstick — has always appealed to my psyche.
All color changing makeup relies on one, not-so-magic ingredient called Red 27. It's approved by the FDA for cosmetic use, and unlike other cosmetic colors, it appears transparent when dissolved in water-free formulations. But once exposed to the natural wetness of the skin, voila­– a pinkish-reddish-mauveish hue, which varies based not on the mood of the wearer, but on heat and pH levels. While the "custom-ness" of the color maybe questionable, the result tends to give a flatteringly bright yet natural and long lasting shade.
Some of the original color-change pioneers are still on the market, but more and more luxury brands are getting in on the act. Here are a whole bunch of these chameleon options.
The Bases
Erborian CC Crème, $44, Sephora | All-In-One BB Cream, $16, The Body Shop | Stila's One Step Correct, $36, Amazon | Dr. Jart Cicapair Tiger Grass Color Correcting Treatment, $18, Amazon
There are a whole host of base products promising a color release on contact with your beautiful face. Erborian's CC Crème is a white-to-skin, light and dewy cream which comes in Normal (for medium skin tones) and Light (for pasty ones like mine). The Body Shop's BB Cream is a similar concept, though without the SPF 25 and with a touch less coverage. The bonus? Tons more shade options.
Stila's One Step Correct is another idea entirely. Consisting of a baby pink, pale blue and minty green component which pumps out like toothpaste, this blends into a sheer, white-person-skin-colored lotion. The coverage is minimal, so it actually suits more people than you'd think, and adds evenness and glow under foundation.
Finally, the Dr. Jart Cicapair Tiger Grass Color Correcting Treatment – a pistachio ice cream toned, thick and emollient cream which melts into skin taking any burgeoning redness with it. This has a surprising amount of coverage, which is both a bonus and a detriment: on good skin days, I can wear this as foundations, but both extremely fair and darker-than-medium complexions are S.O.L.
The Lips
Fran Wilson Moodmatcher Lipsticks, $5, Amazon
An O.G. in terms of color changing are the Fran Wilson Moodmatcher Lipsticks. They come in ten shades, which really does undermine the "all color changing products turn out the same" argument. Here are the baby blue and orange offerings, which turn a pretty bright lilac and a neon coral, respectively. They last well, and stain the lips for up to twelve hours.
Lipstick Queen Lipstick, $16-$20, Amazon
In a similar vein are Lipstick Queen's Hello Sailor and Frog Prince. Hello Sailor is a navy blue which turns into a purple berry, while Frog Prince is a classic green into universal pink scenario. Both have a smooth and refined formula and are in equal parts moisturizing and pigmented.
Winky Lux Glimmer Balm, $14, Amazon | Dior Addict Lip Glow Color Reviver Balm, $34, Sephora
Two updates on the classic come from Winky Lux and Dior. Winky Lux's Glimmer Balm sees your traditional clear-to-pink-stain effect and raises you holographic glitter — super pretty, though perhaps not for the office. Dior's Addict Lip Glow Color Reviver Balm is an altogether more subtle, high-class take on proceedings: very Dior. The Lilac shade gives a just-been-kissed look which is pretty, subtle and makes people think about kissing you.
Urban Decay Vice Special Effects Top Coats, $9, Sephora
Finally, changing color using less science and more a translucent veil of glitter are the Urban Decay Vice Special Effects Top Coats. Regulate adds a silvery-lilac sheen, Reverb a scarab-beetle-esque gold-to-blue, and Monarchy a vibrant indigo tint. Rather than changing the color of the lips, they rather change the color of any lipstick worn below — all the while making them both shimmery and waterproof.
The Cheeks
Givenchy Hydra Sparkling Magic Lip & Cheek Balm, Escentual | Givenchy Blush Noir Revelateur, $26, Harrods
Not to be left out of the party, color changing blushes have recently started to appear.
Currently Givenchy have two offerings – their Hydra Sparkling Magic Lip & Cheek Balm and their Blush Noir Revelateur. The former is a slightly sticky pink balm which instantaneously becomes more pigmented when smudged onto the cheek. Because of its slight emollience, it gives both beautiful color and a plump, hydrated sheen. The latter is a scary looking black gel, which blends out into a deep yet sheer berry.
Smashbox 'O-Glow' Cheek Color, $29, Amazon
Smashbox also have the wonderfully named O-Glow. This is a light gel which gives a tint of post-coital color, and can also be used on the lips.
The Eyes
Chameleon Glow in Wax + Wane, $13, Top Shop
The best (and most aptly named) products for this are the Topshop Chameleons.
They are all eyeshadows with a neutral, brownish base but packed full of iridescent micro-glitters. This means, depending where they catch the light, each can look like two distinct shades.
Shuffle The Cards is a warm beige to rose gold, Changeling a light brown to bright teal, U-Turn a warm tan to neon green and Wax & Wane a taupe to violet.
How To Use
(Wearing Dr. Jart Cicapair, Givenchy Hydra Sparkling Balm on the cheeks, Fran Wilson Moodmatcher in Light Blue and Topshop Chamelons in U-Turn and Changeling.)
There have never been more opportunities to play with color in makeup, and this is a fantastically fun way.
Above, I added Urban Decay Vice Lip Topper in Regulate.
And even if you're not entirely sold on the concept,there's no feeling quite like by applying green lipstick. A customized, flattering, long lasting tint is good, but freaking out your friends is truly priceless.