15 First Day Of Fall Instagram Caption Ideas That Will Put You In The Mood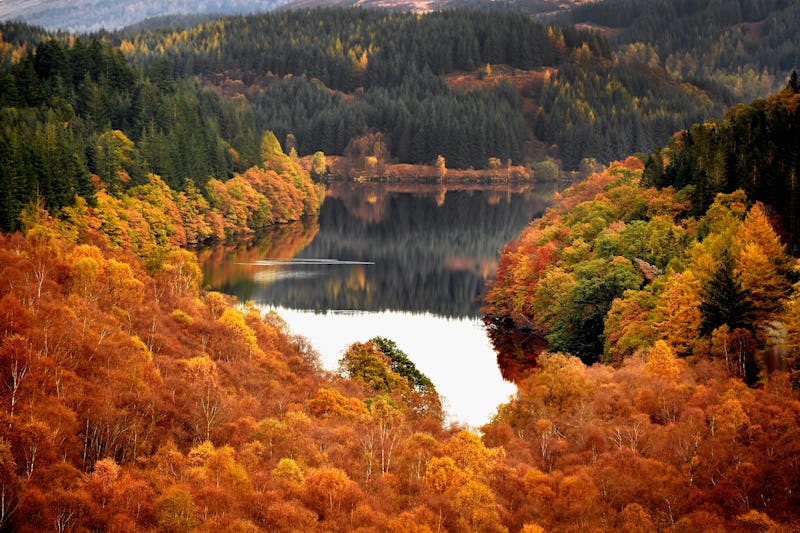 Jeff J Mitchell/Getty Images News/Getty Images
Summer 2018 flew by right before our eyes, and in just a few days we can start celebrating the beginning of fall. Though it may not truly start to feel like autumn until October (when the Halloween festivities begin and we start looking forward to Thanksgiving plans), it doesn't hurt to get into the seasonal spirit a little early — hence, why getting your first day of fall Instagram captions ready to go now.
After all, fall starting also means a ton of wonderful photo ops in your future: pumpkin patches, piles of leaves, psuedo-candid shots in cozy sweaters on city streets, and, of course, cute café photos of your brunch and piping hot lattés. It doesn't get much better than that. Of course, behind every great picture is an even greater caption. If you're in a little bit of a rut and have begun to just use a slew of random emojis (I'm guilty as charged) under your picture, read on for some caption inspiration so that you can be prepared when you post your first picture of the season — nothing gets you in the mood for fall quite like the perfect quote that captures the heart of it all.
1. "Winter is an etching, spring a watercolor, summer an oil painting and autumn a mosaic of them all." — Stanley Horowitz
2. "And all at once, summer collapsed into fall." — Oscar Wilde
3. "Autumn mornings: sunshine and crisp air, birds and calmness, year's end and day's beginnings." — Terri Guillemets
Perfect for a candid-looking-but-secretly-really-posed sophisticated pic.
4. "Life starts all over again when it gets crisp in the fall." — F. Scott Fitzgerald
5. "Aprils have never meant much to me, autumns seem that season of beginning, spring." ― Truman Capote, Breakfast at Tiffany's
If you're in the city this fall, don't miss out on using a quote from Breakfast at Tiffany's to achieve ultimate Audrey Hepburn status.
6. "Autumn carries more gold in its pocket than all the other seasons." — Jim Bishop
7. "Autumn ... the year's last, loveliest smile." — William Cullen Bryant
8. I think I'm FALLing for you. — Unknown
If you're one of the lucky ones who's coming into the season in an adorable relationship.
9. Leaf me alone, I need to celebrate the fall. — Unknown
10. I always start running in the fall--not all of me, just my nose. —Unknown
11. "Everyone must take time to sit and watch the leaves turn." — Elizabeth Lawrence
12. "I'm so glad I live in a world where there are Octobers." — Lucy Maud Montgomery, Anne of Green Gables
Might need to modify this one to say "September," but it's a high-quality caption choice nonetheless.
13. "Leaves are falling. Autumn is calling." — Unknown
14. "Autumn is a second spring when every leaf is a flower." — Albert Camus
15. "How beautifully leaves grow old! How full of light and color are their last days!" — John Burroughs