15 Front Pages On The Ariana Grande Concert Attack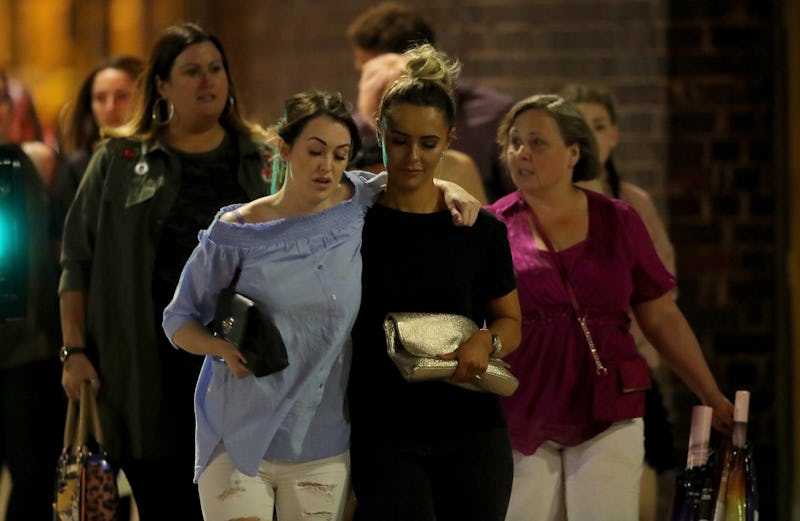 Christopher Furlong/Getty Images News/Getty Images
Many awoke on Tuesday to grisly headlines of the bombing outside an Ariana Grande concert in Manchester, England, the night before. The attack killed 22 people, including children and teenagers, and injured at least 59 more. ISIS later claimed responsibility for the suicide bombing, the deadliest terrorist attack in the United Kingdom since 2005. And on Tuesday morning, newspapers' plastered scenes of the Manchester concert attack on its front pages, reflecting the true horror of the terrorist assault.
From the United States to the UK, Chile to Iceland, publications across the world showed scenes of victims being helped, flashing lights from first responders, and heavily armed officials standing by the area. "Manchester Massacre," The Edmonton Sun, a Canada newspaper, proclaimed on its front page, along with an image of a young teenage girl, shaken and bleeding, being propped up by first responders.
On Tuesday afternoon local time, with few victims identified, parents and other family members were still scrambling to locate missing concertgoers. But help came from many different directions — taxis offered to transport people to safety, Manchester residents and hotels opened their doors to those seeking shelter, and many shared photos of missing people on social media to help locate them.
The attack was particularly horrific, if only because it targeted a demographic that skewed young and female. And its barbarity was shown in the coverage of the incident on Tuesday morning.
1. The Arizona Republic
2. New York Daily News
3. The Guardian
4. El Mercurio
5. AM New York
6. Morgunbladid
7. The Herald Sun
8. Edmonton Sun
9. Le Journal De Montréal
10. Manchester Evening News
11. Herald News
12. The Burlington Free Press
13. Göteborgstidningen
14. La Razón de México
15. The Herald