How To Support Ariana Grande Concert Victims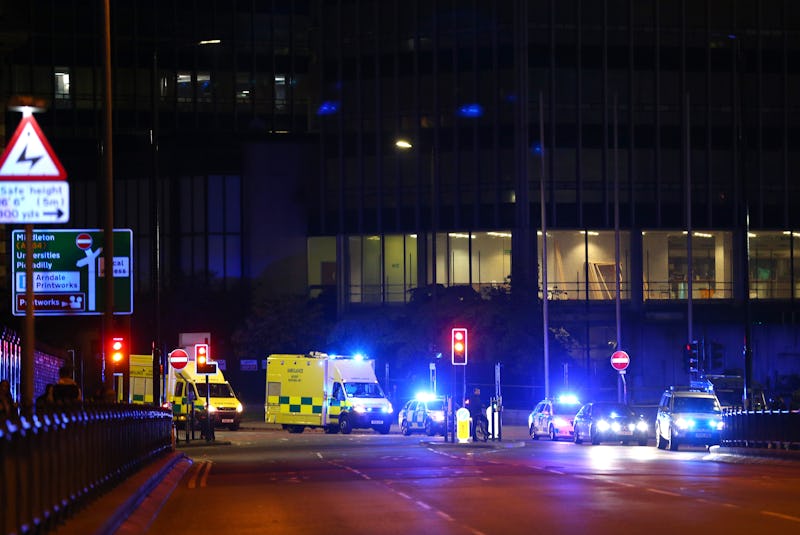 Dave Thompson/Getty Images News/Getty Images
On Monday evening, a tragic incident struck England's Manchester Arena during an Ariana Grande concert. Though witnesses reported hearing two possible explosions toward the end of the show, the specifics are still unclear as authorities have not verified these details. The incident resulted in at least 19 deaths, dozens more injuries, and some concertgoers missing. At the moment, these Ariana Grande concert victims need support from those able to give it. Whether you donate money to relief efforts or to the families of those who were killed, or show your support on social media, every little action counts.
Update: Manchester police said 22 people have died, some of them children, and 59 others were injured. According to NBC News, officials are treating the bombing as a terrorist incident. There is a GoFundMe that will raise money for all victims of the attack.
Manchester police released a statement confirming the seriousness of the scenario:
Just before 10.35pm on Monday 22 May 2017, police were called to reports of an explosion at Manchester Arena. So far 19 people have been confirmed dead, with around 50 others injured. This is currently being treated as a terrorist incident until police know otherwise.
Manchester Arena also released a statement regarding this event:
We can confirm there was an incident as people were leaving the Ariana Grande show last night. The incident took place outside the venue in a public space. Our thoughts and prayers go out to the victims.
The quickest way to show your emotional support during this time of both fear and uncertainty is by reposting photos of concertgoers who are still missing. Hopefully, if their picture is circulated more widely, they will be recognized and given the help they need.
If you're located near Manchester, there are more direct opportunities to assist those who have been affected. Some Twitter users in the area are using the hashtag #RoomForManchester to offer up their homes and assistance to concert victims. According to another tweet, taxis are offering free rides to those rooms, hospitals, or wherever that concertgoer needs to go.
Those near Manchester who know families of missing concertgoers can help call Holiday Inn at 0161-836-9600. The hotel has also stepped in to help, offering shelter to stranded children who are unable to contact their parents.
You can also consider donating blood at a local clinic if you live near the area. Some Twitter users have suggested that both Norfolk House on Brown Street and Manchester Plymouth Grove Blood Donation Center are options. They both open at 9 a.m. local time on Tuesday morning. You can both register to be a donor and set up a blood donation appointment through the blood.co.uk website.
Maybe you don't live near or in Manchester, but know someone who attended the Ariana Grande concert on Monday night. If that person has not been found, post their photo online and offer support for that person's family. Sometimes, to giving victims — or victims' loved ones — a listening ear can make a world of difference after such a shock.
Right now, it's difficult to track down aid or relief organizations taking donations, but opportunities to donate funds will surely present themselves after the initial chaos has lessened, such as a Just Giving page raising funds to help victims. Right now, offering whatever non-monetary support you can, especially if you live in the Manchester area, is most important.