15 Funny Instagram Captions To Post On National Cheeseburger Day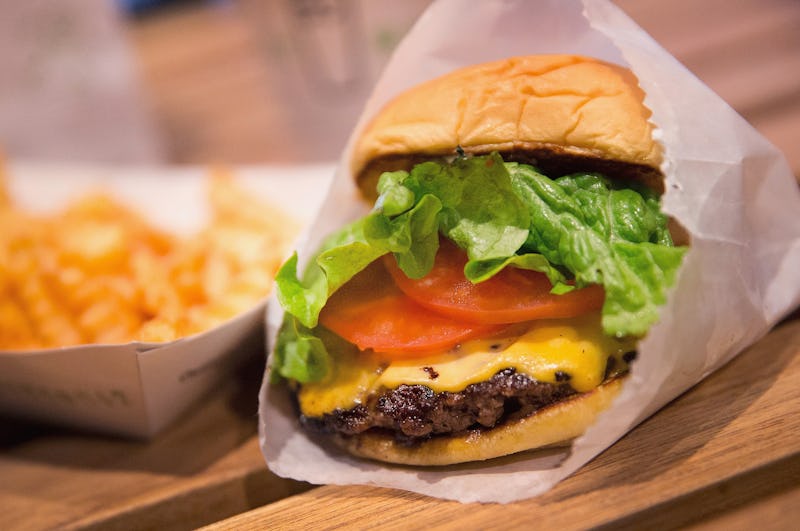 Scott Olson/Getty Images News/Getty Images
If your religion is food, there's another holiday on the horizon. National Cheeseburger Day is Sept. 18 and you're going to want to celebrate with at least a quarter pounder and definitely an Instagram post. Because this is 2018, the greatest way to spread holiday cheer is through social media. Thankfully there are funny cheeseburger Instagram captions for National Cheeseburger Day 2018 to round out your commemorative picture just like, well, American cheese on a patty.
Let us take a moment to appreciate the cheeseburger. A classic menu with a permanent place on diner menus and our hearts. A blanket of melted cheese draping over a juicy patty and held in place between a plush potato bun. You can dress it up however you'd like with red onions, lettuce, tomato, ketchup, mayonnaise, or bacon. However it looks when it slides down the counter and presents itself before you, it always offers comfort. A cheeseburger is essentially a devour-able stress ball. Something that feels good in your hands, centers your thoughts and ultimately fulfils you. And for that reason alone, it deserves to be celebrated.
Order your burger with a side of Instagram likes on Sept. 18. Whether you're heading to In-N-Out or Shake Shack, slide into a booth and snap a picture. There are many cheeseburger related quotes that can help you express the beauty of this menu item through a caption.
"Life is too short to miss out on beautiful things like a double cheeseburger." - Channing Tatum
"Man who invented the hamburger was smart; man who invented the cheeseburger was a genius." - Matthew McConaughey
"Nobody knew they needed a smart phone, an automobile, or even a cheeseburger from a drive through window." - Matthew E. Gerber
"Sometimes I thank God ... for cheeseburgers." - Garth Brooks
"Oh, loneliness and cheeseburgers are a dangerous mix." - Matt Groening
"I'm all about fashion, cheeseburgers and bright red lipstick." - Scarlett Johansson
"Keep climbing,' he told himself. 'Cheeseburgers,' his stomach replied. 'Shut up,' he thought. 'With fries,' his stomach complained." - Rick Riordan
"I want a cheeseburger so badly but I have to be a vampire in a few weeks." - Kristen Stewart
"You think I'd cheat on you?" I demanded with all the innocent outrage I could muster. "With another guy, no. With a cheeseburger . . . in a heartbeat." - Lisa Kleypas
"The first American word that I learned was cheeseburger." - Callan McAuliffe
"I was kosher until I had my Bar Mitzvah, and I parlayed officially becoming a man into telling my father I wanted to eat cheeseburgers." - Zach Braff
"Welcome to Good Burger! Home of the Good Burger! Can I take your order?" - Ed, Good Burger
"I can has cheezburger?" - Lolcats
"I would like a cheeseburger, with a side of cheeseburger, and see if they can make me a cheeseburger smoothie." - Lorelai Gilmore, Gilmore Girls
"Cheeseburger in paradise." - Jimmy Buffet