Gluten-Free March Madness Party Recipe Ideas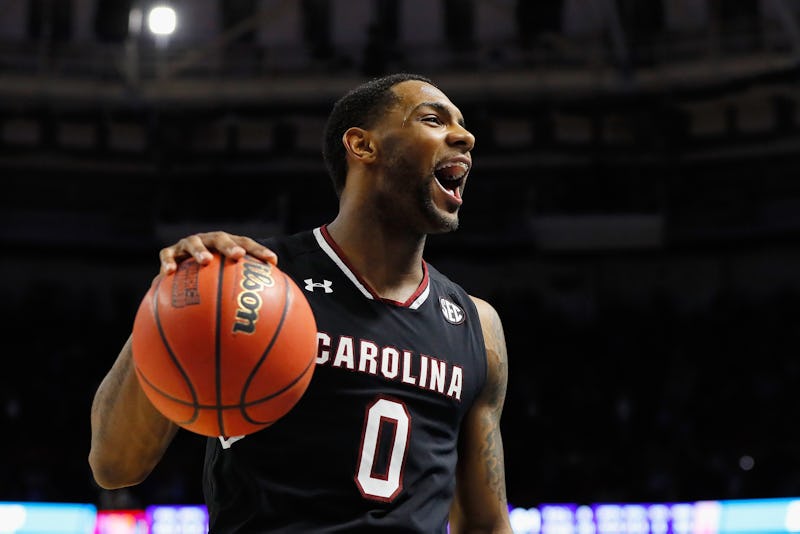 Kevin C. Cox/Getty Images Sport/Getty Images
Whether you're the one with a gluten intolerance, or you're the host to a guest with a gluten intolerance, you're probably freaking out right now about finding tasty enough gluten-free recipes for your March Madness party. But fret not, there are tons of super yummy game day snacks out there that totally avoid glutenous ingredients.
With today's culinary world, there are so many ways around using grain. With substitutes like nut and rice flours, you can easily find ways to make your favorite dishes without gluten — and without even noticing the taste difference.
But to make it easier for you, I've put together some of my favorite gluten-free recipes. So now all you have to do is clean out your couch so that when your guests arrive for the big game day, they're not the ones to find your missing underpants and stag Cheetos that you've long since neglected between couch cushions. If that suggestion struck close to home, you might want to also consider lighting a few candles before your guests arrive, because while you're not hosting a black tie event, it's always good to practice your adult hosting skills. Bon appetit!
Hot Honey Lime Chicken Wings
Nothing says game day like some sticky and spicy chicken wings. This gluten-free recipe by A Cozy Kitchen tastes just as good as those fried-chicken wings that you can't eat.
Antipasto Skewers
With this recipe by Whitney Bond, your guests can have a hearty antipasto without having to put it together themselves.
Mini Corn Dogs
This all-time favorite mall and freezer snack can also be made from home. Check out this easy recipe on Against All Grain.
Chicken Nuggets
If you're living a gluten-free life and seriously feel like you're missing out on chicken nuggets, this grain-free recipe is going to be your new favorite thing. Check it out on Against All Grain.
Spicy Almonds
Spiced nuts are basically bar snack salvations when you're drinking but not hungry enough for a real meal. Check out this easy recipe on Against All Grain.
Grain-Free Crackers
Crackers are a great sports party snack. You can load them up with cheese, dunk them into dips or pile them high with toppings. But if you're gluten-free it can be hard to find sturdy substitutes. But this recipe from Against All Grain is just as good as the real thing — you won't be able to tell the difference.
Special Guacamole
At any TV viewing party, there's bound to be standard guac. But this recipe on Against All Grain is not basic. With sweet plantains, it's a major upgrade.
Fruit Chips
When you're gluten-free, there are a lot of chips that are off limits. Not these spicy dried-fruit rings, though, recipe courtesy of Against All Grain!
Fig Brownies
Not only are these brownies gluten-free, but they're all kinda healthy because they're sweetened by figs! Check out the recipe on Against All Grain.
"Goldfish"
If you recently went gluten-free and miss Goldfish crackers with all of your heart, you're going to love this recipe from Gluten-Free Canteen.
Bacon & Cheese Biscuits With Egg
Bet you didn't think you could biscuits, but now you can! Thanks to this super savory recipe by Gluten-Free Canteen. Perfect for breakfast and perfect for a game day brunch.
Chili Cheese Cornbread
Nothing more filling and festive than a hearty cheesy bread. Check out the easy skillet recipe on Gluten-Free Canteen.
Little Quiches
These little spinach bites are perfect for watching the game. They're an elevated adult snack that still feels fun and casual. Check out the recipe on Gluten-Free Canteen.
Mac & Cheese
Perfect for a big group, make a large pot and let your guests scoop out their servings into little mugs. Check out the gluten-free recipe on Gluten-Free Canteen.