15 Instagram Caption Ideas For When You Want To Celebrate Rosé Season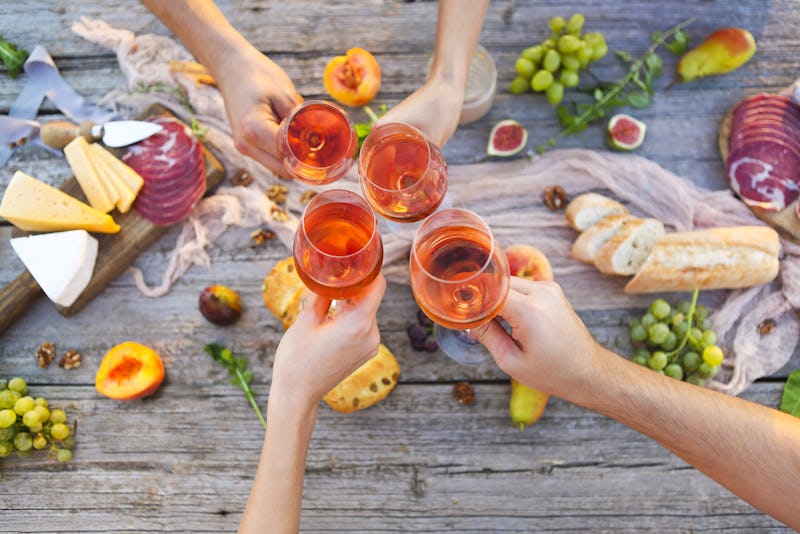 Dasha Petrenko/Fotolia
If you're kicking off Memorial Day weekend with a rosé-all-day marathon, you're going to need some punny Instagram caption ideas for your rosé season pics. Because, you can't post "rosé all day" for every snap. Writing a witty Instagram caption can be more difficult than taking the perfect rosé selfie, and part of the reason for your insta-writer's block might be because you're overthinking it.
"Brevity is so important," Michael Kwolek, director of research at social media consultancy firm Room 214, told Who What Wear. "I like when people just use a caption like 'This.' [to go along with their image]. That's always a good go-to. Something super brief. It should be shorter than a tweet." Seriously, don't post a rosé novel if you want anyone to relish in your rosé snap. Instagram is not the place to write your life story, but what you do write should be easy to understand. Bonus if it inspires major FOMO. "If you want someone to read what you're saying, you have to make it legible. It's such a basic thing, but it's so important," Kwolek advised.
"There's a lot of funny and interesting slang that's happening out there, which is totally fine and relevant, but when you're abbreviating every word you use and there's no correct grammar, people see that, and they're like, 'I can't even understand this, and I'm moving on.'" If you don't want insta scrollers to "move on" from your rosé snap, try these Instagram caption ideas for your summer rosé pictures. Because, wine not write about rosé-ing the day away? After all, it's summer, it's raining rosé, sipping on summer water is likely at the top of your #summergoals list, and it's the least you deserve.