15 Pieces Of Minimalist Prom Jewelry To Add Some Sparkle To Your Look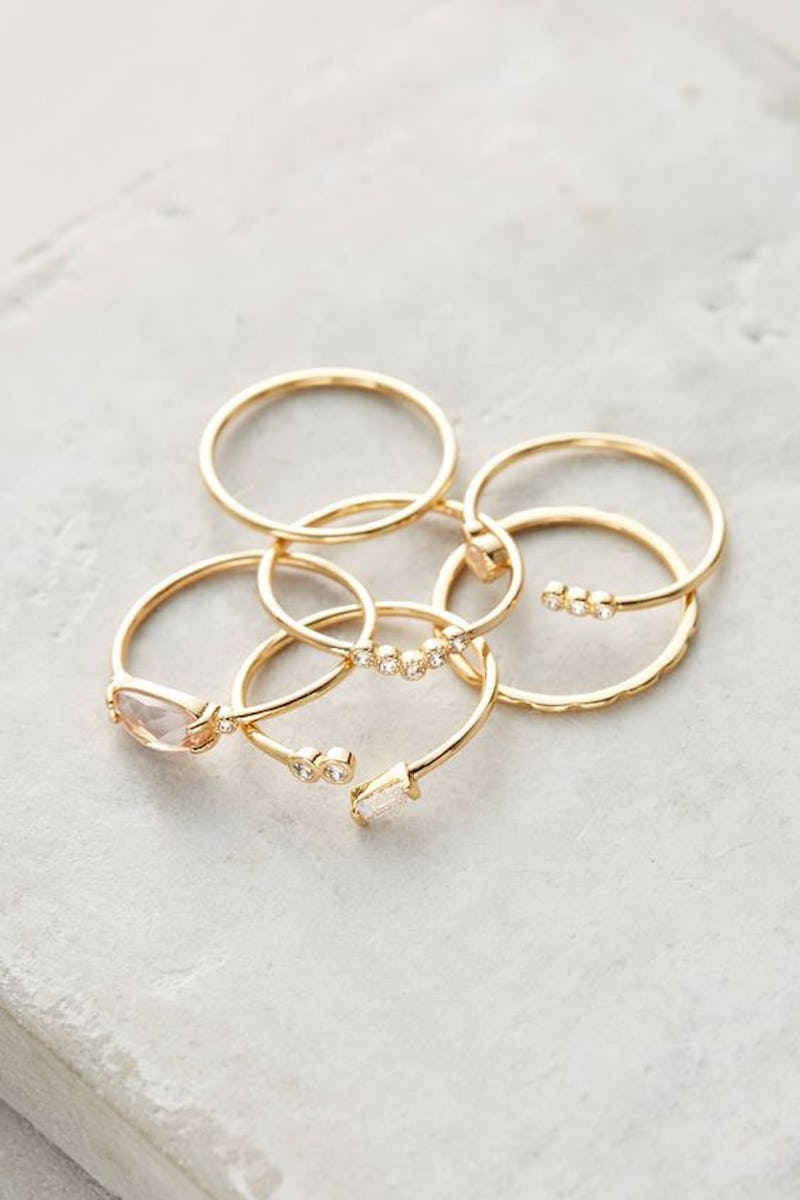 Prom is right around the corner, which means that many high schoolers are shopping for the big event. Of course, everyone's first priority is finding the perfect dress. But once you've selected your dress, you'll need accessories. Minimalist prom jewelry is always a good way to go because you won't have worry about it distracting from your fabulous dress.
Another advantage of minimalist prom jewelry is that you can wear a few different pieces — necklaces, earrings, bracelets, etc. — without it looking over the top or overpowering each other.
I made the unfortunate mistake of wearing one too many accessories when I went to prom my junior year of high school. I definitely wore a headband (not sure what I was thinking) and I definitely wore ornate dangly earrings. It wasn't the best look. But luckily, I learned from my mistakes and approached senior prom with a different mindset — minimalism.
I wore a short cream colored dress with simple gold hoops and gladiator sandals. I would be lying if I said I wasn't inspired by Marissa Cooper's senior prom look from the O.C., but the important part of the story was that I chose minimalist accessories and they really took my look up a notch. All you need is a little bit of sparkle to make your look that much better. So with that being said, here are 15 pieces of minimalist prom jewelry that will add a glamorous touch to your ensemble.
1. This Gold Choker
Gold Toned Bar Collar Choker, $7, Claire's
Lean into the choker trend for prom with this simple gold choker.
2. This Crystal Choker Necklace
Rose Gold Coil Choker Necklace, $7, Claire's
A little bit of bling for prom night.
3. These Pearl Studs
6MM Ivory Pearl Stud Earrings, $3, Claire's
These simple pearl studs won't distract from your dress.
4. This Silver Bangle
Silver Bangle, $60, Promgirl
One little bangle makes a perfect minimalist accessory.
5. This Layered Necklace
Celeste Layered Necklace, $15, Charming Charlie
Nothing too flashy, but a little bit sexy.
6. This Thin Beaded Choker
Demi Beaded Choker Necklace, $8, Charming Charlie
So tiny you might not even realize it's there.
7. This Faux Diamond Pendant
Cushion Cut Pendant Necklace, $10, Charming Charlie
You can never go wrong with one (fake) diamond.
8. This Velvet Choker & Pearl Necklace
Velvety Choker Necklace With Pearl, $7, Claire's
Like a modern day Cinderella.
9. These Stacking Rings
Stone Stacking Rings Set, $68, Anthropologie
They're thin enough to where you can wear all of them at once.
10. These Ear Jackets
Mallory Front Back Earrings, $48, Anthropologie
God, I forgot how much I love ear jackets. I need these asap.
11. This Delicate Necklace
Milkyway Necklace, $34, Baublebar
Not only can you wear this dainty necklace to prom, but you'll be able to wear it every day after the big event.
12. These Minimalist Gold Hoops
Hooping Drops, $28, Baublebar
You can never go wrong with gold hoops.
13. This Pendant Necklace
Fauna Teardrop Pendant, $14, Charming Charlie
It's simple and pretty.
14. These Iridescent Studs
Iridescent Round Crystal Gold Set Stud Earrings, $5, Claire's
These will pair well with the above pendant necklace.
15. This Super Thin Choker
ASOS Gold Plated Sterling Fine Chain Choker Necklace, $16, ASOS
The epitome of minimalist jewelry.