The History Of Reproductive Rights In The U.S., As Told Through 15 Books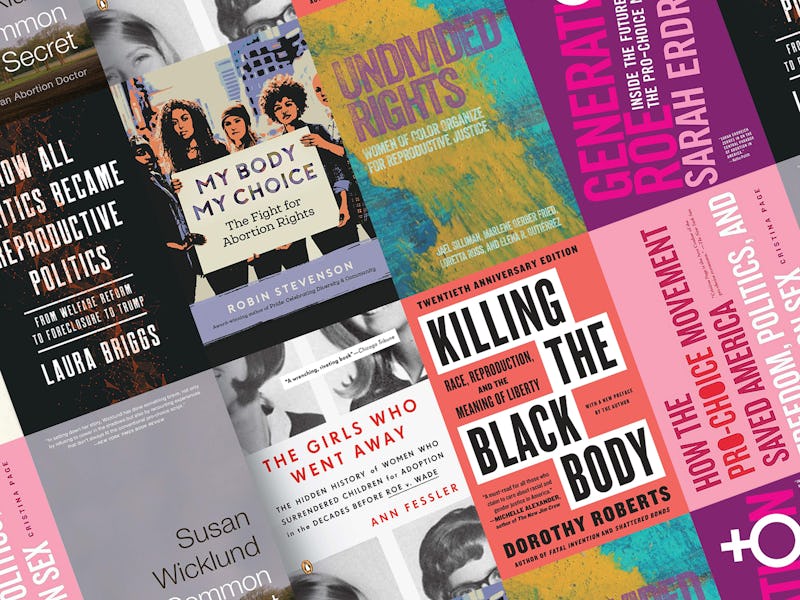 With health care under fire across the U.S., it can be difficult to parse the negative feelings you're having about the potential revocation of your bodily autonomy. I've picked out 15 nonfiction books about reproductive rights you should be reading right now, because conservatives are inching closer to overturning Roe v. Wade everyday.
Last week, the Trump administration pushed through a plan to revoke Title X family planning program funding from clinics that perform or refer patients for abortions. Title X funding helps to ensure that poor and low-income people with vaginas have access to otherwise expensive birth control, STI screenings, and examinations. In its nearly 50-year-long history, Title X has never funded abortion procedures, but now clinics and other providers can be prevented from providing many other types of life-saving care if they mention abortion as an option to pregnant people.
It's unclear whether the new Title X regulations make exceptions for rape, incest, or other extenuating circumstances that are typically exempt from abortion restrictions. Although the Department of Health and Human Services (HHS) says it "[r]equires referrals for those conditions deemed medically necessary," the portion of the document that focuses on victims of "child abuse, child molestation, sexual abuse, rape, incest, intimate partner violence, and trafficking" makes no mention of pregnancy termination at all.
It's clear that these new regulations aren't taking the health care needs of poor and low-income people with vaginas into account. Additionally, because 75 percent of patients at organizations receiving Title X funding in 2017 were people of color, there is an added layer of racism to the Trump administration's new policy. And because 59 percent of people who receive abortions in the U.S. are parents already, the new restrictions on Title X funding put children's well-being at risk. So much for being "pro-family," amirite?
Several organizations have already taken legal action against what Planned Parenthood Federation of America V.P. of Government Relations & Public Policy Jacqueline Ayers called the "unethical and dangerous" requirement that "health care providers to withhold important information from patients," but no one can be sure of whether or not their efforts will succeed. Additionally, because of legal challenges against the unconstitutional abortion restrictions and bans that have cropped up around the country over the last two years, Roe v. Wade, the 1973 Supreme Court case that secured our right to abortion care, could soon be overturned.
In short, there's no better, more important time to read these nonfiction books about your reproductive rights.